David Katz, who many of us knew from the restaurant M, has set up shop in the space that formerly housed Melograno, at 22nd and Spruce. The room itself is not dramatically different, in that it's still pretty tightly-packed, pretty noisy, and still dominated by the large windows and the open kitchen at one end. But the vibe is not the same at all, it's brighter, somehow a little more relaxed-feeling (not that Melograno was all that uptight.)
There's a blackboard menu, as well as small printed ones whose size, content and typography reminded us a bit of those at the Momofuku restaurants in NY. There are concise descriptions of the food, which tends toward straightforward, classic fare. It's not retro - there's no Steak Diane or Lobster Thermidor, as has been promised at Stever Starr's new Butcher and Singer; it's not self-consciously homey - there's no meatloaf or grilled cheese sandwiches - it's just classic good food.
Early press has been unable to resist deploying vivid metaphors of Katz's cooking being as gonzo as the restaurant's Ralph Steadman logo, or as brash and in-your-face as the chef's persona. I can't say I perceived either thing. What I experienced was very tasty food, neither gonzo nor badass, just delicious. As I had posted about Pub and Kitchen, there's nothing wrong with very well-executed food, no matter what the style.
And I'm not sure what to label this format, so I won't. It's tempting to resort to the cliché of "comfort food" but my grandma didn't make foie gras tarts or steak tartare, didn't seek out artisanal ingredients or roast shitakes with her chicken. Let's just say it's classics.
"Smallish"
Mixed Chicories,
Roquefort, Walnut, Pear.
Sizzling Mussels,
Lemon Olive Oil, Herbs
Cherry Tomatoes,
Ricotta Salata, Grilled Bread, Balsamic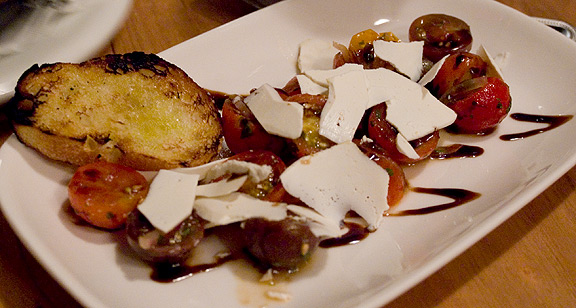 Scallops,
Butternut Squash, Bacon, Brown Butter
Foie Gras Tart,
Sweet Onions, Apples, Maple-Sherry Glaze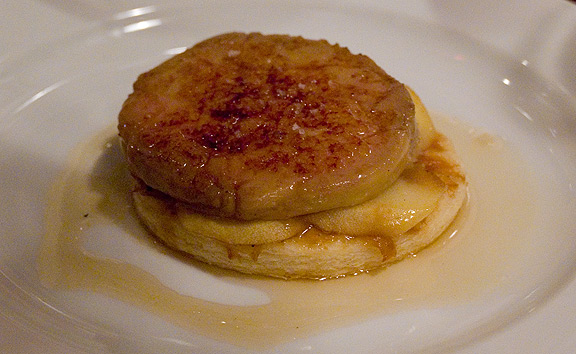 Beef Tartare,
Salty Chips, Quail Egg
"For Two"
Whole Chicken,
Roasted Shiitakes, Sweet Onion Grits, Madiera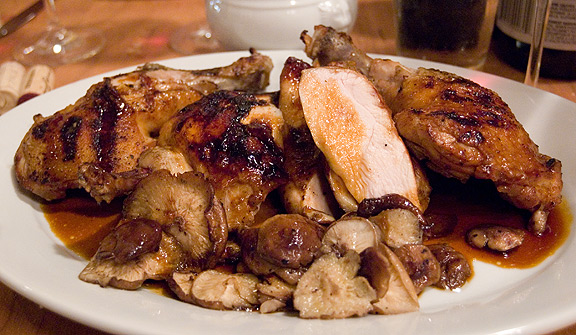 Roasted Lamb Leg,
Ratatouille, Potatoes, Lamb Sauce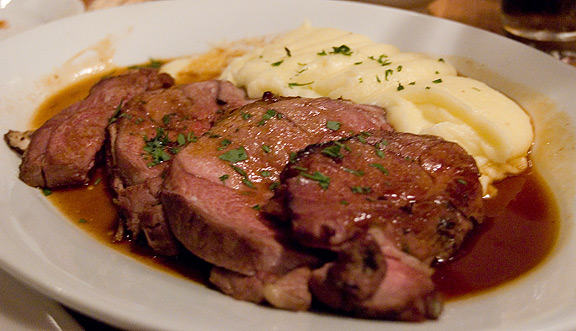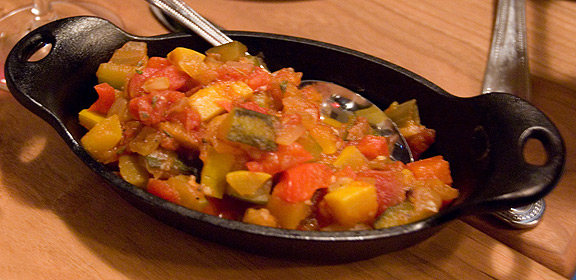 "Larger"
Swordfish,
Olives Preserved Lemon
Sautéed Skate,
Slow Cooked Tomatoes, Tapenade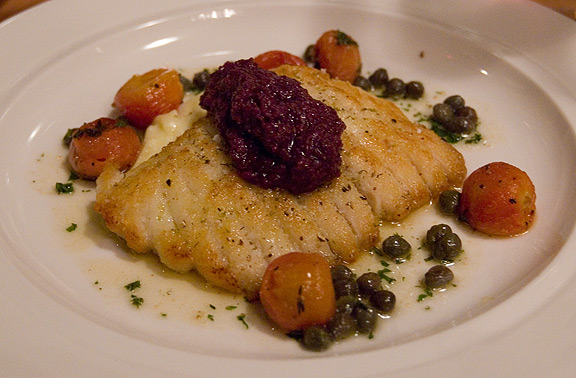 Wagyu Skirt Steak,
Mushrooms, Fingerlings, Brandy-peppercorn sauce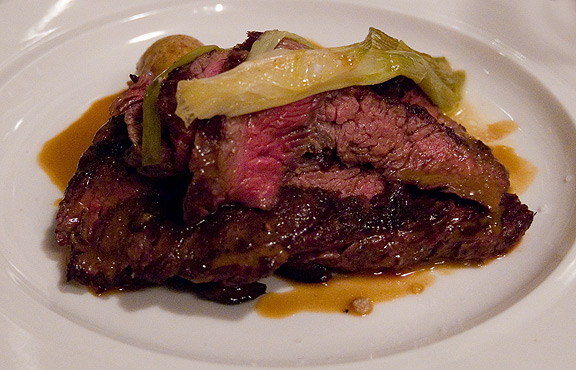 Duck Breast,
Chard, Beet, Onions, Port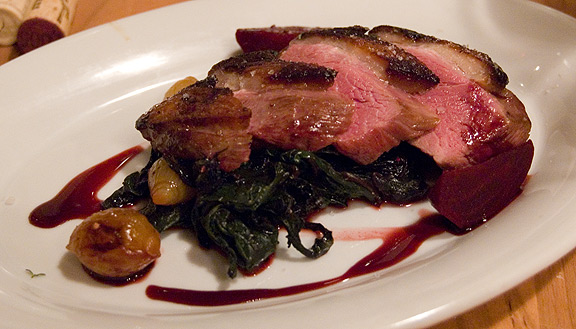 (there's a fettuccini with truffles, and flatbread with goat cheese, figs and prosciutto that we skipped)
Dessert
Chocolate Ganache cake,
Mint Ice Cream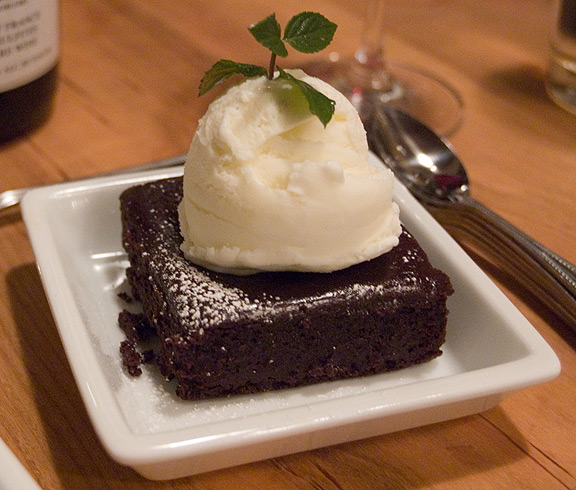 Espresso Pots de Creme,
Orange Confit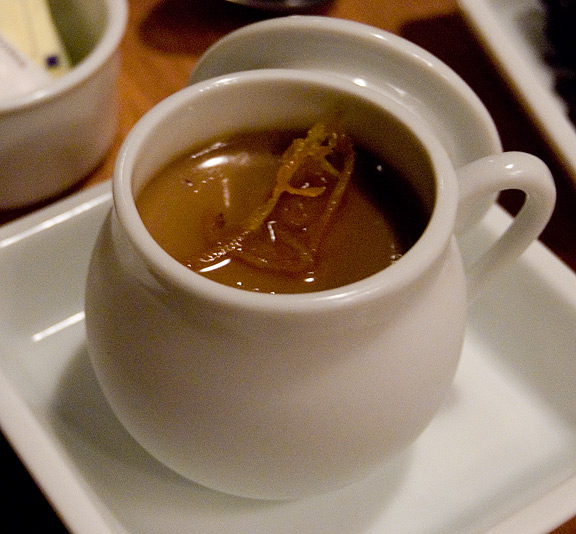 Brown Butter Cake,
Banana Gelato
It was all quite good, but personally, I think favorites were the (very) lemony mussels, the scallops, the foie gras tart, the curry-spiked tartare, the steak, the chicken, and all the ice creams on the desserts. I'm told the duck was delicious, but I somehow managed to miss that dish. I should have known, that's what one risks when eating with eGulleteers! I'll leave it to my dedicated dining partners to describe their faves, and to go into specific details, but suffice it to say that most everything was very vividly-flavored.
There were no big culinary surprises here, just very careful execution of good recipes. It's interesting that at a table of jaded diners, the simple roast chicken was mentioned often as a favorite. The juiciness of the meat, the intensity of the sauce, the roasted crackle of the skin, all made for a rare treat. Similarly the steak was a piece of good meat, cooked carefully, with only a subtle buff-up from a good sauce. Quality ingredients cooked well, it's hard to find fault with that.
If there's anything to give me pause, it would just be the same question I had about Pub and Kitchen: will this kind of food keep me interested? Time will tell. I think it might, and I'm sure there will be some changes and variations, specials and seasonal tweaks. And regardless, I think I could eat that chicken a few times a week...
It's an interesting trend: many of our cutting-edge younger chefs are stepping away from the modern techniques and presentations, although I imagine that some of the experiences cooking in that style of modern cuisine might quietly inform even classic preparations. I'll be very interested to see how this menu evolves. Apparently many people are urging Katz to slip in a few family recipes, perhaps from his Mémé, that reflect his Moroccan heritage. Whether it's that, or just the natural flow of a creative cook, I'm sure the food will change, and I'll look forward to seeing how.
(In the interest of full-disclosure, chef Katz knows me, and did come by the table to say hello at the end of the meal. But even though it's a small restaurant, we were seated at the furthest table from the kitchen, and I'm not sure that we were recognized before or during the meal, and I got no sense that we received any special treatment, so I think the photos and descriptions are a fair representation of what anyone would get. Tables are spaced close enough that it was pretty easy to see that others were getting dishes that looked the same as ours. )
I was initially saddened to hear that Melograno was moving, but as it turns out, their new space (on Sansom Street, just west of 20th) looks to be working very well for them, and now we have yet another great place to eat, so it may have worked out well for both restaurants, and for Philadelphia diners too.
Mémé is BYOB for a short time while the paperwork is getting finished, but they will soon have a wine list. We were able to get a table n a friday night, and while it was busy, there were not lines of people waiting, which may not be the case for long! So go now...
Edited by philadining, 06 October 2008 - 11:44 AM.