As I mentioned over
here
, I have a very small kitchen with virtually no storage space. I have no oven; no dutch oven; no toaster oven; nor any immediate plans to get one. Whenever I look at an English language cookbook, I usually end up discarding it in frustration, since most of the recipes contained at some point require an oven. What can you do? It's a cultural thing. It does, however, mean I rarely acquire new cookbooks.
So when I was browsing through a used bookstore in Tokyo the other day, and I came across an old copy of 'Marcella's Italian Kitchen", I picked it up only out of random curiosity. As I flipped through it, I casually skimmed the text for the telltale signs of oven temperature directions, and cooking times listed in hours. Imagine my surprise when there were virtually none. My heart started beating faster, and I thought, "Well, I'm sure all the recipes call for obscure Italian ingredients that I have no prayer of finding around here." I scanned the pages, this time looking for white truffles, strange fish, specific kinds of rock salt....nothing. Instead, it was full of recipes calling for fresh, seasonal vegetables,packaged pasta, and fresh fish...
I clutched the book tightly and thought - "
We have fresh fish in Japan. We have vegetables!
"
Then I ran up to the counter and bought it, before my husband could see me. (We have no bookshelves at home, either. Zen minimalism, you know.)
When I go it home, I was thrilled to find that not only were the majority of the recipes things I
could
cook, they were things I
would
cook. So I went through and tabbed the book with coloured tabs, coded to the seasons here in Japan (green for summer recipes - tomatoes, aubergines; red for fall - mushrooms, pumpkin) and resolved to cook one dish from it each week until I got bored - or my husband begged for an end. Whichever came first.
I invite you to cook along with me, if you have one of her books, and would like to increase your use of them. I have no idea if this book is her best or worst book, since I bought it used, there was no basis for comparison. There's a topic on
Marcella Hazan
herself, which you can use if you'd like to check out what people have to say about her books.
Tuesday is as good a day as any, so I chose that for menu planning purposes - we still have vegetables leftover from the weekend, but won't need any leftovers from dinner the next day for our bento boxes, since it's my day off. This week, however, I was called away on Tuesday night to sample some mojitos at a new rum bar that opened in our neighborhood. (These things happen) So this recipe got made on Wednesday instead.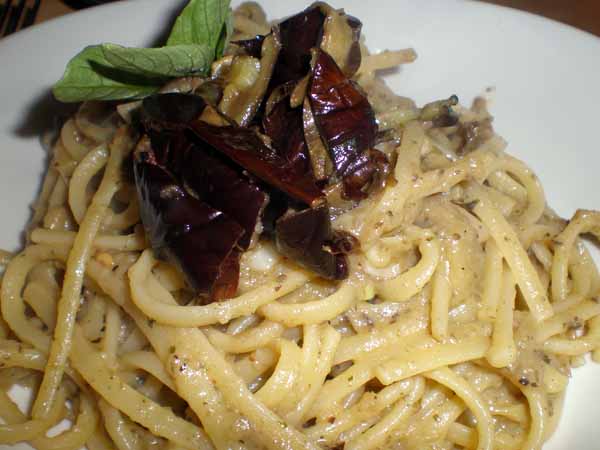 The end of summer is aubergine season in Japan, and our local vegetable stand is literally piled high with bags of them for 100 yen every day. It's my favourite vegetable, so I always like to bring a bag of them home. I'm getting a bit sick of cooking them with dashi and ginger, though, so the recipe for baked aubergine with garlic and parsley on page 264 looked just the thing. I do have a small fish grill, which will grill small things, so my aubergines went in there for the baking. I didn't have any Italian parsley, so I used mitsuba (shh! don't tell!), but they came out great. She called for a half cup of olive oil, which made me gasp, but I used it all anyway. I can see I'm going to have to start buying bigger bottles. When they were done, I whizzed them up in my blender, and tossed them with hot linguine, as she calls for in the note at the bottom of the recipe (well, actually she calls for spaghettini - but I had linguine - you get the idea). I reserved the peels before I blended the insides, and chopped them for a garnish. I know from bitter experience that most recipes that feature aubergine heavily turn an unappetizing gray, and I wanted some colour punch to make it look nice. I julienned them, and piled them on top of the pasta. It look alright, but it tasted
divine
. And, aside from the aubergine roasting, which was unattended, the whole thing took ten minutes to put together. I think I'm in love.
Now if I can only find a substitute for veal. Do you think kurobuta pork would do?