As my eldest son readies himself for starting his college education at my alma mater, our second son, a rising H.S. senior has started his search. My wife took him to Charlottesville, VA last February to start that search, but another school that has captured his imagination is Tulane in NOLA. I couldn't pass up the opportunity to revisit this fine city, my first since 1994, so we arrived here this past Wednesday for a quick visit.
Having
this topic
started by Daniel, provided plenty of timely inspiration. Along with the advice of a few NOLA locals, I managed to narrow my choices down, regrettably having to omit quite a few worthy possibilities - but then there is plenty left to explore should my son wind up at Tulane!
We flew down on USAir. Having had an early lunch at our airport prior to departure and the non-existent state of nutrition on most domestic flights nowadays, we were both somewhat hungry upon our arrival in this steamy city. After checking into our hotel, the Renaissance Pere Marquette, we opted for an early dinner at
Cochon
before heading out to Metairie for a New Orleans Zephyrs game.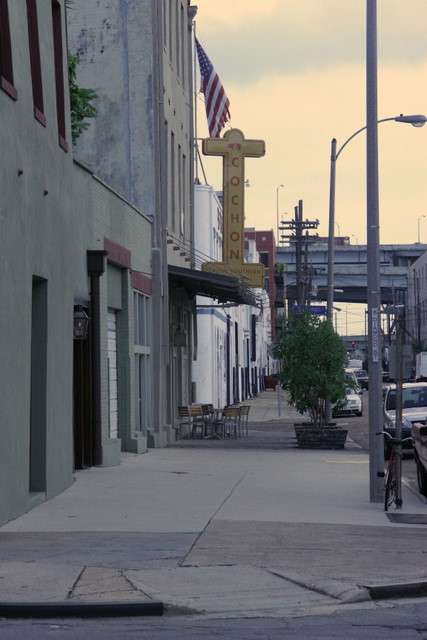 We walked from our hotel, arriving just after 5PM local time (6PM on our internal clocks). This was a transitional time for the restaurant with plenty of open seating.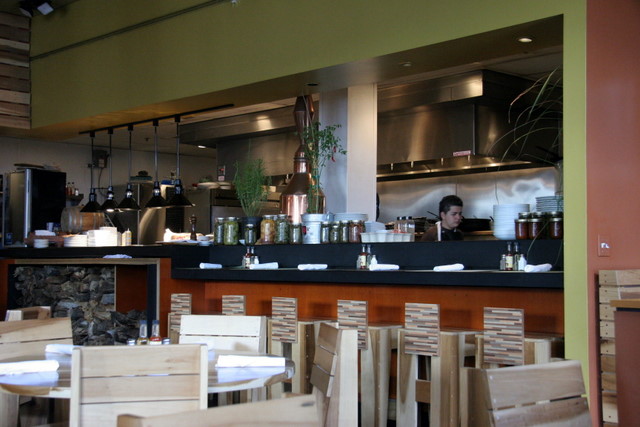 Being in a city of cocktilians, I started with an interesting and delicious one from the menu, the
Mulefoot
, which consisted of Hendrix Gin, lime, mint and ginger beer.
We opted for a strategy of ordering a number of the smaller plates and splitting a main course. There was plenty to choose from. we would have liked to have ordered one of everything, but as it was we approached Danielian heights, though without the purchase of the cured meats.
fried alligator with chili garlic aioli
This was a tasty dish, although the fact that it was alligator was more of a curiosity than a taste revelation. It could just as easily and successfully have been chicken, rabbit or pork.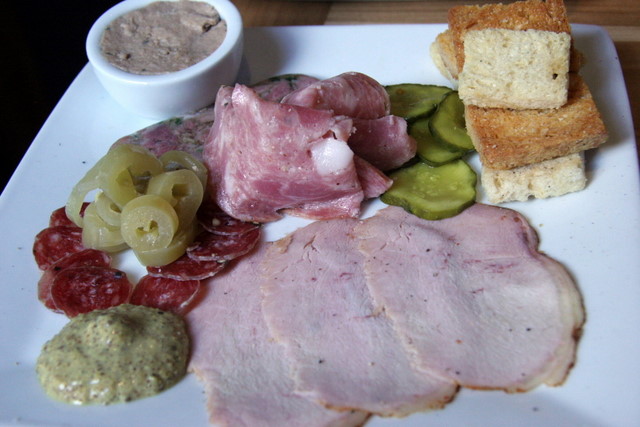 boucherie plate
This fine plate consisted of some of Cochon's charcuterie handiwork. I enjoyed the head cheese most.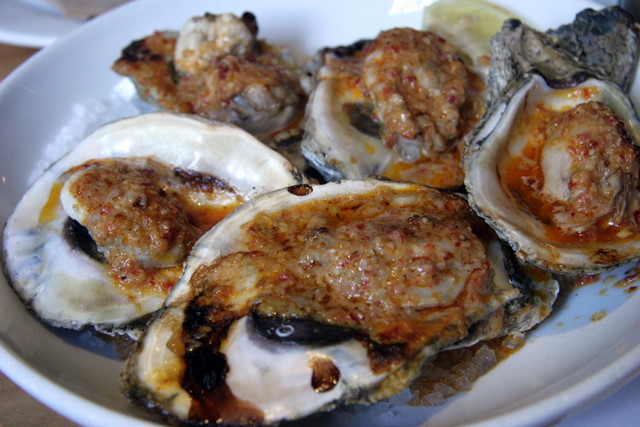 wood-fired oyster roast
This was one of my favorite dishes of the evening. Normally I am partial to raw oysters, however, these were perhaps the finest cooked specimens I have eaten to date.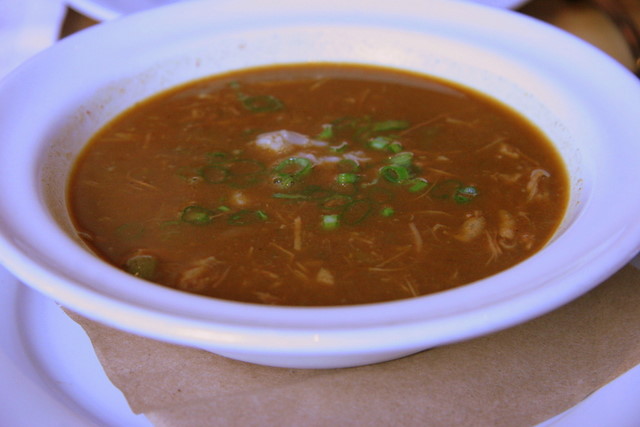 hen and andouille gumbo
Very nice and rich - my son ate most of this.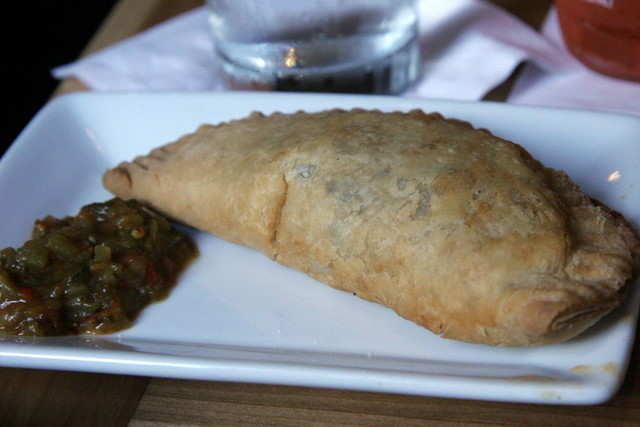 crawfish pie
This was a nice dish, though it got lost amongst the others.
fried rabbit livers with pepper jelly toast
I could eat a lot of these!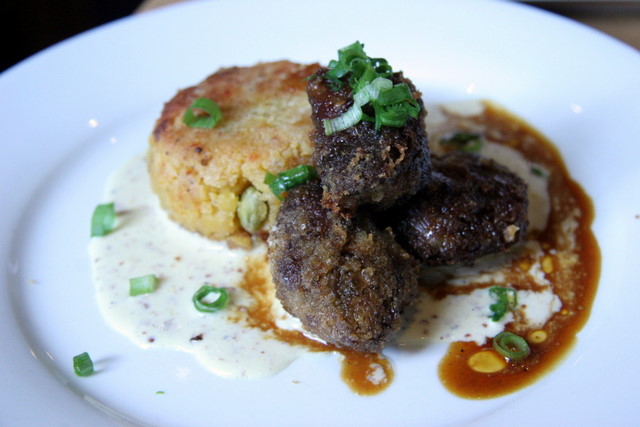 pork cheeks with cornbread bean cake & mustard cream
Perhaps I was getting full, but these were less enthralling than I expected. Compared to the other dishes, this lacked flavor.
eggplant & shrimp dressing
Simply sensational - perhaps the best dish of the night!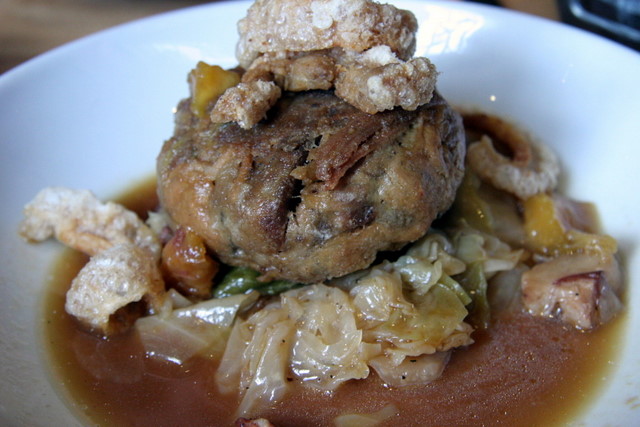 louisiana cochon with turnips, cabbage & cracklins
Another awesome dish, everything simply harmonized beautifully. I can't recall ever having more delicious cabbage.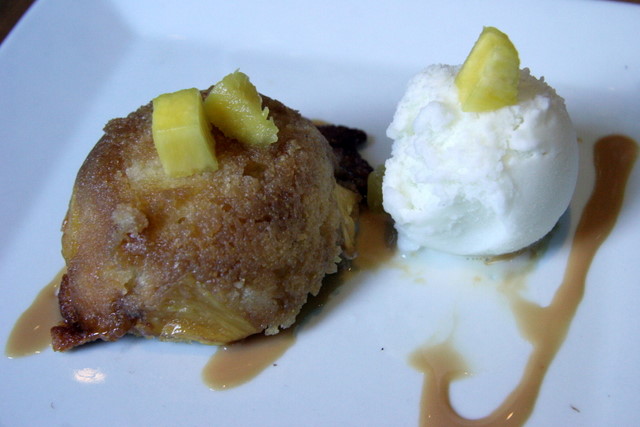 pineapple upside-down cake- cornmeal cake with coconut-lime sorbet & dulce de leche
Nice, though the sorbet was a little crystally and light on the lime.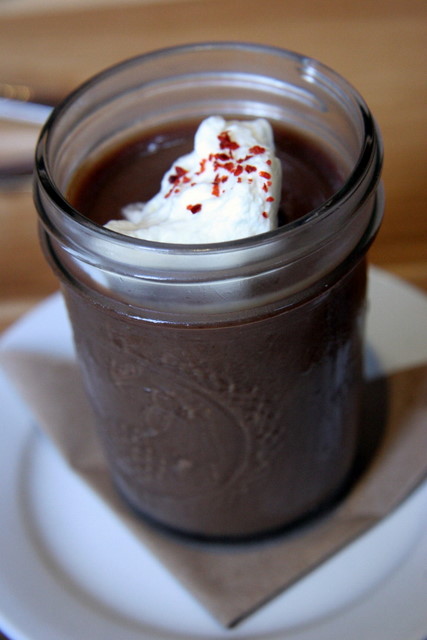 chocolate chicory mousse with red pepper flakes
Awesome flavor, my son and I fought over this one.
i can understand why this place has become so popular and highly regarded. They do a number of things very well in an extremely unpretentious atmosphere, yet with very good service.
More to come...