Here's one of the four different "cocktail stations" at The Violet Hour. The ones we sampled -- all gin-based -- were Juliet & Romeo, Aviation, Martinez (precursor of the Martini), and something I can't remember (help, please). The Juliet & Romeo was by far my favorite. It recently was named
one of the 20 best cocktails in America
by GQ (#3 on the slide show). Toby (Alchemist) posted the recipe
here on LTH
, although I believe he used Hendrick's gin at TVH instead of the Beefeater specified in the recipe.
Groups rotated through the stations, and Toby would stop by for an instructional session on how and why each cocktail was constructed. For example, if I remember correctly (someone correct me on this, if needed), when we sampled the J & R, we started with just the main liquids, then in succession added the mint leaf, bitters, and rose water.
Clockwise from the far left, there's tammylc (Tammy); two people I recognize but am absolutely blocking out their names (help, again, please); nyokie6 and spouse (Toby and Ron); HeatherM (Heather); someone I don't recognize; and jesteinf and spouse (Josh and Marisa). I'm pretty sure this was the Martinez station.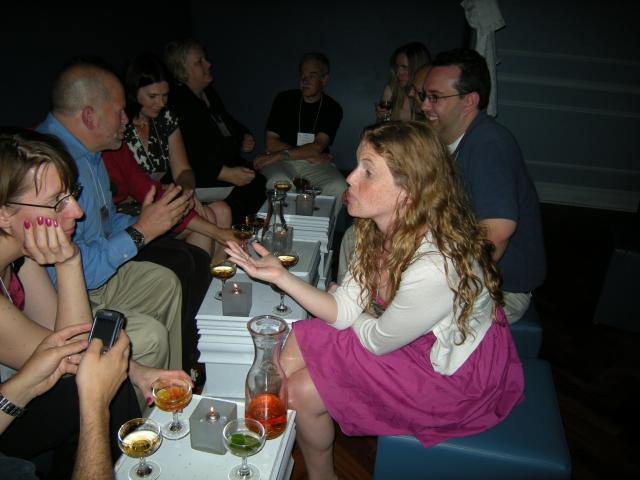 And this is how things looked after sampling all four cocktails. That's Ronnie (ronnie_suburban) on the right.
Edited by Alex, 17 August 2008 - 09:28 AM.