Lobsterbakes are the most fun you can have on a New England shoreline in my opinion. The few I've been to take all day to engineer - which is fun in itself - and if you have a big old bonfire handy, the action lasts well into the night.
In the past few years, locations for lobsterbakes have gotten more difficult to find here in Southern Maine. Some members may remember my attempts in 2004 to stage an eGullet lobster feast somewhere near Portland but I was turned away from local city parks and private shoreline is, well, private.
This week,
The Maine Switch,
a Portland-based weekly lifestyle newspaper, featured this local tradition on it's cover, and to my delight, my charming friend
Courtney MacIsaac,
the Chef/Owner of
The Great Maine Lobster Bake Co.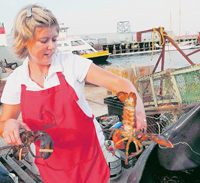 Courtney grew up on Peaks Island, a short ferry ride from Portland, and really knows what she's doing. She has a special stainless steel steamer, custom-built to her specs, in which to get the job done. Her menu provides all the traditional side dishes - steamers, mussels, corn-on-the-cob, slaw, blueberry pie - and for a per-head price, sets it all up and breaks it all down too.
Mobile lobster Bake companies are the way to go in these parts. As suitable locations become harder to come by, leave it to the experts to come by your house and fire it up for you.
Other Mobile Lobster/Clam Bake outfits:
Sam's Great Northern Lobster Bakes
Portland, Maine
Up in Booth Bay,
Cabbage Island Clambakes
runs a regular feast on 5-acre Cabbage Island in Linekin Bay. Price includes a round trip aboard the
Argo
.
Further Downeast, you will find more location opportunities and relaxed shore access... and probably cheaper lobsters. Should you take the plunge and do your own, the Maine Switch link above has a 7-step lobsterbake checklist (Thanks go out to Karen Beaudoin, editor, The Maine Switch for photo permission)