Well, I have been to every themed Simple Sunday Supper except BBQ night, but I plan to be there this Sunday 12/7.

The second Fried Chicken night even surpassed the first. Friends with me that Sunday said it was the best Fried Chicken they have eaten. I don't disagree and NOCA says they can do even better next time.

Pictures of last Sunday's Home Style Italian Night. NOCA provided the comfort food I needed when the Suns lost after leading virtually the entire game.

Blue cheese foam apple butter Amuse


Antipasto - Assorted organic vegetables, Iitoi onion fritatta, Bresaola, and cheese.


Spaghetti and Meatballs (Chitarra con Polpetini) Garlic Brioche Toast (not pictured)


NOCA's take on Spumoni (Pistachio creme, walnut sable, black cherry gelato, roasted walnut foam)


And by the way. 4.5 Stars from the Arizona Republic
http://www.azcentral...081117noca.html

NOCA'S Simple Supper has evolved and it is not so "simple" anymore. The overall format is still the same with 3 courses including a choice of entree for $35 but now there are supplements to the "Simple" menu as well. I have been to a bunch of the suppers and it definitely has developed a following. On a few of the Fried Chicken Night's that I have been to, there was not a seat to be had by 7:00 pm and that is not a typical scene for Sunday night dining at least in Phoenix.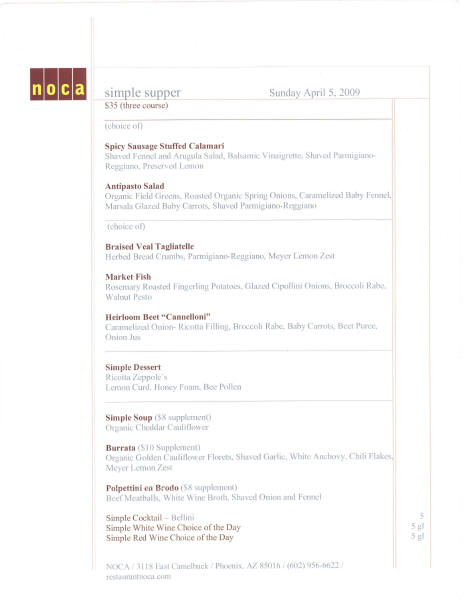 April 5 Simple Supper Menu
After watching the Suns get pasted by the Mavericks, I was down in the area and slid into NOCA for an early dinner...I started with the Simple Cocktail which was their take on the Bellini and it had peach and raspberry puree, Effen Vodka and a prosecco float...very good.
NOCA Bellini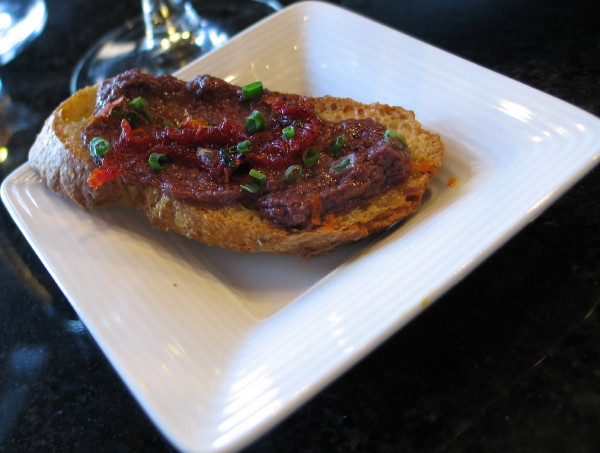 Amuse...Bruschetta with Olive Tapenade, Oven Dried Tomatoes and Chives
The soup's at NOCA are always a favorite of mine (I miss the Roasted Chestnut)
so I started with the Organic Cheddar Cauliflower.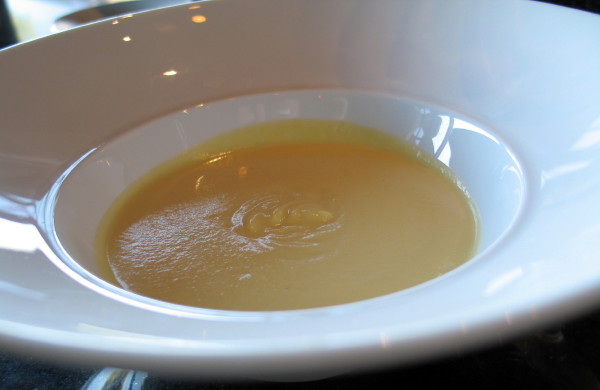 Organic Cheddar Cauliflower Soup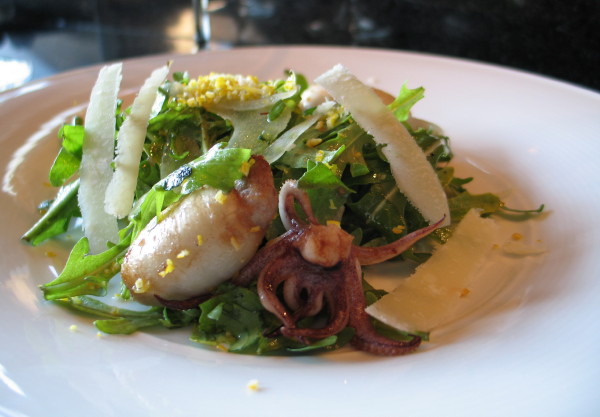 Spicy Sausage Stuffed Calamari-shaved fennel and arugula salad, balsamic vinaigrette, shaved parmigiano-reggiano and preserved lemon
The first time I had stuffed calamari was at Degustation in NY and I became a fan but I do not see this dish that often so I was psyched when it was a first course option. The texture of the calamari was just right and the spicy sausage had just the right kick so it did not over power the dish.
Organic Golden Cauliflower Florets, Shaved Garlic, White Anchovy, Chili Flakes, Meyer Lemon Zest
When burrata is on a menu somehow it finds the way to my table

, this was a great dish. I was seated at the Chef's counter and watched this dish come together. The anchovy was sauteed with the golden cauliflower florets, shaved garlic and chili flakes so the anchovy just melted in to the pan so the other ingredients would absorb it's essence. The burrata was a great medium to transfer the flavors into the burrata's creamy goodness.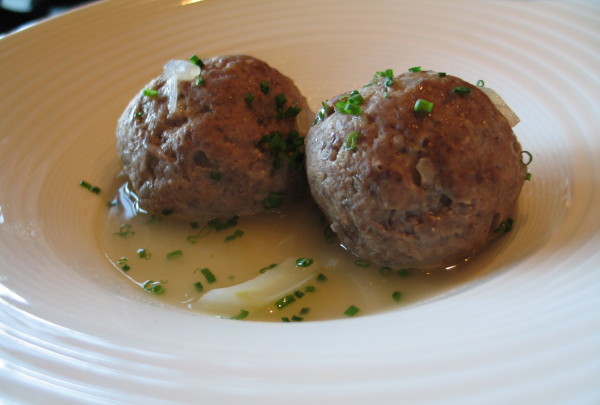 Polpettini en Brodo
Braised Veal Tagliatelle, Herbed Bread Crumbs, Meyer Lemon Zest
The pasta was house-made and the braised veal and the braising liquid had a deep rich flavor that was nicely popped by the lemon zest and that made this dish truly Italian comfort food. My problem was that I had ordered the polpettini supplement before this and that really filled me up so that prevented me from finishing the dish with dessert to follow.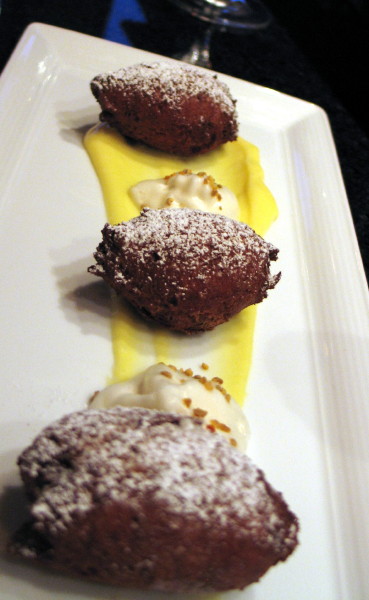 Ricotta Zeppole's, Lemon Curd, Honey Foam, Bee Pollen
The doughnuts on NOCA's standard dessert menu are addictive but I would be hard pressed to pick a favorite between the zeppole and them. I liked the soft interior of the zeppole and smearing them thru the lemon curd and honey foam made a killer bite

.
The moral of this story is: don't bet on the Suns if they are playing on a Sunday and it is Italian Simple Supper at NOCA.