[Moderator's note: this continues the discussion from Sous Vide: Recipes, Techniques & Equipment (Part 4)]


As I mentioned above I was planning to make a Wagyu Brisket Sous Vide. I setup the sous vide equipement with an Auber PID and a Waring roasting oven which I got on Sale + Coupon from Bed and Bath. I Drilled Holes in the lid for the temperature probe and the aquarium circulator.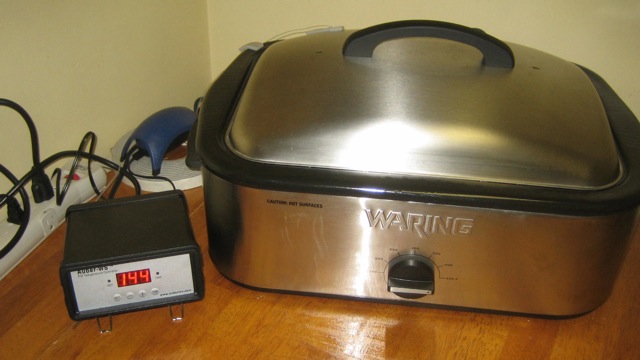 I cooked a turkey breast sous vide once before and I think there is a post about it somewhere in this thread. I did that one the stove in a Le Creuset Oven, but since this was an entire 10lb brisket and would cook for 48 hours, I figured I needed a better setup.

Here is the brisket cooking. Before adding it to the bags, I divided it into three pieces, seasoned, and seared it.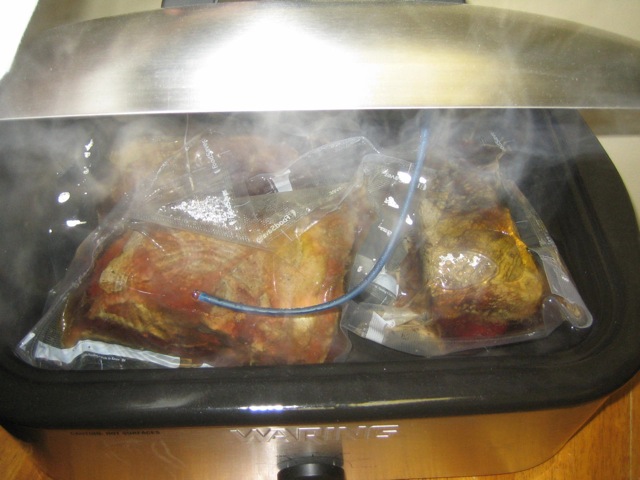 I decided to set the bath to 144F. Seems that people cook the brisket at a wide range of temperatures and times. After reading Under Pressure, I was kind of nervous to cook it at 135, but after re-reading Douglas' guide, I think I would try the next one at that temp.

It turned out pretty well. I've never cooked a brisket before. At my first dinner I served the leanest part with a sauce bordelaise, turned glazed carrots, chanterelle mushrooms, and potato gratin. The meat was really tender, and not dry, but not all that moist either.

I liked the less lean part better. I served the middle piece a different day, just about the same way (changes to shitake mushrooms/Julienned carrots). This piece was a little bit pinker and more juicy.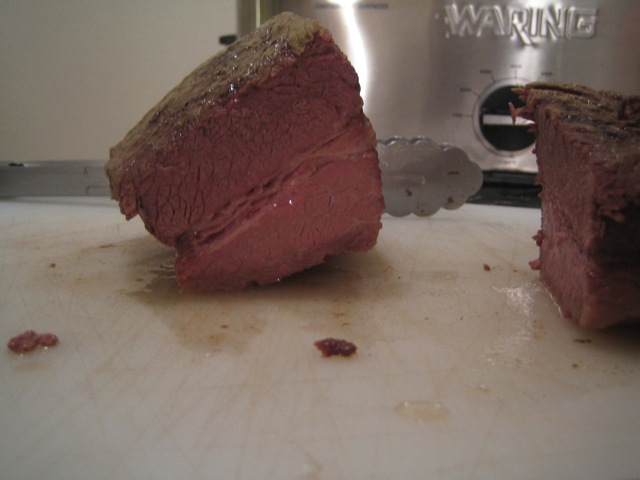 I dropped and pretty much ruined camera just before the last picture.


I've got the third piece in the freezer.