Cold Soups--Cook-Off XL
eGullet Recipe Cook-Off Series
Welcome to the eGullet Recipe Cook-Off!
Click here for the Cook-Off index.
From avocado to zucchini,
cold soups
know no bounds. And, with summer quickly approaching in the northern hemisphere, we thought it might be a good time to take a look at all the wonderful varieties of cold soups that work so well in the warmer months.
After all, who doesn't remember that wonderful first slurp of an icy, spicy
gazpacho
? Or mixing your side of sour cream into a shockingly red
borscht
for a dish that is so much more than the sum of its parts. Perhaps yours was fancier, the potato and leek wonder known by its French name,
vichyssoise
...(and which, by the way, is also known as
potage parmentier
when served hot, according to Bernard Clayton, in his great primer
The Complete Book of Soups and Stews
; Clayton's book has 29 cold soup recipes - not bad).
Stepping back in time, if you'll allow me to poach a couple of cold ones that I made last year, there's ample room for sweet as well as the savory. Strawberries make an awesome soup, or so I'm told. Cherries do too - just take a look below...this
sour cherry soup
was quite tasty, as well as a great vehicle for ice cream and sorbet

...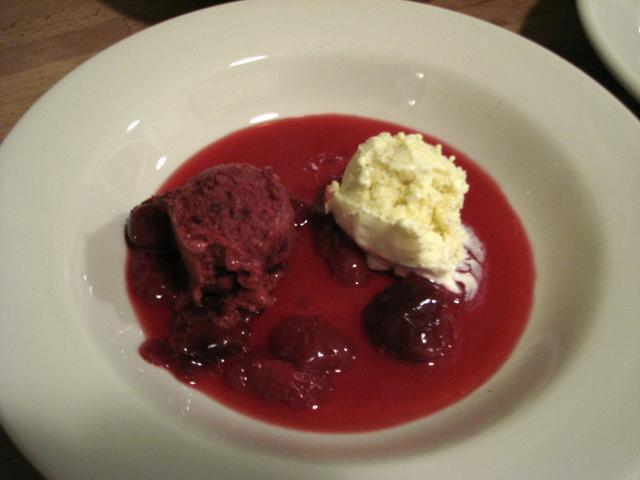 Perhaps something a little more savory is to your liking...everyone loved
cacik
, a Turkish yogurt and cucumber soup, redolent with dill and garlic...though I may have served portions a bit too large -
So, bring it on eG'ers - get out your blenders, hand mixers, food processors, chopping blocks, ice cubes, etc. and show us what's keeping you cool, at least in the soup department, this coming summer.