I know at least one other eG member has dined at Ryugin recently (the evening after I did!), and I think it deserves its own topic. Plus this is going to be looooooong, and I don't know where else to put it! Some parts of this can be found on another board, so if it sounds familiar, it's because it just may be.
I just dined at Ryugin Friday night, just under six weeks after
exilekiss'
meal which I mentioned in Peter Green's travelogue. I also had the Gastronomy Course B, but my meal was almost entirely different. I was told it was the "Late Spring" menu. This just highlights Chef Yamamoto's determination to use ingredients at their peaks. (Early Summer menu will debut June 1st, for anyone wanting to try it!)
I'm not much of a creative writer or thinker, so I lack the ability to phrase my prose as beautifully as most. Plus I never take notes, so I've forgotten a lot of information, so please bear with me!
A little background, Chef Yamamoto and Ryugin have been mentioned on eG before--a couple of eG members have dined at Ryugin—most recently Peter Green, but Culinista was there two years ago (though I don't think s/he ever fully wrote about the experience). Chef Yamamoto was also mentioned in the
Madrid Fusion 2007 topic
, and docsconz's
Starchefs 2007 topic
. I don't think Ryugin stuck in my head until docsconz posted
the restaurant's homepage
, and even then, it only stuck because I thought the website was extremely annoying to navigate. I still think it's annoying, but I've since learned the sous chef did many (all?) of the drawings for the site. There's also an English FAQ that was just added (last week?). Only three questions so far, but I wish I had read it before going!
My menu can be seen (in two parts) below:
I didn't ask for a copy of the menu, but after the first few courses, the server with whom I spoke the most came over and brought me a copy. I was asking a lot of questions, and trying to remember what I was being told, and I guess he sensed my interest in the food. I thought it was terribly thoughtful of him! He also gave me a business card for a store where Chef Yamamoto sources a lot of his purchased glassware. I think the custom made glassware may be made there, as well. Service is extremely personable at Ryugin. I dined quite early (6:30), so I got a lot of attention. Were you to dine later (around 8), you would not be able to chat with the staff as much, so I would suggest going very early, or very late (as Peter did).
I don't have a picture of the first course, the Hamaguri Clam in Snow White Soup, but it was presented as "Chateau Ryugin" as seen in Peter's travelogue. It had a wonderfully clean flavour. It was explained how the flavour was extracted, but I can't remember now…
My first course after Chateau Ryugin was Deep-fried Baby Ayu with Tade Red Vinegar.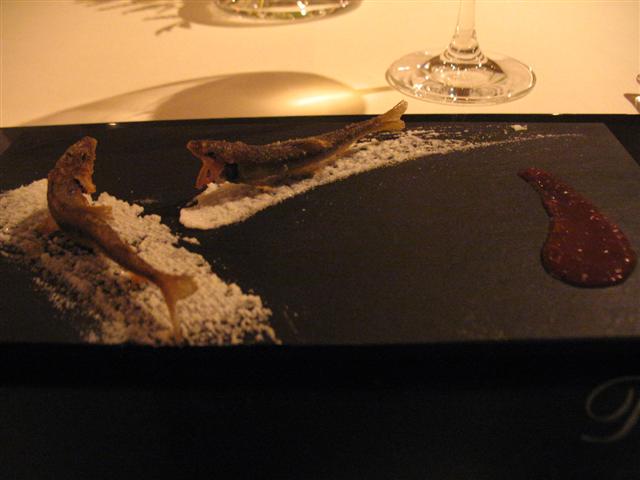 The tade red vinegar (tade, according to my dictionary, is smartweed or water pepper) has a touch of watermelon in it. Why? As it was explained to me, ayu naturally have a hint of watermelon flavour to them naturally due to their diet (they don't eat watermelon, however, but moss). Baby ayu are too young to have eaten much moss, so they don't have that natural watermelon flavour, and the Chef adds watermelon to the sauce to mimic what will eventually happen naturally. The ayu, by the way, were alive until they hit the fryer. That explains how they were able to accomplish the presentation—they were plated as though they were still swimming in the lake (these were from Lake Biwa). The Early Summer menu will have larger ayu, so I imagine it will be served in a much different way. I hope to go back and try it! But maybe not this year...
I love the presentation of the ayu. When it was placed in front of me, I sat up straight, my eyes grew wide, and I couldn't help but smile. One of the other waitstaff passed by as this happened, and she laughed a little at my reaction. Really, whimsical is the best way to describe this dish, as well as many of the others. It's a word oft used with regards to Chef Yamamoto and Ryugin, but it really does describe them well.
My next dish was Bamboo Shoot, Potherb Mustard and Shiro-Zuiki dressed in Sudachi Soy Sauce with Shimaebi Shrimp. Shiro-Zuiki is the stem of young satoimo (taro) greens. I think this was my "salad" dish. All the greens used were organic, and the shrimp was so sweet I could have just eaten more of them for the rest of my meal and been more than happy. (no picture)
Then I had "Pampered Beef" sliced in Shabushabu style in Gelee of White Radish and Ponzu Vinegar served with White Asparagus.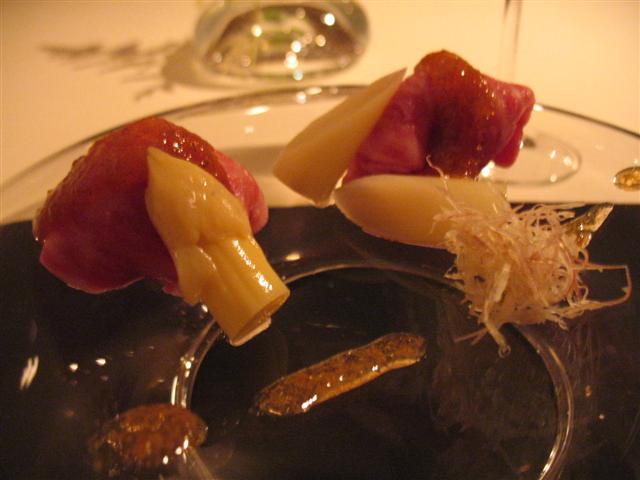 This was one of my favourites of the night. The beef is swished in 70C water, then "shocked" in 20C water rather than ice water. It had the appearance of being raw, but it simply melted in your mouth.
I had the soup next. It was served in the same bowl as used for exilekiss', but it was Hamo in Shabushabu style in Hamo Bones Stock.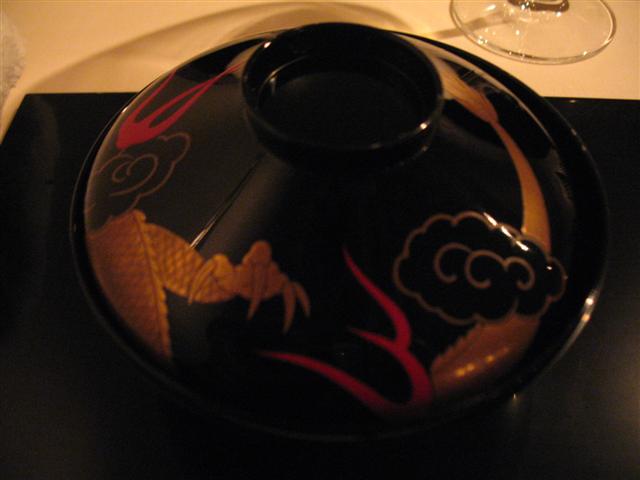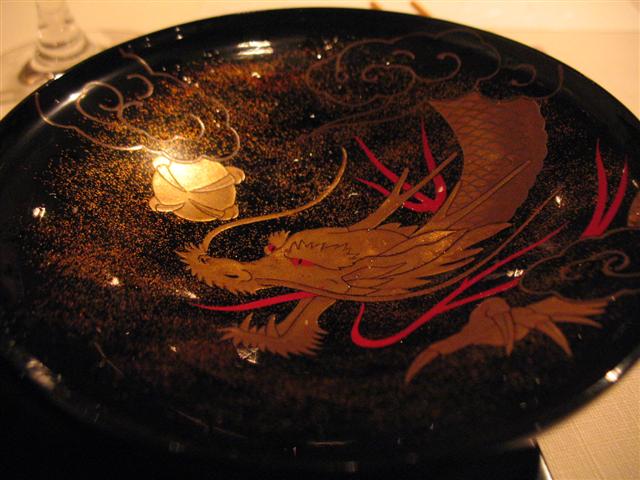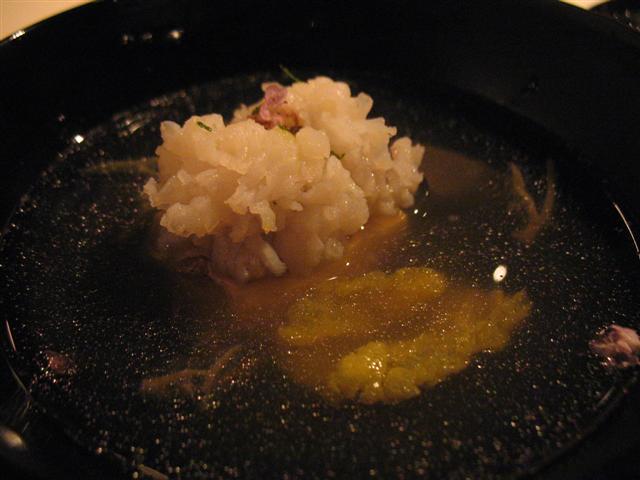 I normally don't care for hamo, but this dish was very well done. Subtle, yet flavourful. And I want to know how he got the bones out of the hamo to make the stock! (actually, I vaguely remember something about giving hamo an MRI…)
I think the sashimi I had were the same as exilekiss', but I also had edible negi flowers, and a couple of other little leaves (I think one was shiso) on my plate. The plate was also custom made.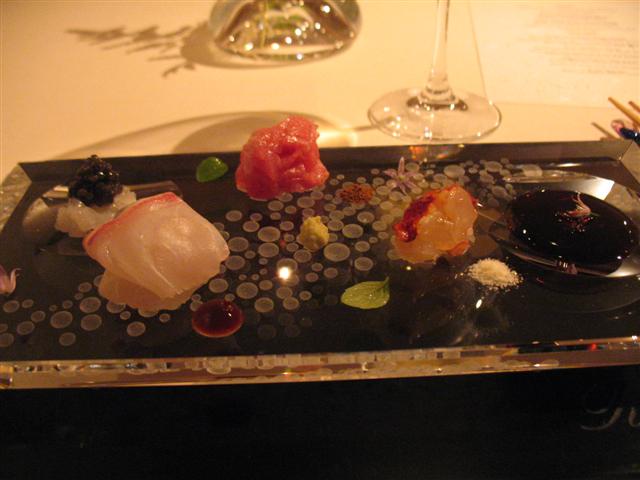 I'm not sure if this is always done, but the Chef came out to pour everyone's soy sauce (he doesn't make his own soy sauce, but he custom blends it in the kitchen) onto the plate (which is designed by Chef and custom made) and explain the fish. He (and a couple of other staff members) also came outside (literally) to thank you and see you off as you left. A wonderful touch, especially given how busy he must be in the kitchen.
My abalone dish was Abalone Liver (ankimo) Chawanmushi with Slow-Cooked Abalone (steamed for 10 hours).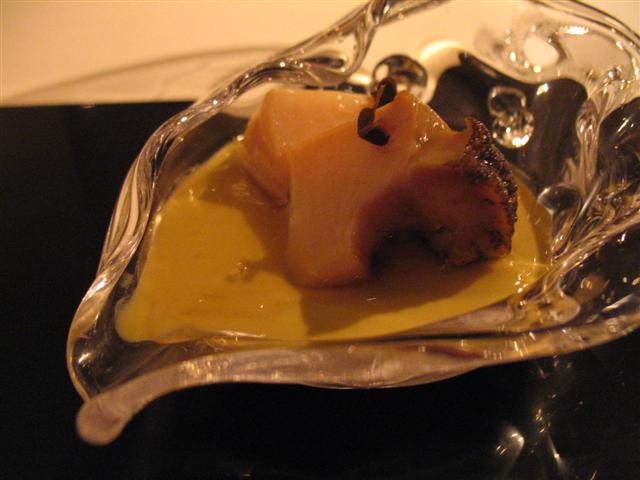 I've never liked abalone, but I could certainly get used to eating slow-cooked abalone. It's still chewy, yet it's much more tender than any other abalone I've had. I didn't find the ankimo chawanmushi to be terribly interesting in flavour, though it had a lovely soft and creamy texture.
Chargrilled Crispy "Oome Masu" Trout.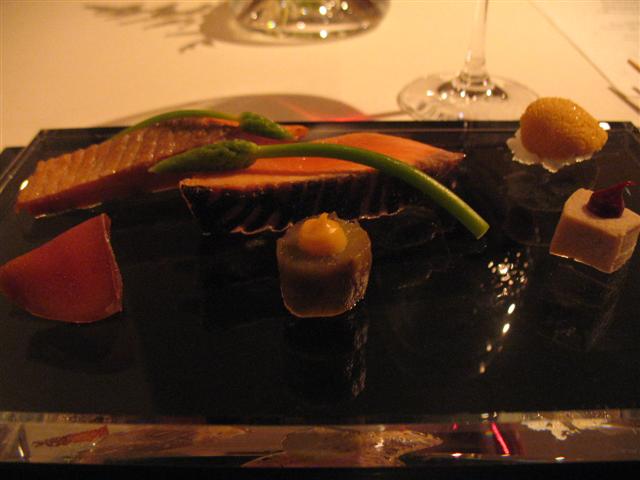 On the menu, it says "the contrast of Crunchy Skin and Fluffy Meat". I have to admit, the reason I chose Menu B was because of that particular teaser. Who doesn't love crunchy fish skin? When the dish was set in front of me, however, I thought, "Hey! Where's my skin???" I couldn't see any skin at all on the two slices of fish on my plate. I was prepared to be disappointed, but with my first bite, I was ecstatic. It really was a contrast of crunchy skin (very crunchy, I might add) and moist and tender meat (I didn't really think it was "fluffy"). This was my other favourite dish of the night. Also on the plate--asparagus (the forebearer of aspargus, imported from France), uni on daikon (loved the uni, but I'd rather have had it without the daikon), koyadoufu with raspberry miso (I hate raspberry, but I loved this!), eggplant (a variety that doesn't need to be cooked) with yuzu (?) miso, and karasumi. I hate karasumi, but this was made in-house and it was like to karasumi I've ever had! It was soft and pliable, and it had a wonderful flavour. I could have eaten more of these...
Next up is "Young Pigeon roasted with straw, "Tosa Style" with Wasabi Soy Sauce.
I was struggling by this time (I'm not a big eater unless it's Old Dutch Bar-B-Q chips), so perhaps I would have enjoyed this dish more if I hadn't been forcing myself to eat. I enjoyed the flavours, but it was a little difficult trying to cut the pigeon (which I was told was cooked tataki-style—lightly boiled, she said, then quickly grilled) with a butter knife. OK, it wasn't a butter knife, but a Laguiole knife, but it certainly felt like I was cutting with a butter knife. Perhaps I'm not experienced enough to know how to use a Laguiole knife properly…(at first I thought I might have been holding the knife upside down, but some experimentation proved me wrong).
Also on the plate is some daikon and I can't remember what the mound was that is covered by summer truffles. I think it was daikon oroshi, and it had a very familiar flavour, but it was served warm. Daikon oroshi isn't usually served warm, is it? Or maybe it was some kind of imo??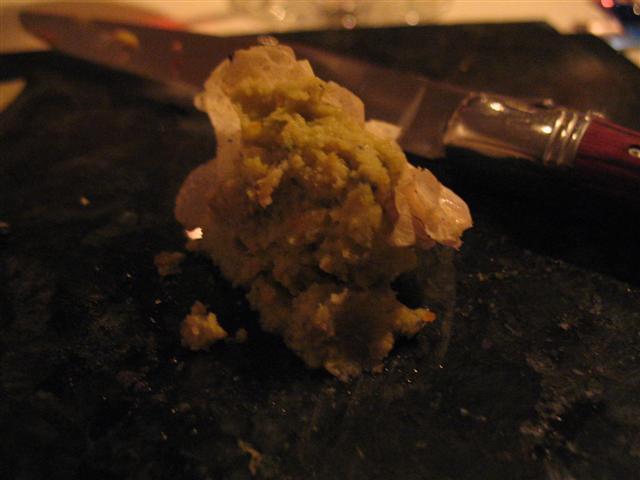 While eating my pigeon, one of the staff asked me if I was becoming very full (they could easily see I was struggling, and while eating the previous two dishes, they often told me "Murishinai de!" But how could I not try to finish all that delightful food?). When I replied affirmatively, she offered to give me a smaller portion of the rice and miso soup course. I gratefully accepted her offer.
The rice served at Ryugin is custom grown. No, just kidding, but it's grown by Chef Yamamoto's in-laws in Shikoku, as Peter mentioned, so they have a life-time supply. It was served with Special Sweet Corn and Young Green Peas topped with "Sakuraebi Prawn".
When I saw the dish, I was again prepared to be disappointed. I hate those little shrimp, and the sight of corn and peas on rice brings back memories of eating really bad Chinese fried rice with frozen corn and peas ordered by friends who didn't know any better. But again, my fears were unfounded. The rice was perfectly cooked—I normally don't like Japanese rice as I find it to be mushy, but this was just on the cooked side of al dente, and there was no excess moisture to it. The peas were very small—no more than 2 or 3mm, I think, but I loved eating them individually, as each bite produced a little pop of sweetness. Delicious. I managed to finish my rice, but left a bit of the miso soup. I still had dessert coming up! This course was served with mugicha, I think.
The rice, pickles, and miso soup are o-kawari, by the way. In other words, you can get unlimited quantities of any of them.
The palate cleanser was Compote of Supreme "Salt Tomato" in Sweet-and-Sour Flavoured Thick Juicy Gelee.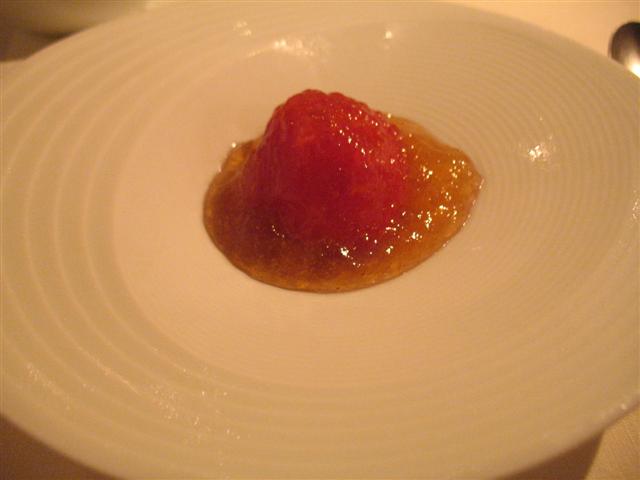 Served chilled, it was reminiscent of a sorbet (which I think was the point). Salt Tomato, by the way, is the type of tomato named because of the type of soil it's grown in. Served with sencha.
http://forums.egulle...5_5877_9596.jpg
Can I just mention how much I loved the cups and saucers? When I lifted the cup I just had to smile again. Who would have expected a hole in the middle of the saucer? I was the told the servers love it, too, because they don't have to worry about the cups sliding off the saucers

These were custom made for the restaurant, unfortunately, or I'd buy a set of them!
Caramel Ice Cream made with Wasanbon Sugar is my other favourite dish (wait a minute…how many favourites do I have now??).
The wasanbon sugar is produced from sugar cane grown by Chef's in-laws. Who knew they grew sugar cane in Shikoku?? There was a wee bit of ginger salt on the side. Perfect. Served with tea, but I can't remember what kind now. Or maybe it was still sencha.
And finally, the Minus 196 degree Celsius Candy Apple.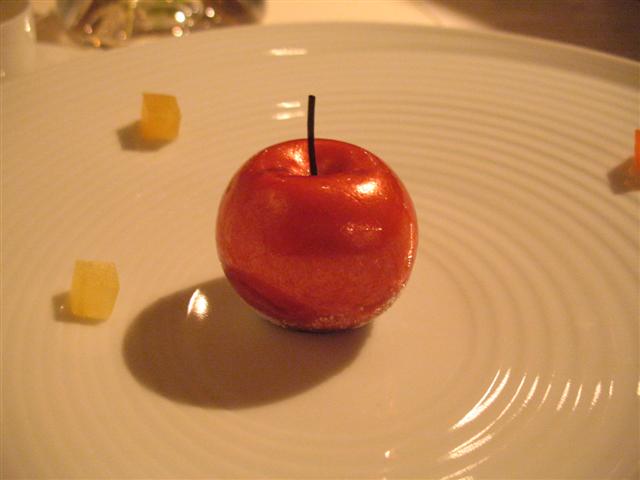 Whimsical, delightful, but not one of my favourites of the night. It was, however, the perfect way to end the meal. Served with apple-infused black tea with a square saucer!
This was also where the very cool honey "pot" was brought out. I loved the spoon, especially! It wasn't custom made, but they couldn't tell me where it was from. The honey is palash honey from India, which v. gautam very kindly discussed
here
..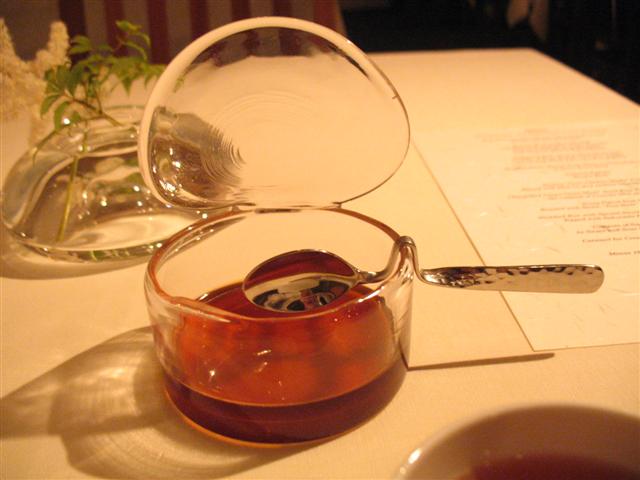 I thought I was finished at this point, so I put my napkin on the table, but I wasn't finished…just two cups of tea remained—cinnamon followed by strawberry.
I did end up ordering two glasses of wine. The first was a white--French, 2005...and that's all I remember. It might have been from the Champagne region, or some other region that starts with "C", and I think the producer was Philippe someone... (can you tell I don't drink much wine?). It was perfect for the first half of the meal. It not only complimented the flavours of the food, but enriched them. As the flavours of the wine mingled with the flavours of the food, they seemed to create new and equally delicious tastes. (I hope someone out there understand what I mean!)
The second glass was a red--this one I remember a little better--1999, 100% Pinot Noir, French from Bourgogne (I'm almost positive it was from Bourgogne). OK, that's it. Remember, I said I remembered it a little better, not a lot! This one was very easy to drink, and I quite enjoyed it on its own. With the remaining savoury dishes, I didn't think it was as successful as the white. While it didn't clash with any of the flavours of the food, almost as soon as I had a sip of wine, any lingering food flavours disappeared, and I was left with just wine. Not necessarily a bad thing, but a little disappointing after my enjoyment of the white.
I think my wine choices were a little expensive—probably about Y2000-3000 a glass (maybe even more) based on my total bill (depending on how much the service charge was).
Chef Yamamoto and a couple of the FOH staff come outside to bid you farewell as you leave. Had I read the brand new FAQ, I'd have asked to have my picture taken with him (you can ask at that time, but they prefer you not ask during your meal). But I don't normally ask for things like that (too shy, doncha know!), so I didn't.
exilekiss mentioned much of the tableware in his write-up. I love tableware, so I asked a lot of questions about the dishes. Several of the pieces used at Ryugin are custom made, and are designed by Chef Yamamoto. That lacquerware bowl with the dragon in exilekiss' blog is a perfect example of how the creativity of the kitchen extends beyond food. The picture was conceptualized by Chef Yamamoto, and executed by the sous chef. Then it was sent to the makers (I think in the Noto Peninsula), and one year later, they had their bowls. Not all is custom made, but even the purchased pieces are beautiful--the custom made glass "can" that held exilekiss' steamed abalone was based on a larger purchased dish that was used to serve me honey. The glass shellfish used to hold my abalone and the glass vases and centerpiece holders were purchased from a company called Sugahara (and they even have a store in my neck of the woods!). The cups and doughnut-hole saucers were also conceptualized by the chef, and custom made.
An experience at Ryugin will truly make you smile for so many different reasons. It was a wonderful dinner, and I dine there again!