Hello all

long time no see. Between moving and other life interruptions I have not posted in ages but I miss you all and I'm excited to share all the culinary details of our recent week in San Jose del Cabo.
In addition to our time in Los Cabos we also spent a week in Los Angeles, Beverly Hills to be exact, where we have family, and managed to have two fabulous meals there as well at the two sister restaurants recently opened by a famous trio... I will post reports on these meals in the appropriate thread
here
.. But first I have a lot of photos of our wonderful meals in Los Cabos.
For those of you who do not know, my husband and I have two young boys, aged 7 and 5. They love to eat and were introduced to restaurants at a very young age. As I think back I realize that this was our first big trip with kids when I did not hesitate to take them to any restaurant that I was curious to try. I even pushed the envelope by walking into a restaurant one evening that I knew would have great food but (according to their website) did not accept children. We were greeted there with a smile and immediately handed a menu to peruse. In the end we chose not to stay for a meal, but it was nice to know that we could have...
So I will start at the beginning of our journey. Of course given the "remoteness" of Halifax (at least when it comes to flight connections) we had to take several airplanes to arrive at our final destination, but it was worth it since we managed to eat well along the way! We arrived first in San Francisco at noon on a Friday, and our flight to Los Cabos did not leave until the following morning. So we made a reservation for dinner at A16, a pizza place that we had enjoyed years back, and decided to spend the late afternoon grazing at the Ferry Plaza. And graze we did. We stopped for Oysters, chowder and Greek yoghurt, and washed it all down with macaroons and homemade marshmallows. You can see photos on the Ferry Plaza thread
here
.
As a result of our stopover in San Francisco, we arrived in San Jose with goodies - meats, cheeses, homemade chips - that would supply us with several lunches to come: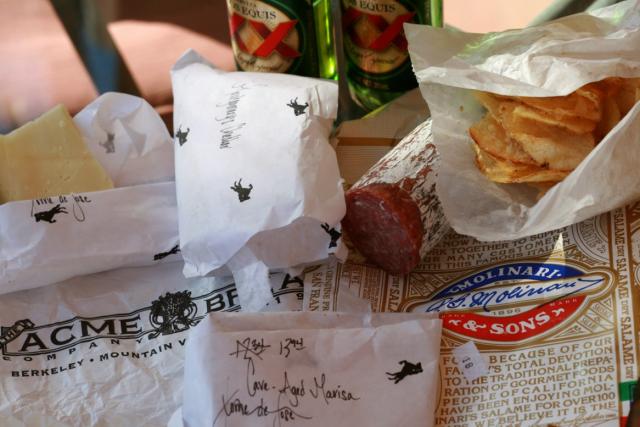 My husband and I had always wanted to visit the Baja Peninsula, knowing how beautiful it was, but it was a great surprise to us that we enjoyed such great food on the trip as well. We have very limited experience with Mexican food, the little exposure we have to it is from mediocre restaurants which I now suspect are serving a north-americanized version of the real thing. And although we ate mainly modern takes on what is considered traditional Mexican fare, the ingredients and flavors were true to their origins. We are happy to say that returned from this trip newly turned on to Mexican cuisine.
Here is a tease of the beauty of the land to come, as witnessed from the airplane as we approached our destination: