This is a bit belated, but I thought I'd put my two cents in about this place.
We had reservations for a Saturday night, got there on time only to have the host seat a couple that walked in after us, first, ignoring us. When I pointed this out, he told us that they had gotten there an hour earlier and had just returned after waiting for a table. Huh? We made the reservation three days in advance, he ignored us when we come in and then he argues about who was there first? Whatever. So, our table having been taken, he tells us that we can either wait in the restaurant (nowhere to sit, a tiny space to stand next to the door and be subjected to intermittent blasts of freezing cold as it opens) or we can go across the street to The Beehive, a bar where we can wait and where there's no line. OK, so we trudge outside, in the snow, and go to the Beehive only to find that there's a huge line outside with people waiting to get in. What the hell? So we go back to the restaurant and the host is all surprised when i tell him that this place is packed and we remain inside, squeezed in the entrance, waiting for a table. At this point, I'm in a bad mood, ready to snap at the first thing that goes wrong. The host? No word, no offer of "Hey, since i just sent you on a pointless trudge through the freezing winter snowstorm to a place that you cant get into, why don't I comp you at least a little alcohol to warm you back up". We end up getting a bottle of wine, which we drink standing in our coats at the entrance till we finally have a table. So, what I'm saying is that I was less than impressed.
This is the point, thankfully, when things took a turn for the better. Our server came, we ordered some oysters and my mood got waaaay better. The oyster selection was pretty good - we got some east and west coast varieties (dont remember the names) but they were the best oysters i've ever tasted. fresh, chilled and evokative of the best beeches i've been on :) i was starting to get happy. we ordered an appetizer - forget what it was, except that it involved such tasty mayonaisse that we licked the bowl clean. Then, the entrees: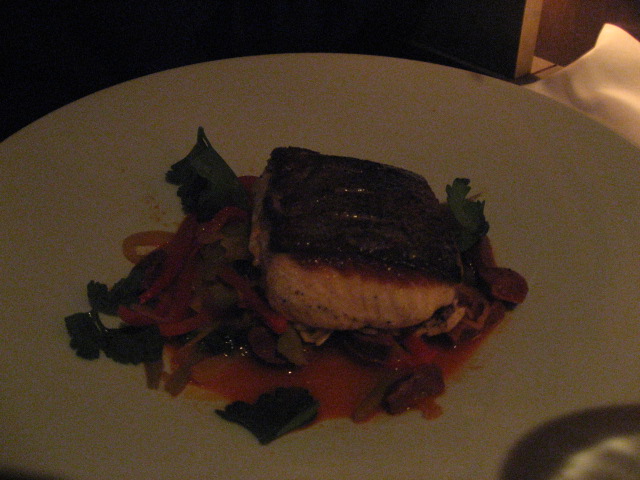 Salmon with a vegetable ratatoille (sp?) this was one of my friends dishes - i don't like cooked salmon so i never order it, but i snuck a bite. seriously, wow. i actually could have eaten the whole dish - the salmon flesh was buttery and tender, creamy, almost. completely changed my mind about the fish :)
also, another friend's entree - tuna with greens and beans. fabulous. i'm also not a fan of tuna, but this was beautifully prepared. the greens tasted fresh and bright, not over- or undercooked, and the beans had an almost smoky savory flavor.
two of us got the lobster roll - never had so figured to try it. Was not dissapointed - the bread was warm and toasty brioche, the huge amount of chilled lobster lightly tossed with mayo, perfect french fries sprinkled with herbes de provence (or herbes fines? i'm not good with french food), house made bread n' butter pickles, and coleslaw. every component of the dish was perfectly made, and i loved how the tarragon in the fresh herbs played up the sweetness of the potatoes.
the kitchen also sent out a little "sorry for the mishaps" oysters rockefeller ( i think that's what you call them) which were ok - i'm a bit of a purinst when it comes to oysters, so if they're not raw and unadulterated, I'm not really a fan. And we ordered dessert, which i don't have a picture of because we ate it so fast - ricotta beignets with a chocolate ganache sauce - the beignets were perfect but the chocolate sauce had broken ( seriously - how do you send out something like that? i'd be embarassed to serve it at home, much less a restaurant!)
So the verdict? awesome oysters, (mostly) awesome food but bumps in the service - specifically the host because our server was very helpful and courteous.