Thatís real estate talk for an eat-in kitchen in a pre-war building, and it is from this cultural locus in Brooklyn that I am reporting on my Epicurean exploits. Which are influenced by:
My parents, who loved to play with food.
The changing face of New York City, my beloved melting pot.
The vegetable box, which comes on Thursdays.
Julia Child at 3:00 a.m., and food as succour.
My name is Linda, and I am an Italian-American living in an Italian neighborhood in Brooklyn with my partner, Lynn, and our parrot, Ernie. The building I live in has a bakery on the ground floor, which was once a bakery of some renown in our neighborhood. My landladyís father built it in 1930, and bread and pastry were sold at the front of the house. Thatís bricked over now, and the coal oven is in the back where the landladyís nephew still bakes bread for commercial bakeries and one food store on our block that has a sign reading ďWe sell Caruso bread on Tuesdays.Ē
Now you wouldnít know thereís a bakery here unless you witness the weekly coal or flour delivery.
This is us, our only formal portrait. We have been together a long time. I am on your right.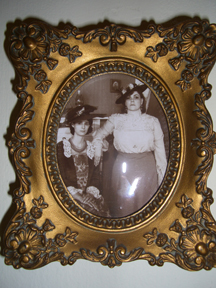 Every morning I am served espresso in bed. This is made in a Bialetti Moka Express pot. The reason why I am served is that I am incapable of movement before my daily injection. At any given point in my adult life, I am in some state of addiction/withdrawal from some form of caffeinated beverage. Right now, I am in withdrawal. This tidy espresso cup, rather large by European standards, and is likely a double, is half my usual dosage. Iím doing well and can sometimes actually get out of bed to make my own espresso if the pot has been prepared the night before and I have to pee really bad.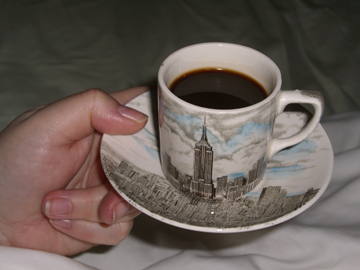 I use Illy canned coffee in this pot, and I believe that learning how to make it is what got me started on eGullet. I wanted to be able to replicate the espresso I had in Italy, I did some research, and ended up with this. This espresso does not, by any means, taste as good as the espresso in Italy, but itís low tech and I try to live a simple life, a philosophy often expressed through food.