Not long ago I posted a review of our first visit to the recently opened Ayuthai restaurant in west Guilford. A couple of days ago we tried the Som Siam Thai restaurant on the green in Guilford, for the first time.

This is a smallish restaurant sitting behind the storefronts facing the green.
We liked the art and table settings. When you walk in you can see employees working in the kitchen. It's a pretty small and intimate place but we were not disturbed by the kitchen/bar around the corner. Once inside you could imaging being in someone's diningroom because of the view out the windows. You get more of a residential than commercial feel. We went at 2PM so there were only a few other clients in the place. We were waited on by two mature and attarctively dressed Thai ladies.
We had a nice bottle of 2005 Steltzner Claret; about $34. As I recall the wine list was not large but decent. The wine was a little cold.
Sorry, but during the meal I continually forgot to photograph the food before I dug in. This is fairly typical Thai fare but the quality is high, the food very fresh, good flavors and portions fairly large. We started with spring rolls and then I had Tom Kai Gai. I opted for the house salad over the house soup (that comes with the meal). The salad had a very good peanut dressing. My partner in crime had chicken Pad Thai. All the food was prepared perfectly. This was a near perfect meal in every way. Granted they were not busy. To finish the meal we were given a complimentary desert of rice, sweetened coconut milk and (?). The look of the rice reminded me of caviar.
While finishing up they were setting up for dinner.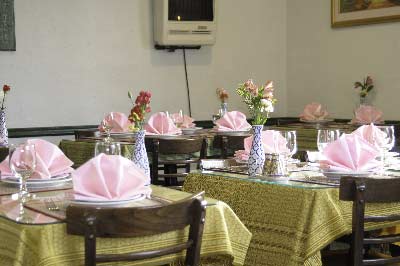 Only one visit, but we will go back! Personally, we enjoyed this meal more than the first (and only) meal we had at Ayuthai and better than anything we have sampled in New Haven, so far (and that has been quite a few samplings of four different places).
63R Whitfield Street. (R meaning "rear") On the Green. Guilford, CT 203.458.0228 Hours:
Sunday through Thursday, from 11:30 a.m. to 9:30 p.m., and Fridays and Saturdays, 11:30 a.m. to 10 p.m.
Edited by Scargo, 25 February 2008 - 08:32 AM.