I am so transparent. Pierogi got it immediately! Yeppers, I'm going to be the blogger of the week, starting officially tomorrow.
Some things are the same from my first
foodblog
in 2006: Same kids, same dog, still haven't seen a Clinton around town. Some things have changed: Firstborn is away at school (with my car, boo hoo), Secondborn has a host of new critters in his room, and they all need feeding (sigh).
Of course, the kitchen is new. It doesn't look like this any more: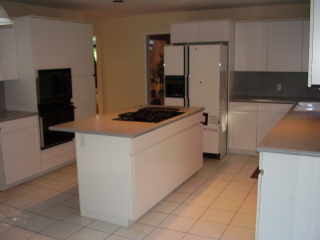 I love my new kitchen -- I am eventually going to start teaching in it, but until that starts in March, I am cooking for everyone who'll let me.
Which brings us to: Mr. Foodbabe is turning 50 this week, and as I lead you-all through my new appliances and kitchen, I'll be prepping for his party. Here's the invitation (well, it was on prettier paper):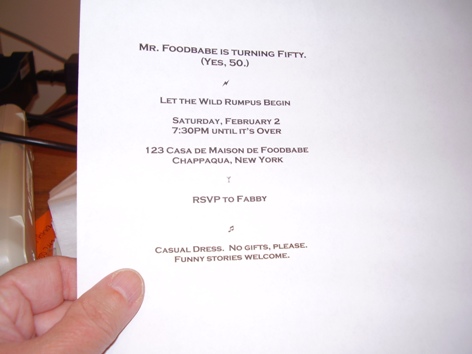 And some things are going to change dramatically, soon. Jean-luc is getting a new brother in a couple of weeks, and we need to name him:
So, what would you like to see and know? Im going to try to accommodate special requests and not be too dull

Oh -- we're also going out to dinner on Mr. Foodbabe's actual birth-day, Thursday, at a much-lauded new place in White Plains.