Anyone who has visited the big Farmer's Market in Portland's Deering Oaks Park know how dedicated the folks in the booths are. Their enthusiasm is matched by residents who eagerly purchase fresh, local produce that grow during the short season here.
This winter, two of the regular farms have teamed up to provide their produce during the off-season. They have been taking orders by email and then drive to Portland on Wednesdays to deliver to customers. I chatted with Simon from Thirty Acre Farm and he said produce might be scarce as winter wares on, but they have started to offer products from other farms and will have meat and our fermented vegetables through the winter.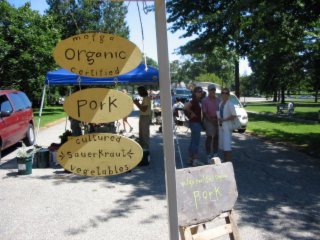 The top oval sign reads m.o.f.g.a which is the
Maine Organic Farmers and Gardeners Association
, a non-profit group who endeavor to help growers in Maine.
Their Website
The farms are:
THIRTY ACRE FARM
- Whitefield, ME
FREEDOM FARM
- Freedom, ME
They have recently teamed up with a couple other farms to expand their offerings.
GORANSON FARM
- Dresden, ME
TOWNHOUSE FARM
- Whitefield, ME
TO JOIN THE LIST - Send an email to Simon at eatlocalallyear/AT\gmail.com
------------
Here is the latest menu emailed to me this week (copied by permission):
THIRTY ACRE FARM
- Whitefield, ME
M.O.F.G.A Certified Organic
FERMENTED FOOD
$6.00/16oz $10.00/32oz $38.00/1 gallon
Fresh, Crunchy
Sauerkraut
Caraway Kraut (w/juniper berries)
Ruby Kraut
Kim Chi
Sour Dill Pickles-$9
PORK
Sausage- $10.00/lb.
Bratwurst
Garlic
Breakfast
Maple Breakfast
Chorizo
Hot Italian
Sweet Italian
Ground (no seasonings)
Nitrate Free Bacon-$10.00/lb.
Fresh Pork belly $9.00/lb
Pork Chops-Bone-in $10.00/lb.
Stir Fry Tips-$9.00/lb.
Tenderloin_$14.00/lb.
Spare ribs-$7.00/lb.
Hams -$10.00/lb.
Rolled Roasts (no bone, 2-3lbs.)-$11.00/lb.
Loin Roasts (bone-in)-$10/lbs
Bacon Tips- BIG bAGS!-$4.00/lb.
Jowl (fresh)- $6.00/lb.
Hocks-
Smoked $5.50/lb.
Hearts and Livers-$2.00/lb
Leaf Lard (unrendered. Ask for instructions on rendering. it's easy!)-$4.00/lb.
Back Fat-$3.00/lb
Smoked ears! and Bones! For your dogs (perfect for christmas)- $2.00/each
------------
FREEDOM FARM
- Freedom, ME
Naturally Dyed Yarns - $16 for 8oz. skein Lamb Sausage (4 links frozen) - $15/lb Lamb Loin Chops - $20/lb
and M.O.F.G.A Certified Organic Vegetables
Yellow and Red Onions - $8 for 5lb (5lb minimum but you are welcome to do 1/2 and 1/2)
Onion Deals
$37.50 for 25lb
$70 for 50lb
Yellow and Purple Shallots -$5lb (1lb minimum)
Shallot Deals
$22.50 for 5lb
$40 for 10lb
Parsnips-
-------------
GORANSON FARM
- (Dresden, ME)
M.O.F.G.A Certified Organic vegetables
Storage Carrots $2/lbs
Small potatoes (Kuka Gold, Red Cloud) 5lbs minimum $8 Winter Squash ( Carnival, Kabocha (green forest), Buttercup, Acorn) $1.50/lbs Cabbage (red and green) $1.50/lbs
--------------
TOWNHOUSE FARM
- (Whitefield ME)
Moogurt - (yogurt made from organic Jersey cow milk)
16 oz plain or maple - $4.00/ea
Ballstown 1791 aged cheese - (not available in less than half pound portions,
portions will not be exact).
3 month cow cheese - $16/lb
Has a "high" flavor. Some say it tastes like a young asiago .
2 month goat cheese - $16/lb
A full tasting goat cheese.
Halloumi - the Cypriot frying cheese. $16/lb
Cut into thin slices. Fry it directly on the pan (no oil or butter). Eat
as an appetizer while it is still hot. It is like a mini grilled cheese
sandwich without the bread! Great for folks with gluten intolerance and
those that just like fun things to eat.
Olive Garlic Bread - small loaf - $4.50ea
Ingredients: King Arthur unbleached white and whole wheat flour, yeast,
kosher salt, organic honey, organic garlic, kalamata olives, olive oil.