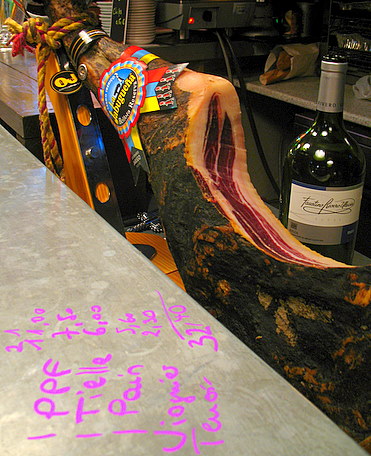 eGulleters meet in the strangest of places. So how did it happen that Chufi from Amsterdam and Abra from Seattle find themselves in a charming little winebar in a charming little town in the South West of France, where the bill is scrawled in marker on the zinc counter top? Because, well, can you think of any better place to meet?
Chufi to Abra: "So, here we are together in a wine bar in France, just you and me and a Spanish ham. "
Abra to Chufi: "Hey, what about my husband? Are you calling him a ham? Ok, yeah, he is a ham, but he's an American ham."
Chufi: "Well, I'm kind of nervous that just being in France and cooking with you and going to cool French towns and tasting all the wine in sight will be kind of, well, you know, boring."
Abra: "Hey, I know, maybe we should do an eG food blog about your visit."
Chufi: "But we've both already done lots of food blogs, would anyone even want to read another one?"
Abra: "Hmmm, you might be right. Just to liven things up we could invite bleudauvergne down to cook with us, and by the way that would be a great excuse to make her bring us some of that gorgeous cheese she's always posting pictures of."
Chufi: "Maybe we could cook something totally weird that I'd never make at home, like how about some......"
Abra: "There's this recipe for a stew of pigs feet and tripe that I've been dying to make."
Chufi: "Uh....."
Abra "Come on, we'll stay up late drinking tons of wine and then have tripe and pigs feet at 2:00 a.m."
Chufi:"Can we drink a lot of wine BEFORE we have to eat the pigs feet?"
Abra:"Come on, you'll love it, it's gelatinous."
Chufi: "My husband will never believe this!!"
Abra: "And there's no way my husband will even eat a bite of it, we'll have to cook a whole separate meal for him. I have a freshly killed chicken in the fridge with its head still on, we could cook him that."
Chufi:"Let's be nice to him. What would he really like?"
Abra:"Cheese enchiladas and something chocolate!"
So that's what we had tonight. For your first meal in France with us, we bring you, ta da, cheese enchiladas, which is actually quite an exotic dish, in France.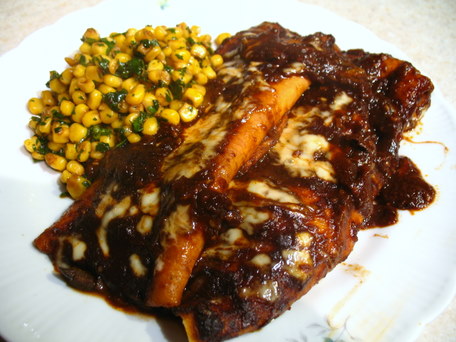 And mini buchettes de Nöel, just to prove that we really are in France.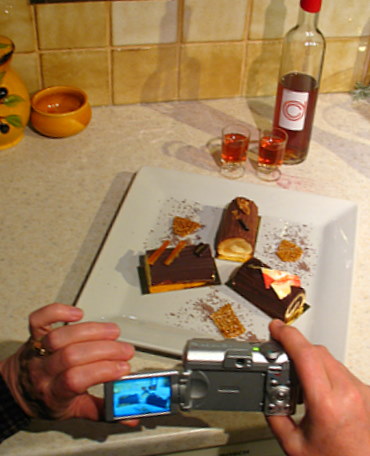 And to further prove that we're in France, we're going to bed right now, even though most of you are barely waking up. Rest assured that as soon as we get up in the morning we're going to rub those pigs feet. At least one of us is. We'll let you guess which one will be doing the rubbing and which one will be hiding behind her camera. And a trip to a gigantic French supermarket will be necessary, and if they don't throw us out for taking pictures, we'll show you how many different kinds of yogurt will tempt Chufi into buying them. There's a LOT of yogurt in France.