Of the chefs running upscale chophouses in New York I've long felt that Waldy Malouf was uniquely talented, however until now he has not had a suitable venue in which to strut his stuff. Beacon is a solid restaurant, but it is what it is: a well-conceived chophouse targeted at a Midtown business crowd. My favorite meals have been the special events, like the Beefsteak and the Chowder. The regular meals I've had there have been well executed but hardly exciting.
Waldy invited me in tonight for a preview of a new concept he has come up with, called the kitchen counter. Down in the restaurant's pit (that's what they call the dining area down a few steps that overlooks the wood-burning hearth and open kitchen), Waldy has installed a long, narrow counter that seats six people. The counter is formed out of an approximately six-inch-thick piece of mahogany (there's a companion piece in the front bar area), and all six seats face the kitchen.
The kitchen counter is serving three purposes. At lunchtime you can drop in for a burger at the kitchen counter -- there is a new burger menu that has various options (regular burger, tuna burger, sliders). The beef is Niman ranch and the grill is wood-fired; I hope to get down there at some point soon. In the evenings, on most evenings, there's a small plates menu with most items between $5 and $10, and a few in the teens.
The there's "THURSDAY NIGHTS @ THE KITCHEN COUNTER." Each Thursday, Waldy is going to offer a 12-course meal with complementary wines. You can book the whole table of six, or you can come in smaller groups and be paired up with other people if the numbers work out. It's a single sitting, and begins at 7pm with a cocktail (everything is included in the price) and the first course in the bar area. The cocktail was a "smoking Kir royale," basically a Kir royale with a small piece of dry ice in the bottom of the glass -- it creates a smoky effect that lasts for several minutes. With the cocktail, we were served lobster fritters with saffron and tarragon, with a Sherry vinegar dipping sauce. Were we not looking down the barrel of a 12-course meal I'd have eaten 40 of these. As it was I settled for my allotment of two and spent the rest of the evening thinking about them. Note the cool A-frame fork device.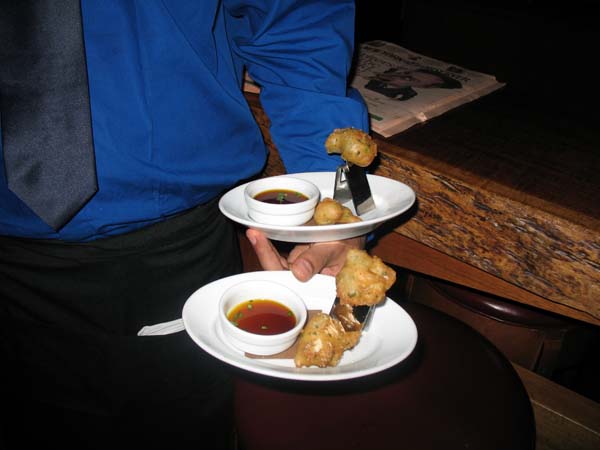 We were then led down into the pit and seated at the kitchen counter. Waiting for us were small platters at each setting, with two slices of watermelon radish on a pincushion-type plate.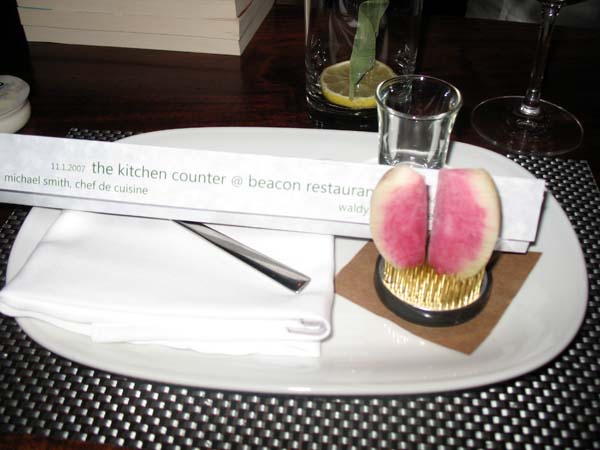 We were encouraged to snack on radishes (served with butter as in dive bars in France) while Waldy explained what was to come. He had a chopping block set up directly in front of the kitchen counter, showed us the whole watermelon radish and talked about the kitchen counter and the menu. To each platter was added a slice of Beacon's excellent mushroom pizza on a miniature wooden peel.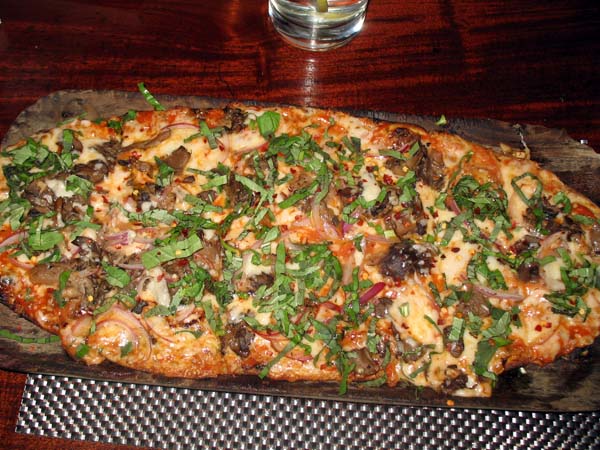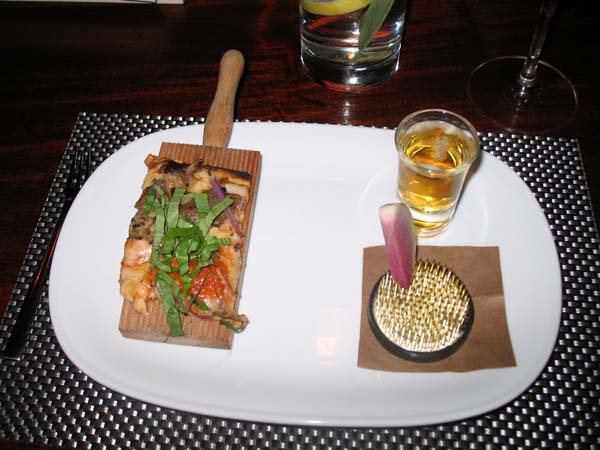 Next, two of Beacon's signature wood-oven-roasted oysters with mignonette and herbs, served with Leffe blonde ale from Belgium (which had also been poured with the pizza).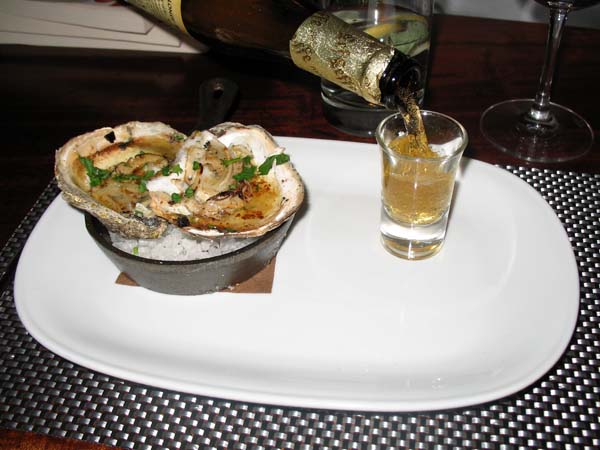 These warmups were all delicious, but from this point on the food got more interesting and diverged from what you'd typically get at Beacon. The next course was a single massive scallop, seared rare, with cabbage, apple and jalapeno.
Our table had a dedicated waiter, but Waldy was also very involved in the service. For the courses plated in the kitchen, Waldy ran a couple of plates each time. Later there would also be some tableside service.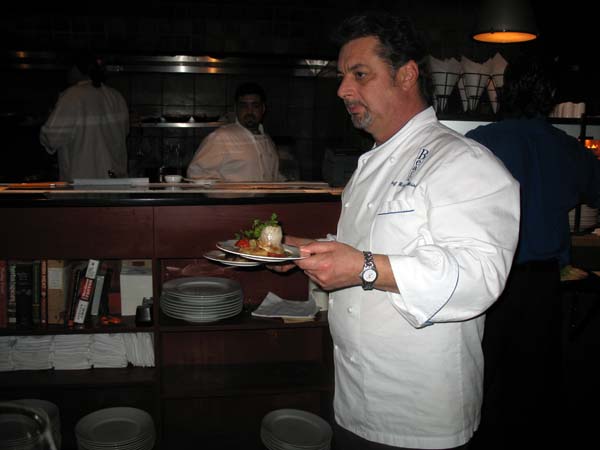 The next course was a small, hot-smoked trout fillet with fennel and chervil, in a vinaigrette. This is probably the only course I'd excise from the menu. While good enough, it wasn't up to the level of the other dishes. I imagine this one won't make it out of previews, as a couple of people at the table only ate about half.
This is Michael Smith, who is Waldy's chef de cuisine, preparing a course. This photo was taken while seated at the kitchen counter -- the distance is maybe ten feet to the pass.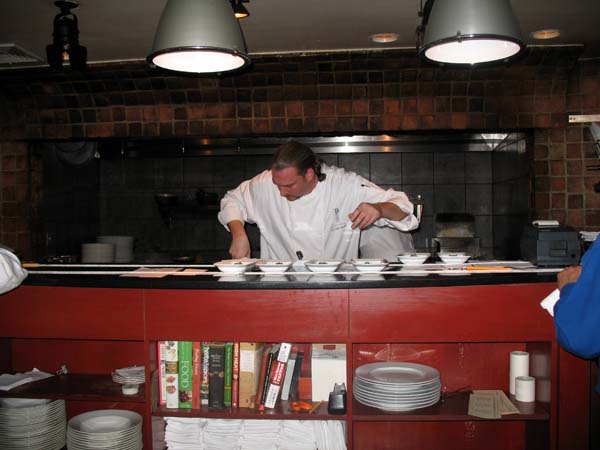 This was really good: a single kabocha (Japanese pumpkin/squash) raviolo with capers, butter and sage.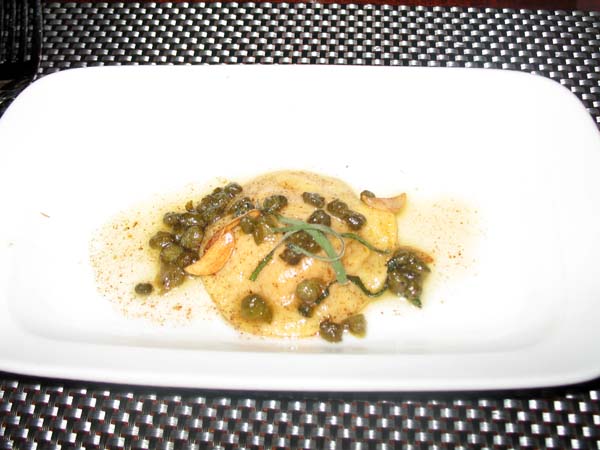 The scallop, trout and ravioli were served with 2003 Arcadian chardonnay from California, which was a good match with the food if not a particularly interesting wine.
At this point guests are invited to take an intermission, wander around, check out the ovens, use the restrooms, whatever. The next phase of the meal consisted of four meat courses.
First, roasted squab with huckleberries, salsify and Brussels sprouts. This is the best squab dish I've had in several years, not only because the product itself and the pairing were excellent but also because the wood oven creates a beautifully crisp skin while leaving the interior moist and medium-rare.
Second, a marrow bone with garlic, horseradish and toast. Waldy set the horseradish on the chopping block in front of the table, then shaved some onto each plate at the table.
The first two meat courses were paired with a delightful 2004 pinot noir from Domaine Moillard. This was the best wine of the evening and after the meal we went back and polished off the second bottle.
Third meat course: short rib with foie gras, served over grits and acorn squash. This dish was mostly assembled tableside on the chopping block.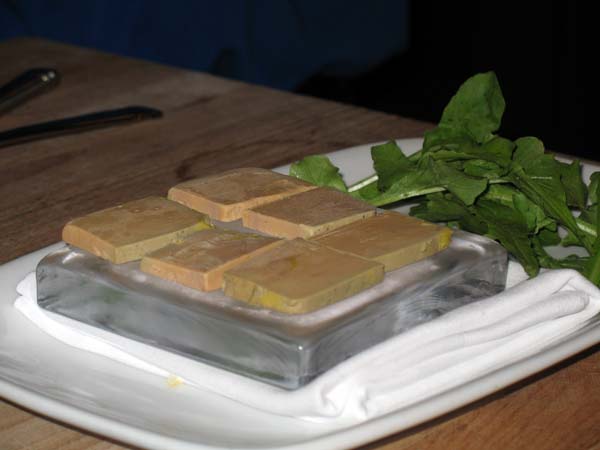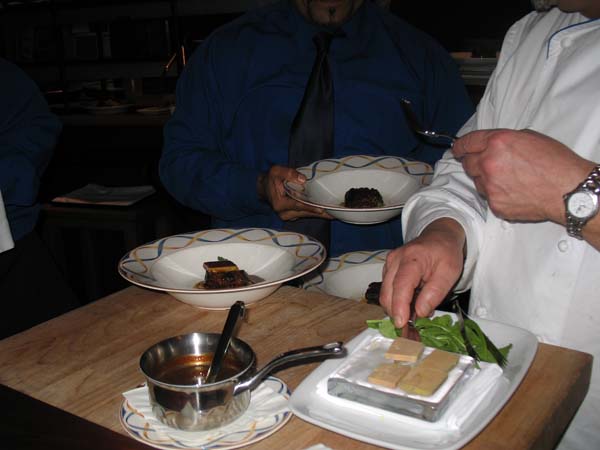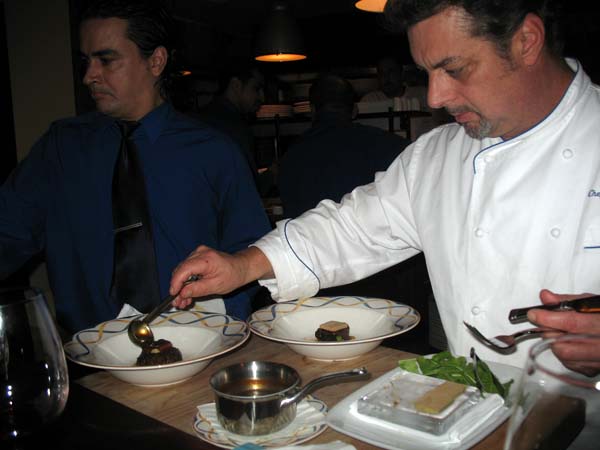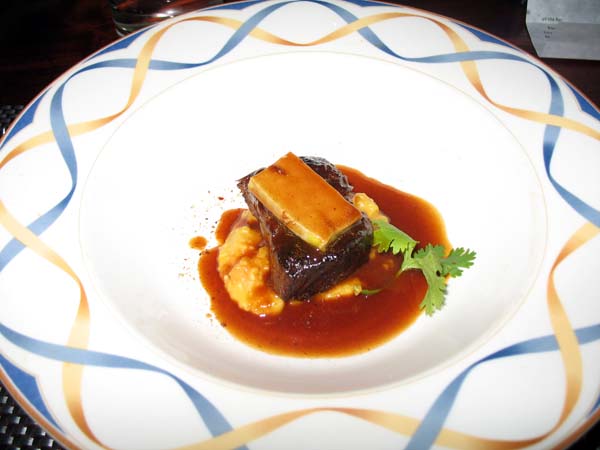 Fourth and final meat course: Kobe beef. This was real Kobe beef imported from Japan. We were each presented with a rectangular platter containing some chanterelles and a hot stone that had been in the wood oven for several hours. Waldy placed a piece of the gorgeously marbled Kobe beef on each stone and we were asked to let it cook only on one side, just until it was cooked rare. It was amazing. There was enough for each person to repeat the process several times -- the stone stays hot for about half an hour according to Waldy -- and our mushroom supply was topped off as well.
Those last two meat courses were served with 2001 La Selvanella Chinati Classico, which was a tasty wine but not up to the standard of the pinot noir that preceded it.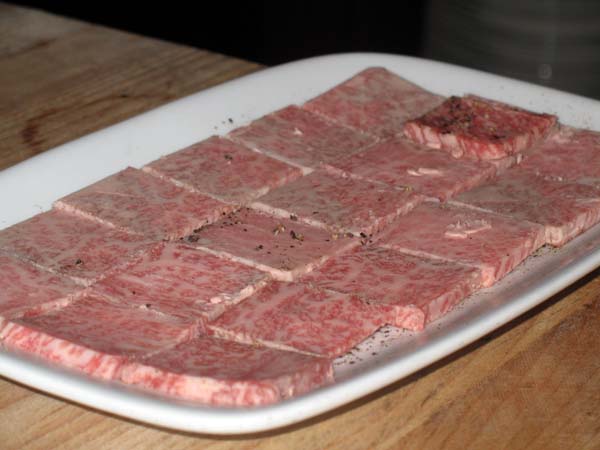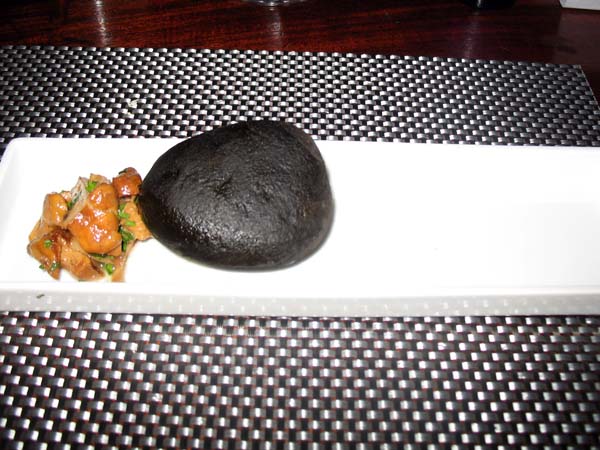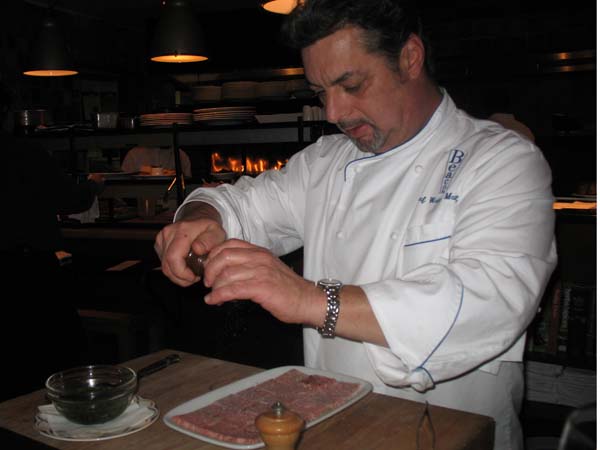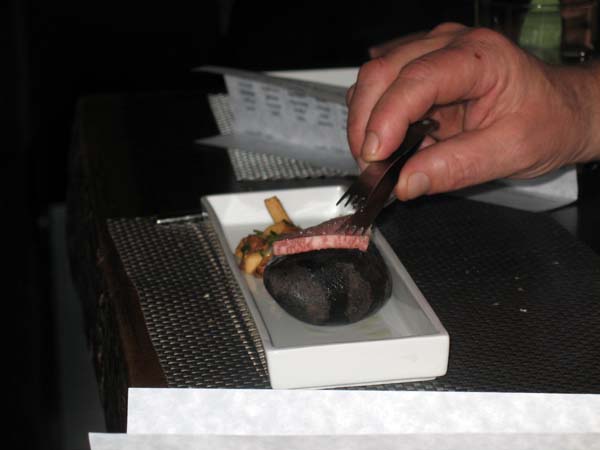 This is the point at which you're supposed to eat it, just as it becomes buttery but still maintains all its deep beefy, fatty flavor.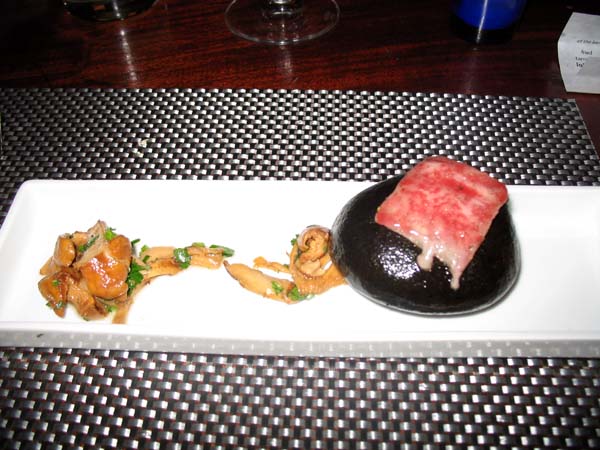 That was it for meat. After that, the pre-dessert was excellent quince sorbet with roasted grapefruit:
Finally, for the main dessert, a chocolate souffle with smoked vanilla ice cream. Smoked vanilla ice cream? According to Google, Waldy is not the first to do this, but it was totally new to me. He puts several vanilla beans in a skillet and sets it off to the side of the wood oven for a couple of hours. The beans get smoked and charred, and they're finished off at higher heat. They're then ground and added to the ice cream base. The flavor is like an old favorite that you've never tasted before: smoke and vanilla are natural complements and I'm surprised I've never seen anybody do this before.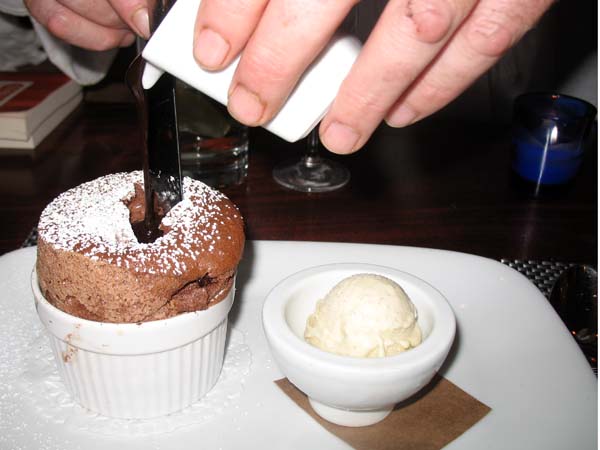 You're probably asking how much a meal like this will cost you: 12 courses plus wines and cocktails (not to mention beer), a lot of attention from the staff, a unique experience. Guess how much. Go ahead.
$85 per person plus tax and tip. I kid you not. Move over Gray's Papaya, step aside lunch at Jean Georges. Thursday night at the kitchen counter at Beacon has got to be the greatest dining bargain in the city right now. I strongly suggest you book a spot before the price goes up, although Waldy says it's his intention to keep it at $85 for the foreseeable future because he's trying to make some new friends.
There is one sitting, at 7pm, on Thursday nights only. There's a special number -- not the restaurant's main number -- for reservations: 212.332.0508.