Here in the northeastern USA, autumn is deer hunting time, so when a group of talented restaurant professionals gathered here in Portland Maine on Sunday, October 14th 2007 for a cook-off - or "Deathmatch" - deer was the obvious choice.
The players that night are hard-working local chef/owners of some of the exciting, new restaurants that are opening up at a brisk pace here in Portland:
Bresca
,
One Fifty Ate
,
Bandol
(now
Evangeline
) were the principle architects of the "Deathmatch" series, along with friends from other BOH venues, chefs de cuisine, sous chefs, and other specialists that work tirelessly to bring some of the most exciting plates in the country to the tables of Portland
The location was top secret. The course allotment (nine in all) was determined a couple of weeks ago. Two deer from Applegate Deer Farm in Shapleigh, Maine were slaughtered, bled and dressed the thursday before. All that was left before the Deathmatch was a very busy weekend shift for the contestants. The anticipation for this night was running at high voltage in Portland's restaurant community.
This is Chef Tomás (from Alsace-Lorraine) in the One Fifty Ate BOH an hour before the gathering:
I received a private invitation through one of the participants and I was extremely honored to attend. There was about sixty people. Unfortunately, I lacked the stamina to carry through to the very end when some of the pieces de resistance were served but I managed to photograph some courses (I am tracking down other photographers who were there to hopefully fill in the gaps).
The Menu (I'll copy these to course photos to follow), showed skill and imagination: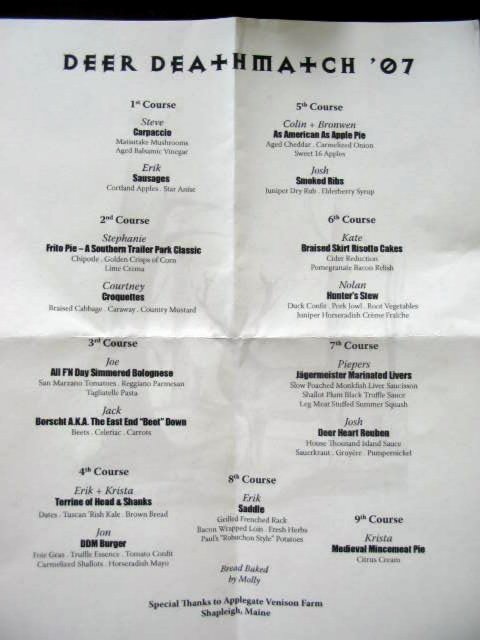 Edited by johnnyd, 16 October 2007 - 10:23 AM.