October 12 – Food Exhibitionists – Part 1
On the subway the day before, we'd spotted a sign for the Seoul International Food Expo and Korean Food Awards.
How odd that such a thing should draw my attention, I know.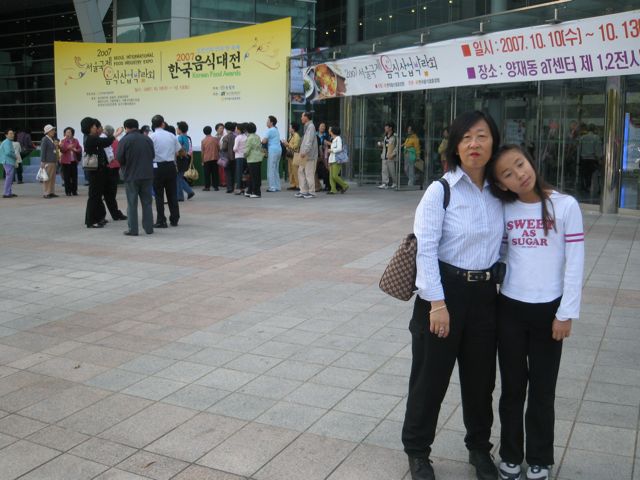 We'd had Jason call them up so we could figure out where it was, and then navigated a cabbie over to the AT Building. There we found the event in full swing.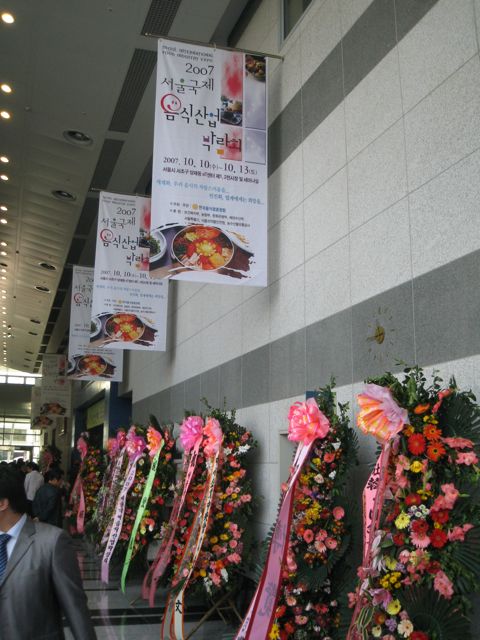 The triffids were out in full force. If you thought that was overkill for a bar opening (Oct 11), then these events are way over the top.
The floor was broken into the Expo and the Food Awards. We concentrated on the left side of the hall first, which was the Expo.
This could be broken down into demonstrations (of which there weren't many, I'm sorry to say) and food displays; food products; kitchen and restaurant products (which I love to geek over); and places to eat.
They had some demonstration areas, like this one, where the kids are making rice cakes, pressing the ddeok to place the design (the ddeok tojang – ddeok chop).
There were a number of people out from the cultural centres, said centres always carrying a good proportion of food studies.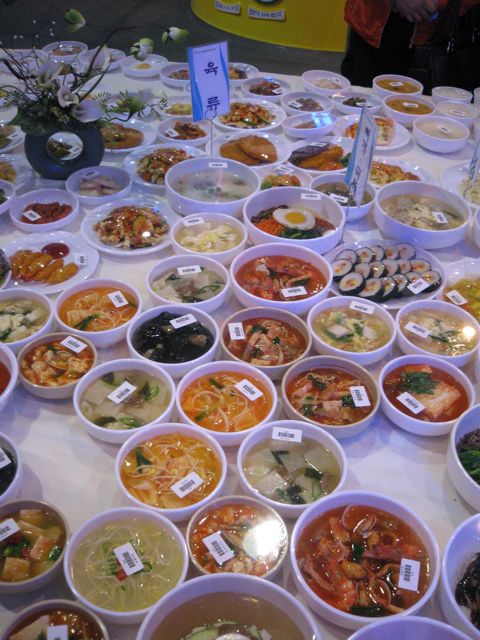 If you wanted to see a lot of kimchi, you came to the right place (I'll leave it to the truly obsessive out there to name them all). Plus there's gimbap and lots of other stuff.
Andong had it's own display, showing off old royal cuisine. I won't put up all the pictures, but they're too pretty not to show some.
(bibim guksu – noodles ready to be mixed up)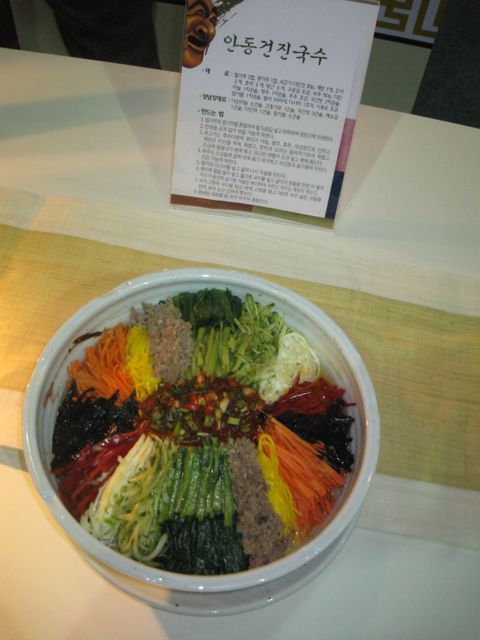 (Geonji Guksu – more festive looking noodles, but with broth)
Andong itself is an interesting place, as they've developed quickly since the 1990's, while at the same time bleeding their population off to Seoul. The place gets bigger and smaller at the same time.
(This looks like a ssum – little cabbage cups with stuff in them to pop in your mouth.)
To try and stem that, they/ve been very actively promoting it as a centre for culture (and tourism) – based in large part on the traditions of Silla.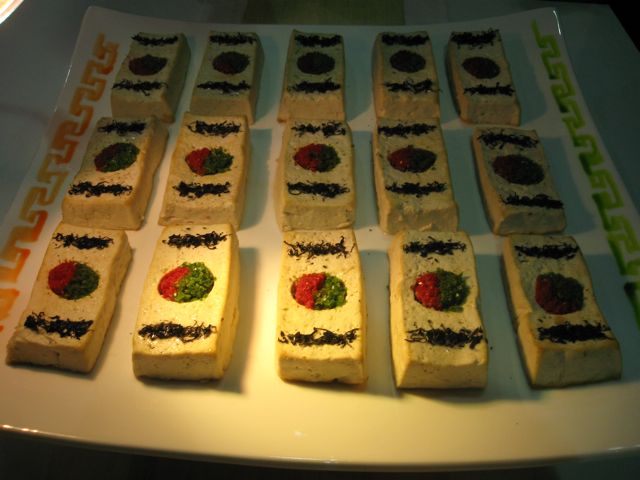 Decorated bean curd; divots cut in the curd, and then the spices and other flavours painstakingly placed.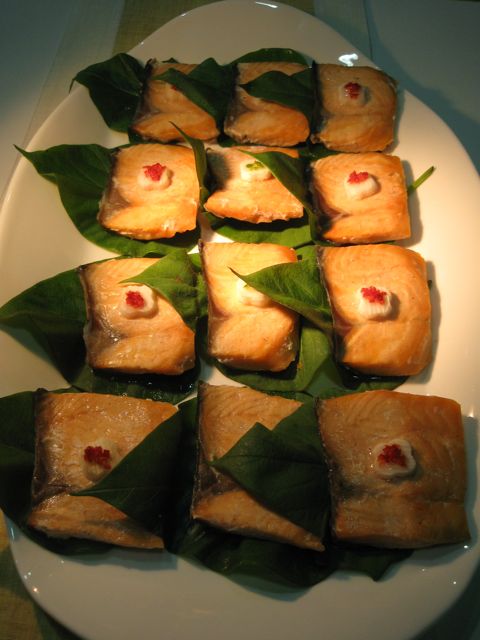 Salmon fillets with the smell of perilla about them.
Fish peaking out from under a duvet of gochujang based sauce, garlic, and spring onions.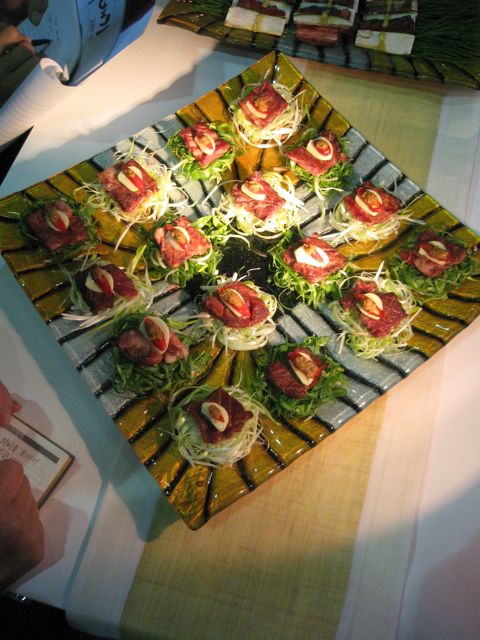 (grilled meat on shredded green onion and cabbage)
Meanwhile, as I engaged in food porn, over in the food products Yoonhi found the candied ginseng that we like so much, so a couple of boxes of that are now in our suitcases.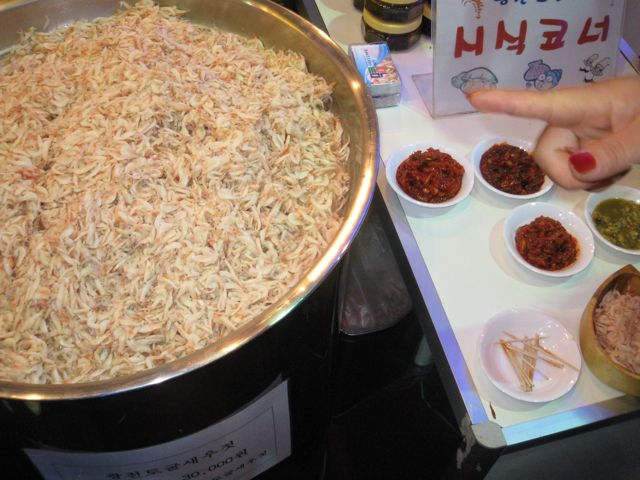 Shrimp fry for making kimchi (and other things).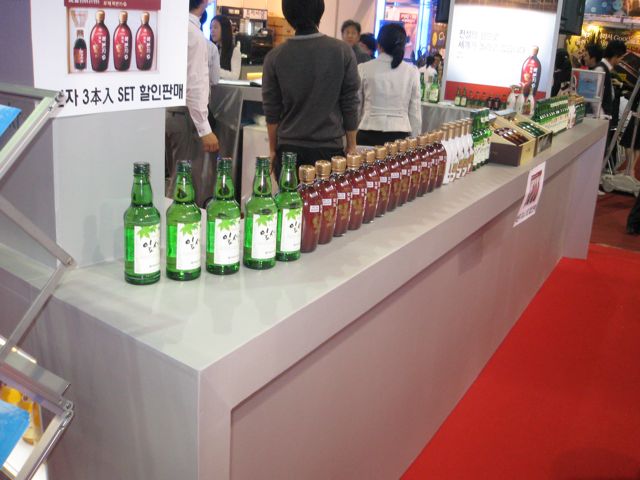 And there was no shortage of soju and other fun stuff.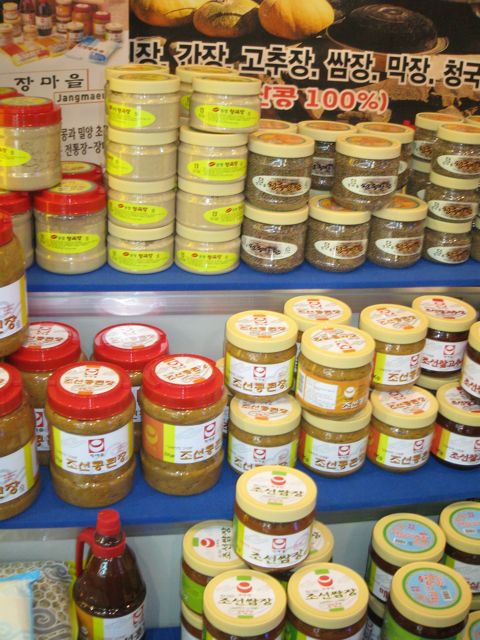 And all sorts of bean pastes (we won't try to count the variations).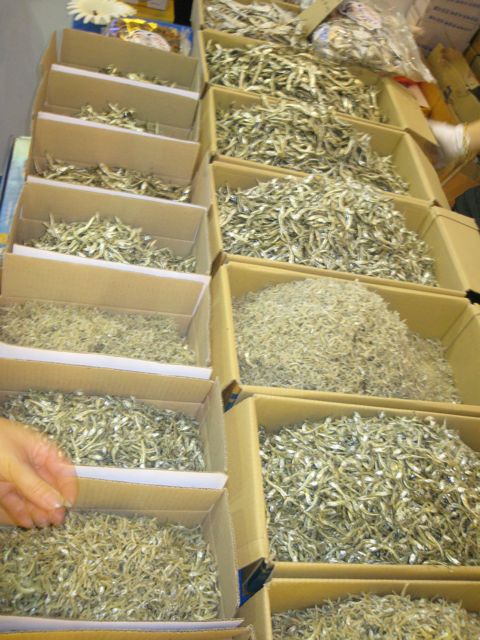 And those little fishies, those little fishies we love to eat. These were the standard version, caught in nets.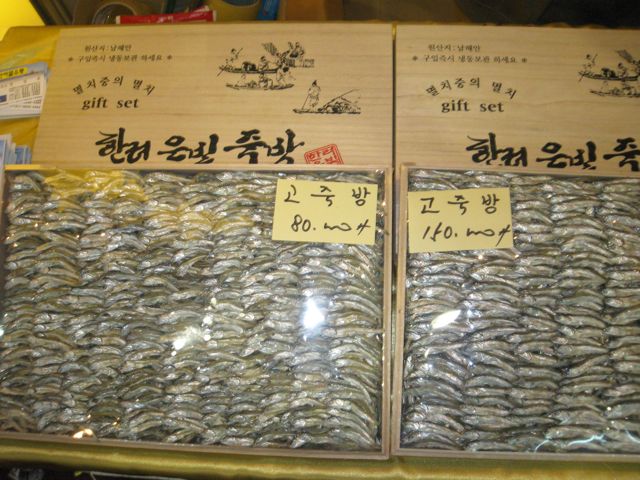 These other ones, though, were caught differently, in a manner such that they didn't thrash and damage the scales. As expected, they were a heckuva lot more expensive ($80 to $150 a box).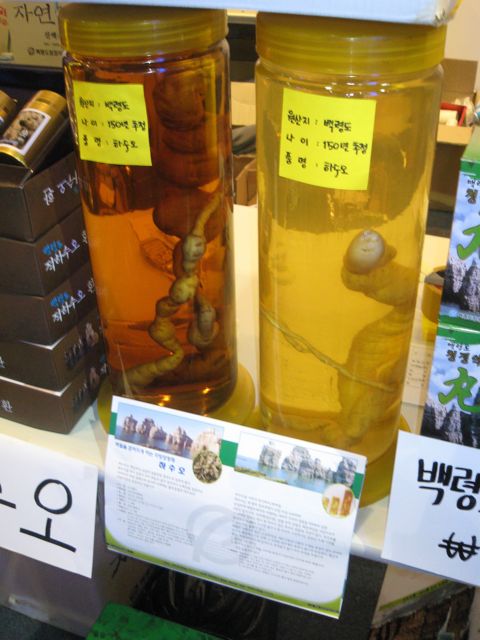 Like most of Asia, Koreans love putting things in bottles. Either the old mason jar approach,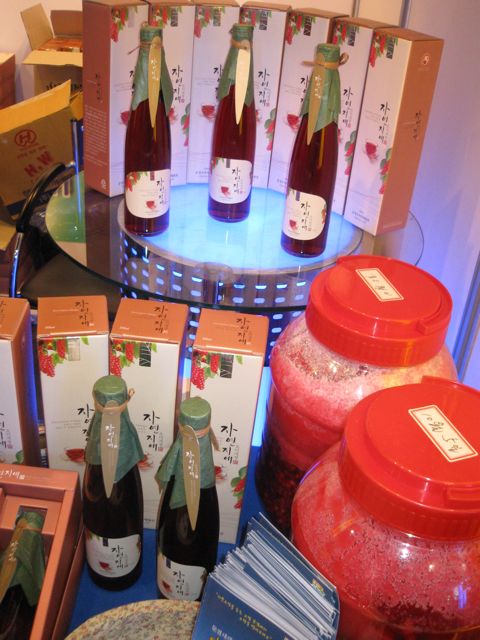 or nicely packaged as a refreshing beverage, such as this one that promoted itself as a blend of "five flavours".
Serena had to get her picture taken. Notice in her hand she's got a cup. This was full of the little anchovies (myulchi). She'd keep going back and replenishing her stock, but the vendors were too polite to stop her.
Another display showed standard Korean foods with their calorie levers, from those intended for infants (porridges and broths), through adulthood (the good part), and finally back to the easily chewed and digested (at least I have something to look forward to!).
On the equipment side, I was having a lot of fun. There were knives, stone serving pieces, porcelain serving pieces, and what may be the biggest selection of table top indoor grills known to man. If there was one piece of equipment that was everywhere, it was the grill, either separate, or built into a countertop.
And with the grills were numerous machines for cleaning them. With the marinades on a lot of the Korean meats, you get burning fairly readily, so when you run a restaurant you have to be prepared to swap out grills fairly often. So, you'd better either buy a nearby storehouse for clean grills, or have a machine to scour them.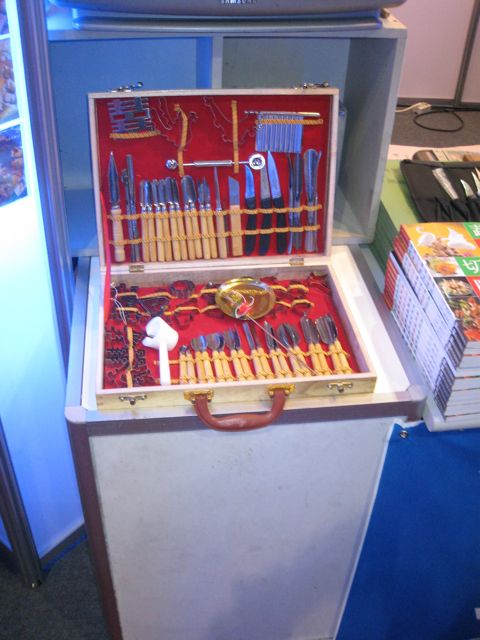 I was lusting after this set of carving tools for decorating stuff ("and when are you actually going to use it?" says someone whom I won't mention).
And there were several booths selling "happy call" buttons. Need your waitstaff, then just buzz them.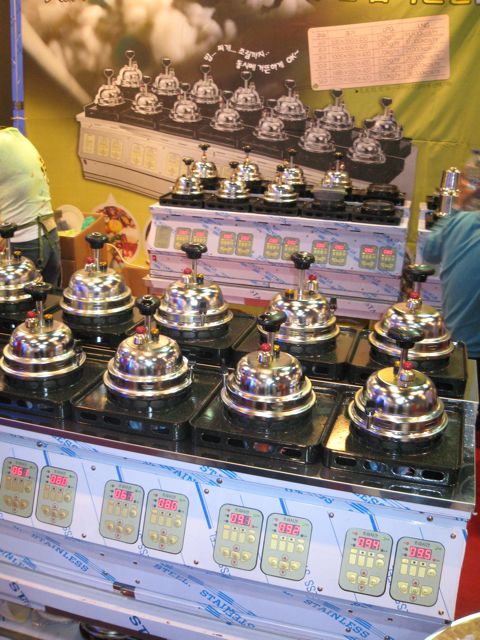 These were imbedded rice pressure cookers. You'd put your ingredients in, then drop them in and seal them.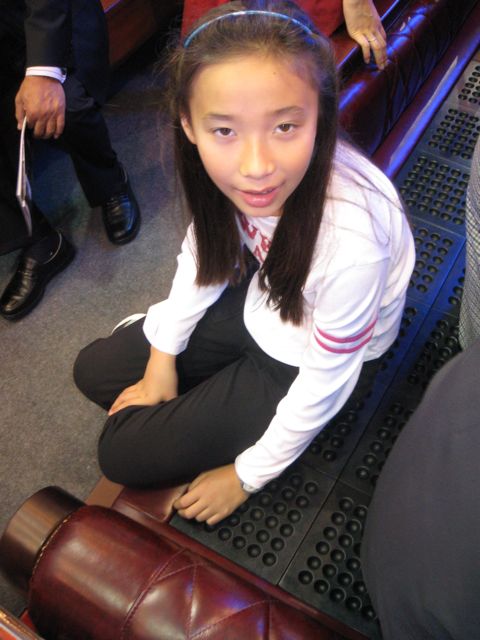 Yoonhi and Serena were both impressed by the carbon ("charcoal") furniture. In addition to the cookware, they had couches and beds that were heated, so you could sleep all cuddly.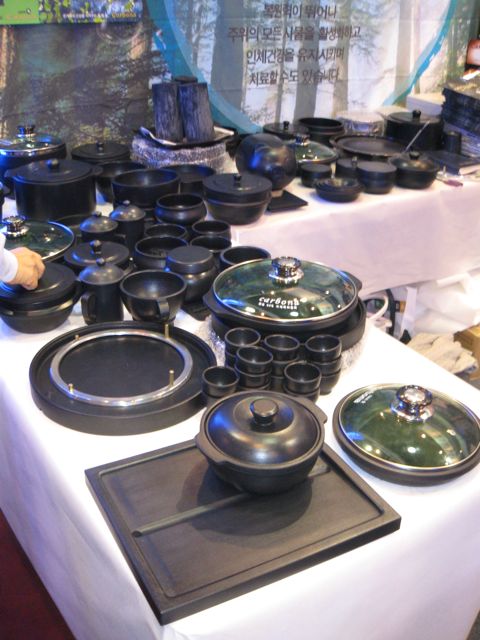 I was more impressed by the cookware, which will radiate an good, even heat, but it was way to heavy to consider taking home by air. And if I bought a place here, I'd never cook at home……..
That was enough to get us started. Somebody was getting hungry, and after hungry comes cranky (these are the guys that didn't make it into the 7 Dwarves A Team), so it was time to get some food in us. About 1/3 of the floor space had been put aside to vendors selling their regional specialties, and we walked through the offerings, with an eye to getting Yoonhi fed quickly.
Of the stands, about four were Turkish, selling shwarmas, breads, and such like, which I suspect is where the "international" part of the exhibition's title came from.
We settled on a place doing ssukmyun at Gyeongnam Yangsansi Yundonggyun Hanbangneng Onssukmyun (say that fast five times, I dare you).
The ssuk gives the noodles (which they were making there) a green colour, like the darker celadon. Chopped gim (seaweed) and some mu (daikon) along with the ubiquitous egg and the evil red sauce.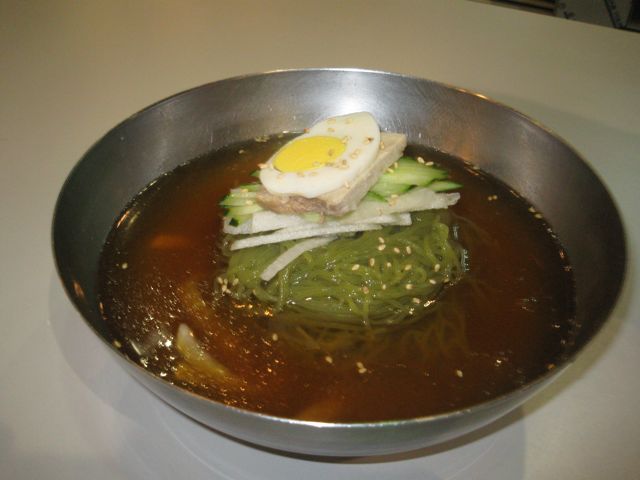 For the princess they did up a version without the gochujang, as certain people are still too wimpy to take proper flavours. Even dumbed down for her, she still hardly ate any, but rather spent her time watching the break dancing competition underway on the stage beside us.
I always look for good breakdancing when I'm at a food exhibition, don't you?
But, back to the eating, the owners insisted I try the ssuk makeoli (fermented rice – very low alcohol content) and gave me a cup. A little chalky on the palate, but pleasant enough to clear the hotter tastes from my mouth.
It's always the case (at least for me in Korea) that once I've settled in to eat one thing, I see another that I'd really like to try, but I don't have enough room for both. Right across from us was a kkot bab place (flower rice).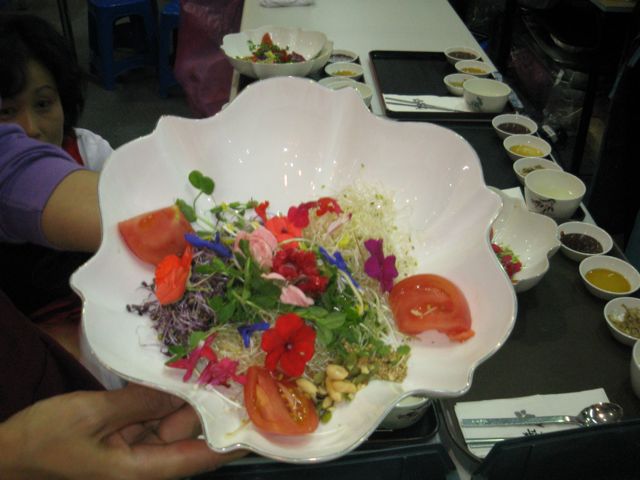 This was prettier than even anything I'd seen in Thailand.
But I was sated. Full from the noodles, tired on my feet from walking the exhibition, and ready for a rest.
Nah, you know me.
Next:
more food porn