Millersus, her husband and I got there early and we watched a 15 minute documentary a UT film student did about Lola and the history of the restaurant. It was very touching.
Then Misplaced_Texan and his wife arrived with reinforcements of Shiner Bock. We began the festivities with a Belgian ale from my cellar, an Affligem Tripel (
BeerAdvocate review
).
On to the meal: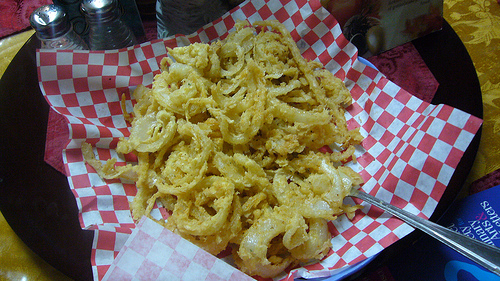 We started with a big basket of onion rings. People have different tastes in onion rings, but I like this style the best: thin strips of onion and flaky batter. My favorite basket of onion rings in the city.
I had the chicken po' boy, which is really huge. You have to eat half of it first before you're able to close it and eat it like a sandwich. The chicken is well-seasoned and very juicy.
Millersus had the shrimp po' boy, which featured some huge pieces of shrimp. One common gripe I have with cheap comfort food-type places is that they skimp on the ingredients to keep their costs low -- not so at Lola's -- the portions are always generous.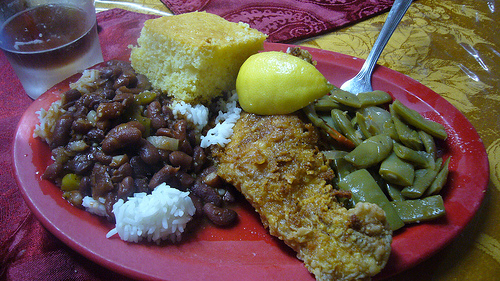 Fried catfish, red beans and rice, green beans.
It was a pleasure to meet everyone. Thank you everyone for your donations to the Society.
Let's have the next one maybe two months from now.