I checked the Thai restaurant thread already for New Jersey. The furthest restaurant SOUTH was in Lambertville. That's NOT South Jersey. One has to be south of Trenton to be considered South Jersey. All of the other Thai restaurant reviews were Northern New Jersey places. Hey, people eat Thai food in South Jersey too!!. I liked Siam in Lambertville, but it's not a typical, traditional Thai restaurant. Some of their entrees are just Chinese (BUT damn good ones)!!
CHAMPA LAOS in the lefthand corner of the Centrum Shoppes, 219 Haddonfield-Berlin Road in Cherry Hill was a rockin' place--culinary wise that is! My companion Katie & I ventured here on a Monday night. We were the ONLY customers all night. That SHOULD NOT be!! The food is fantastic, diverse, and beautifully presented. This place should be packed and is worth a special trip!! So get here!! Champa Laos has sister places in Philly & Frazier, PA (Thai Royal Orchid) that are both fantastic & unique. When was the last time you EVER saw VEAL on a Thai menu? Go to Frazier for that one.
We started with soups-- the Coconut Milk Soup with chicken ($4.95) or seafood ($6.95). We had the chicken one with a coconut broth w/ galangal, lemon grass, mushrooms,& kaffir lime. It was saltier than I can recall other similar soups, but this helped contrast the lemon grass & lime juice creating a nice tang. Large chicken pieces were in the bottom of the bowl. We also had a chef special of cream of asparagus soup w/ crabmeat. It was mostly green and not so much cream, but smooth & lightly seasoned with the crabmeat in little flecks throughout the bowl. It had the slightest kick of heat as it went down the gullet & a hidden spice that I saw, but couldn't put my finger on what it was--cardomon? five-spice? Whatever it was, it was a winner for $6.95.
The next courses were LAAP with chicken or beef ($7.95) & the Golden Rings for ($8.95). The Laap was cooked with dried chilies, cilantro, scallions, red onions, in a nice lime dressing. The beef appeared to be ground, but had the texture to me of sliced sirloin or flank steak. Not salty at all with just a kick of red pepper flake heat.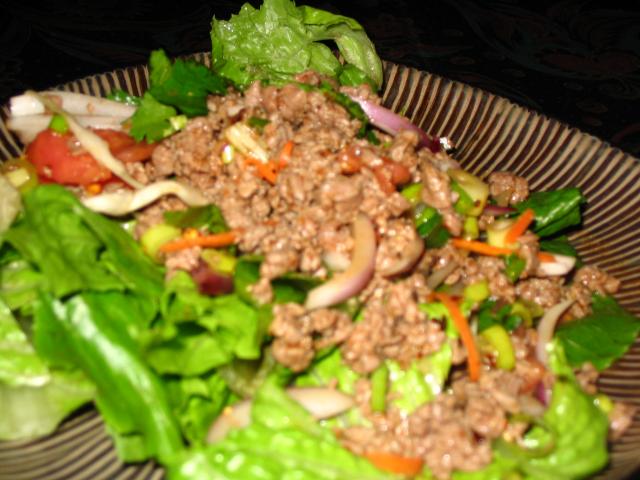 The Golden Rings were fresh calamari w/ Thai beer batter & served w/ a sweet, tangy sauce of Thai chili sauce. The batter was lighter than the lightest tempura batter you ever had. Katie said they were ethereal! Each ring looked like a perfect onion ring minus the onion. There were at least 8 rings.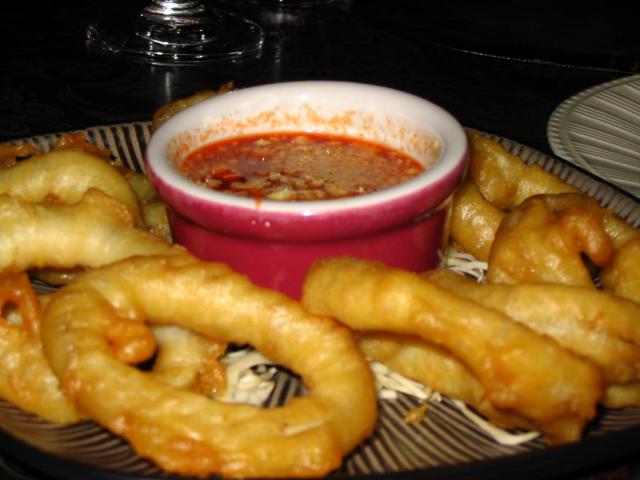 For our entrees we shared two: Thai eggplant with chicken ($12.95) & the Chu Chee Salmon ($17.95). Both of these entrees had the one bell pepper sign of heat index. The Thai eggplant with chicken had the grilled eggplant with that distinctive grill taste with a sweetness to the mushiness of the interior of the eggplant with chunks of chicken, basil, garlic, onions. The colors were diverse and appealing.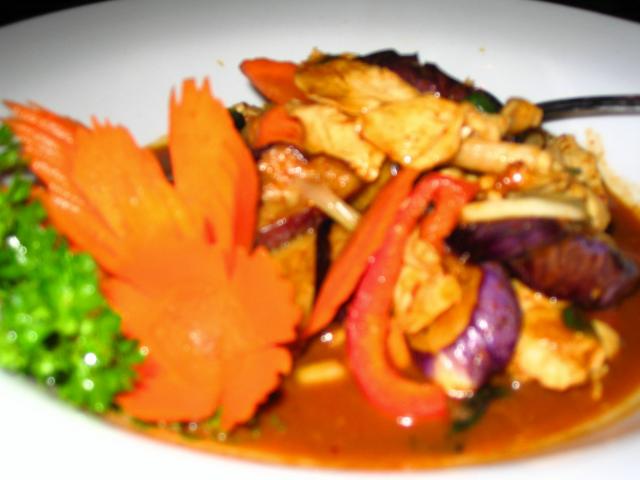 The Chu Chee Salmon was a 8 oz piece of fish ina slightly sweet red curry sauce w/ fried basil. It didn't seem to have ANY heat until I swallowed one piece and started choking. Moral of the story--- when the menu says 1, 2, or 3 bell peppers:
BELIEVE IT!!!!
Each of our entrees included beautifully sculptured carrot flowers garnishes which we had demonstrated in how to create. (Get a vegetable peeler with large ripples at an Asian grocery story & start carving!!)
Champa Laos is a BYOB place. We brought a nice Chateau St. Mechelle Gewurtraminer to offset & compliment some of the spice.
Some of the more unusual Thai entrees include Lamb au Siam, a roasted rack of lamb marinated with rosemary/dijon in a green curry mushroom sauce ($22.95); Vientiane BBQ, grilled marinated Cornish hen w/ herbs & spcies served w/ papaya salad & sticky rice ($15.95); Tamarind Duck, a crispy semi-boneless duck served with a classic Thai tamarind sauce, napped with mango ($18.95); Peppercorn Catfish, crispy catfish fillet sauteed w/ peppercorns, hint of ginger in a spicy roasted chili sauce ($15.95); Royal Crab Cake, a pan seared jumbo lump crab cake encrusted w/ macadamia nuts in a warm citrus aioli dressing ($18.95); Scallop & Shrimp Champagne- grilled diver sea scallops & jumbo shrimp in a champagne sauce napped with artichokes & mushrooms ($20.95).
There are also traditional & twists on traditional curries ranging from a hot duckling au curry w/ red curry, coconut milk, pineapples & grape tomatoes to AOM Laos w/ chicken, beef, salmon, or catfish--curry mixed w/ lemongrass, kaffir lime leaves, shallots & chili in a lemongrass broth. There are plenty of other appetizers ranging from Tulip Dumplings to Thai Crepes, saladas, & vegetarian dishes.
The decor is muted earth tones with Asian flairs of figurines & potted plants. "Grandma" owns the restaurants & is the CHEF too!! You cannot go wrong here--gourmet, reasonbly priced, good portion size, lovely decor--the quality & preparation is a 5-star restaurant, as good as LOTUS of SIAM in Las Vegas!!