Trading Places – A Tale of Two Cities
…….would you believe one city and a village….would you believe one city and a kitchen?.......
Welcome to my week. For some reason I've volunteered to do this. I'm sure it sounded like a good idea at the time.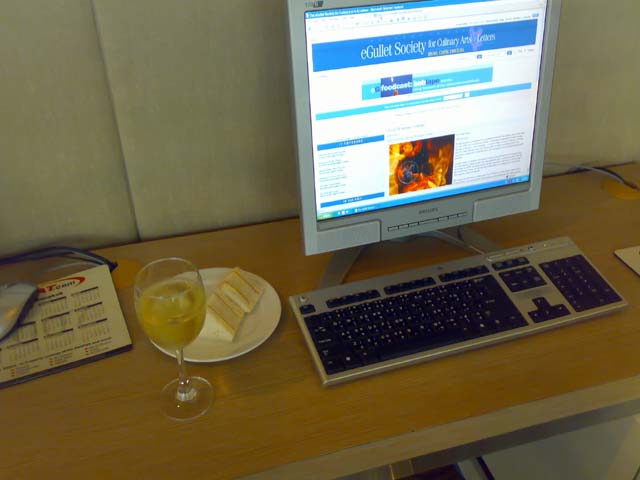 I'm starting this sitting in Suvarnabhumi Airport, wating for our 3:45 flight to start boarding. I've wrapped up in the lounge, having checked mail, had a Chilean Cono Sur
("connoisseur", Yoonhi points out to me)
Chardonnay, and indulged in a ham sandwich smothered in butter.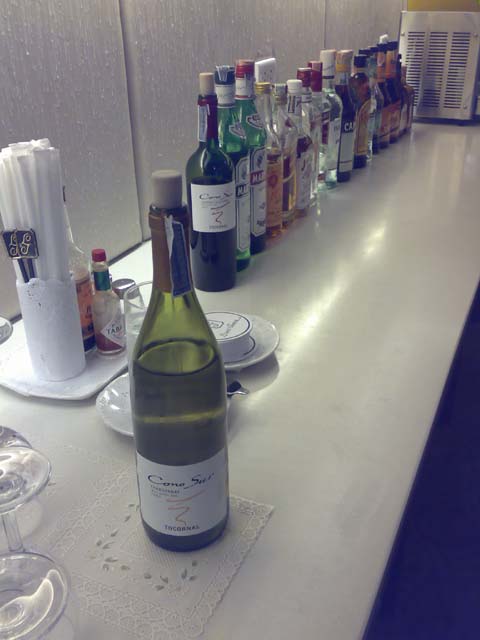 Is the modern Chardonnay the standard bearer of quality? If we consider quality to be defined as repeatability and standardization? This goes back to Signor Bellini's discussion of Chardonnays back at the WGF (was that a week ago?).
And how does that relate to food? Do we want everything standardized and repeatable? Ist that just an invitation to have all the joy taken out of our dining. Myself, I rebel against such strictures. Of course, that may have more to do with my inability to follow instructions the same way twice……
I'm getting ahead of myself. Or at least my stomach and nose are.
This will be a somewhat schizophrenic blog. I'll provide material on what we're up to in the kitchen, especially as we're just back from the Gourmet Fest in Bangkok. However, I get a distinct feeling that there's more interest in the last week of eating in Bangkok with my spouse – Yoonhi - in tow. As I'm still in that state of bliss that Krungthep induces upon me, We'll do both.
By way of introduction (you expected structure from me?), I'm a 1960's product of the Canadian government; the results of our country's aid to St. Lucia, a small Caribbean island. My parents were there doing a project for Canada Agriculture, and I'm what the St. Lucians got out of it.
They still won't give me a passport.
Anyways, don't ask me anything about St. Lucia. I left when I was a few months old. All I know is that the banana boat called every few weeks, and children were killed by falling coconuts (I must've lived through that).
If I was to call anyplace home, it would probably be Kitsilano, a neighborhood in Vancouver. I grew up a few blocks from where Lumiere is located now. I might have more memories about the soft ice cream cones dipped in chocolate at the Dairy Queen, though, than Lumiere and Feenies……(Modern Burger is pretty close, too).
I left Canada over 22 years ago, and haven't been back much. Houston, then Egypt, a very brief stint in Calgary that made me understand why I wasn't staying in Canada (Yoonhi's eyelashes froze shut on her), and then the Middle East for the last 22 years or so.
We're going to concentrate this week on the food of my great love, Indochina, and Thailand in particular.
At first I had no interest in Thailand. Garish orange roofs, it all struck me as too much like a big Denny's concession. But all the other expats in Egypt (our posting then) were going to Thailand and coming back to bend my wife's ear.
"Couldn't we go to Korea or Japan or China or Italy or…." I'd protested. But Yoonhi has that steely perseverance that can get downright scary at times. Finally I gave in, and we were off for one month in The Land of Smiles.
My attitude lasted only up to the point of my first bite of real Thai cuisine.
I was head over heals in love.
Let's drop back into the normal time stream (or what passes for such around here). I'm tidily packaged into my economy class seat. I'm still cheap about flights if I have to pay for them myself. We've just had our in-flight Gulf Air meal, and, much as it pains me to say it, it wasn't bad.
Both of us started with the mild spiced noodle salad with cucumber and tomato, then I had the red curry beef with traditional biryani rice and vergetable casserole, and Yoonhi had the penne past with steamed carrots, pumpkin in cheese veloute, served with pan seared chicken and tomato sauce.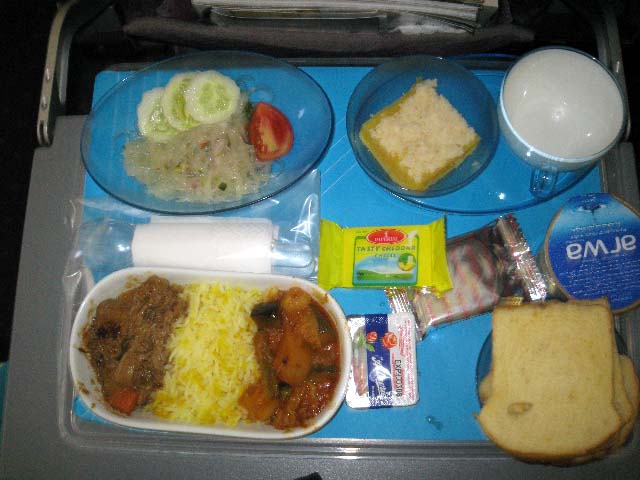 Top that off with "white bread slices" which are straight from a Thai bakery. Only dessert was inediblem with a rather dismal pineapple crumble cake (it should crumble, not wallow in juice).
I had tried the Blanc de Blanc earlier, but it was horrible, especially warm, so I've switched over to Carlsberg. It's not cold either, but it's bearable.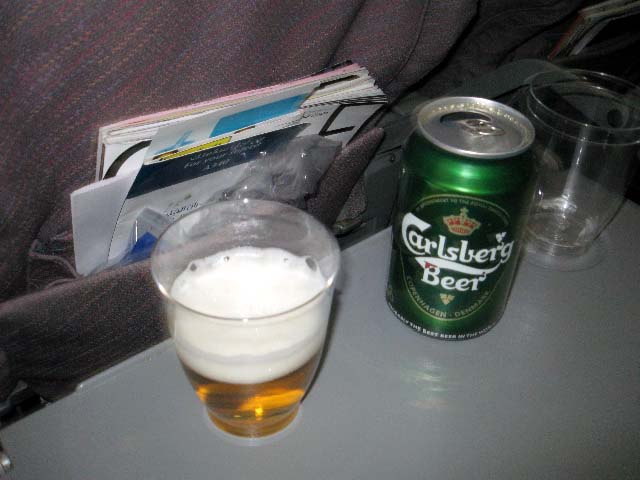 I wonder who does their catering on the Thai side?
Once landed, cleared through customs, and in the taxi, the rest was a piece of cake. We arrived home hungry again, and found Serena's babysitter had steamed up some brocolli, breaded and fried some chicken breast
and had some Filipina lumpia on the go.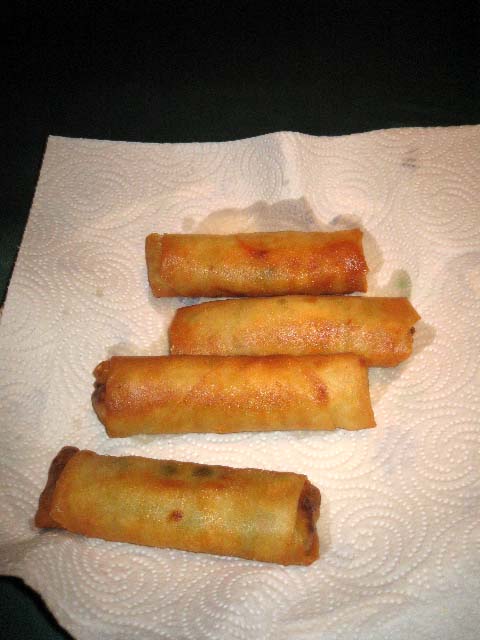 At that point we went to sleep.
And now it's not quite 6 a.m. here. It's Ramadan, so there'll be no coffee in the office later, so I've got a pot of Pakxong beans perking me up right now (I still think I've got a couple of kg of those Lao beans squirreled away somewhere).
I'll get this up, and then see if there's still time for more before work (we start at 7:00 a.m.!)
Next:
more