The blue September sky resembled another six years earlier, another that led to a day of death and destruction in the very same location, a location that came to be known as Ground Zero. The memory of that day of sadness and tragedy will remain always, but the area around Ground Zero is starting to rise again with a renewed spirit. Helping to feed that renewed spirit, the second annual
Starchefs

International Chefs Congress
, was held from September 16th through the 18th at 7 World Trade Center, a building that has arisen like a phoenix from the ashes of unspeakable horror. The event was held on the top two floors of this as yet unfinished building. The circumferential floor –to-ceiling windows showed remarkable views of what is, as well as what is no longer part of New York City with one view peering achingly down upon the heart of Ground Zero itself. However, within those walls and windows an event of nurturing took place as chefs, mixologists, sommeliers, suppliers, manufacturers and other food professionals gathered to learn from and connect with each other in an environment conducive to both.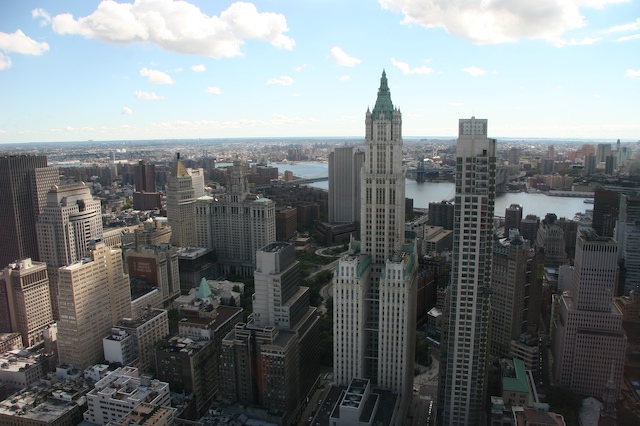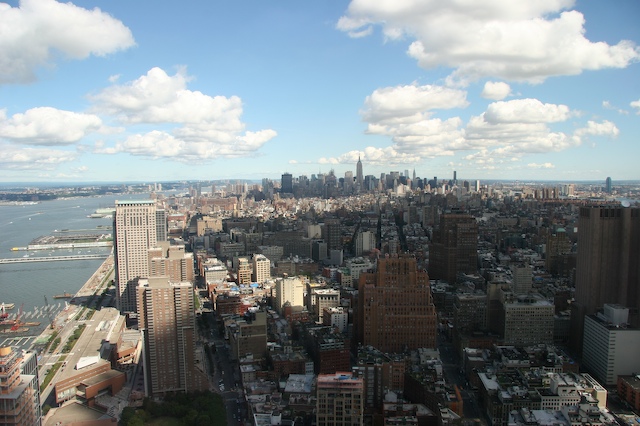 Some views from the Congress
With the cost of a three-day pass for chefs at a very reasonable $250 and a one-day pass at $150, attendance would essentially double over last year before the Congress would be done. From the moment of registration preceding the 12-noon commencement of the Congress on the 16th, the excitement in the air was palpable. Old friends were greeting each other warmly and new friends were being made. In the meantime, the prep kitchen under the direction of
George Mendes
and
Asbel Reyes
had already been in full swing for some time as presenting chefs and their assistants popped into the industrial loft-like space to finish the preparations for their upcoming presentations.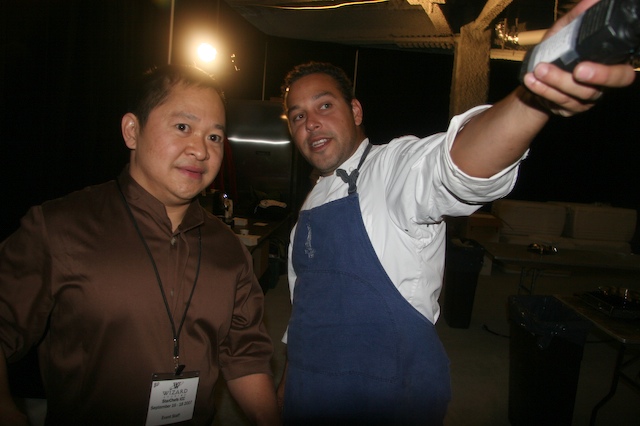 Asbel Reyes directs Pichet Ong in the prep kitchen.
Last Year's Congress
, the inaugural one, packed two days full of demonstrations, discussions and delights. This year, the main two days of the Congress were packed just as tightly, but an additional day was scheduled and was packed to the brim as well. The schedule for this day was a bit different than last year's and that of the following two days as it included a wide variety of contemporaneous hands-on workshops by chefs and mixologists in addition to a panel discussion and various presentations including one by
Ann Cooper
on the largely sorry state of contemporary school lunch programs. The latter presentation culminated in a lunch of either current typical school lunch fare or "the school lunch of the future" as prepared by
Barton Seaver
from Washington, D.C.'s Hook. Recipients were randomly divided into one lunch or the other, however, the vast majority of those with tickets for the contemporary fare of cut out chicken nuggets and other delights opted for the more attractive grass-fed beef burger with tomato, lettuce and sweet potato sticks. The object of this exercise was to alert chefs of the situation that is made particularly difficult due to the paltry financing school lunch programs receive and the lack of imagination invested in the programs. The hope was that this would be a clarion call to chefs to become involved at this level of the community.
School lunches: Current and Model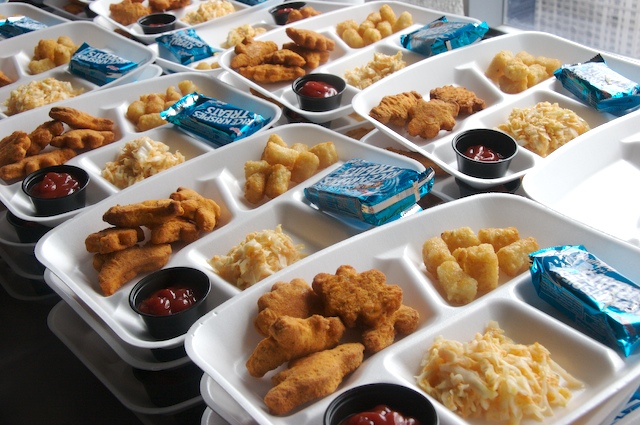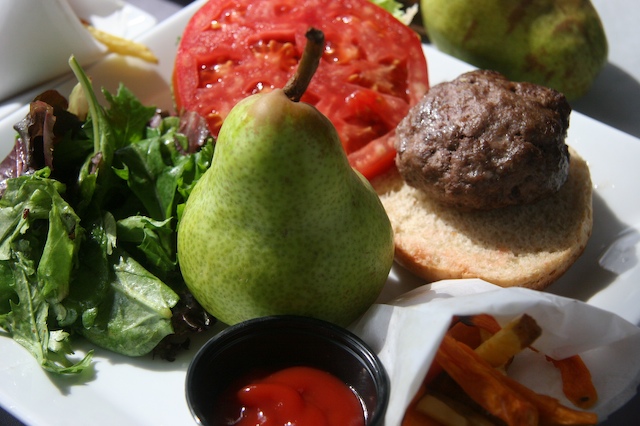 The main schedule began around 12PM on the 51st floor with
Pichet Ong
blurring the lines between sweet and savory with his presentation entitled
P*#$stry
as he incorporated traditionally savory ingredients into sweet courses and vice versa.
Simultaneous to that presentation, hands-on workshops started in 4 separate draped-off venues throughout the floor. The workshops, limited in availability and at an additional cost, were all enticing and extremely difficult to choose between. While I will mention and give a brief synopsis of the demonstrations and workshops presented, I will focus on the ones I was able to experience to some degree.
Mixologist
Adam Seger
aka "El Presidente" from Chicago's Nacional 27, got the ball rolling on the cocktail front with a workshop entitled:
Culinary Mixology: Blurring the Line Between Market-Inspired Cookery and Seasonal Drink Mixing
. In this workshop, Seger demonstrated techniques and uses for fresh fruit, herbs and vegetables in infused syrups based primarily on local, seasonal ingredients. At this presentation, Seger infused a simple syrup with fresh rosemary that he used along with Appleton Estate Jamaican rum and fresh blueberries to make a "Blueberry-Rosemary Caipiruva." He muddled lime and blueberries in a 12oz rocks glass, added rosemary simple syrup, the rum and crushed ice and shook well. The drink is garnished with a sprig of rosemary. As with all the other cocktails demonstrated during the workshops, this was available the following night at the
Starchefs
ICC Cocktail party.
Chef
Steven Pyles
from Dallas with his eponymous restaurant, demonstrated the use of various chilies and how to layer and control the flavors and capsaicins using a Vita-Prep blender. The recipe he prepared, "Ceviche of Bronzini with Vanilla-Roasted Fennel and Almond Gazpacho", featured the use of aji mirasol chilies from Peru.
Credited as the inventor of sous vide cooking,
Bruno Goussault
, along with
Bruno Bertin
both of Cuisine Solutions in Alexandria, VA, presented a workshop using low temperature cooking with a CVap Cook & Hold. This device uses a tightly controlled temperature steam environment that can be utilized in lieu of a water bath. The vacuum sealed plastic bag necessary for cooking sous vide in a water bath is not required here though it can be used, especially as a means to incorporate flavor elements. Similar results can be achieved by wrapping the protein along with flavor marinade elements in plastic wrap reducing potential botulism concerns secondary to the anaerobic environment of the vacuum seal.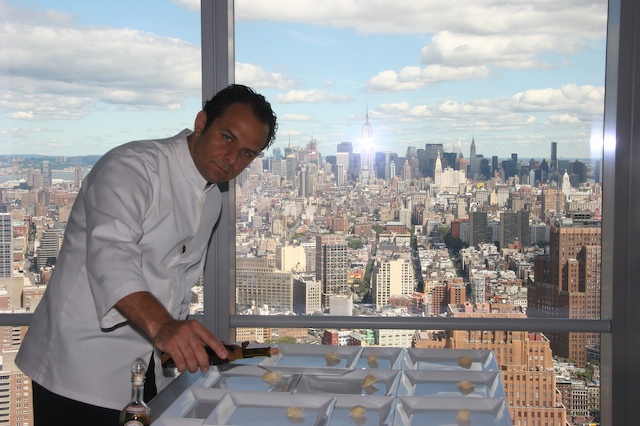 Given the current debate on tradition vs. evolution in Italian cuisine, I could not miss the presentation/demonstration by
Fabio Trabocchi
late of Maestro in Arlington, VA, and now of Fiamma in NYC, entitled
Italian Cuisine: Tradition and Evolution
. The workshop started with food. Each participant received a plate that combined a totally traditional Italian combination of a chunk of Parmigiano-Reggiano along with a slice of prosciutto di Parma, several drops of Aceto Balsamico di Modena Tradizionale and a dash of Manni olive oil along with Parmigiano-Reggiano Ice Cream with Prosciutto di Parma Tuile. The tuile consisted of dehydrated prosciutto along with some finely crumbled hazelnuts. The remainder of the workshop consisted of a demonstration of the techniques used to make the dish. The principle device used for the ice cream was of course the Pacojet, a device used routinely through the Congress. Trabocchi chose this dish to illustrate his approach to creativity within a strong culinary tradition, because he considers Parmiggiano-Reggiano and prosciutto di Parma as tow classic pillars of Italian cuisine. As a chef working in the world of fine dining he feels the need and has the desire to put his stamp on the food that comes out of his kitchen. His food is creative in the line of Gualtiero Marchesi and other contemporary Italian chefs. Trabocchi feels that it is necessary to respect tradition though he does not feel beholden to it. I hope to expand upon these ideas and a few others through an interview I did with Chef Trabocchi following this workshop.
Here
is a link to a couple more photos from this workshop.
I will continue to post this report in segments as I can.
Disclosure: I was invited to attend and cover the Congress with a Media Pass provided at no cost to myself. Personal expenses outside of the Congress itself including but not limited to transportation, housing and external meals were not provided by

Starchefs

.
Edited to include Disclosure.
Edited by docsconz, 09 October 2007 - 05:14 PM.