Tere õhtust
(that's "Good evening" in Estonian)!
I'm very, very, very excited to be doing my first ever eGullet foodblog. Foodblogging as such is not new to me – I've been blogging over at
Nami-nami
since June 2005, and am enjoying it enormously. But this eGullet blog is very different in format, and I hope I can 'deliver'. There have been so many exciting and great food blogs over the years that I've admired, so the standard is intimidatingly high! Also, as I'm the first one ever blogging from Estonia, I feel there's a certain added responsibility to 'represent' my tiny country

A few words about me: my name is Pille, I'm 33, work in academia and live with my boyfriend Kristjan in a house in Viimsi, a suburb just outside Tallinn, the capital of Estonia. I was born and schooled in Tallinn until I was 18. Since then I've spent a year in Denmark as an exchange student, four years studing in Tartu (a university town 180 km south), two years working in Tallinn and seven years studying and working in Edinburgh, the bonnie & cosmopolitan capital of Scotland. All this has influenced my food repertoire to a certain degree, I'm sure. I moved back home to Estonia exactly 11 months and 1 day ago, to live with Kristjan, and I haven't regretted that decision once

Edinburgh is an amazing place to live, and I've been back to Scotland twice since returning, but I have come to realise that Tallinn is even nicer than Edinburgh

I won't be officially starting my foodblog until tomorrow (it's midnight here and I'm off to bed), but I thought I'll re-post the teaser photos for those of you who missed them in the 'Upcoming Attractions' section. There were two of them. One was a photo of Tallinn skyline as seen from the sea (well, from across the bay in this case):
This is known as
kilukarbivaade
or sprat can skyline

A canned fish product, sprats (small Baltic herrings in a spicy marinade) used to have a label depicting this picturesque skyline. I looked in vain for it in the supermarket the other day, but sadly couldn't find one - must have been replaced with a sleek & modern label. So you must trust my word on this sprat can skyline view :)
The second photo depicted a loaf of our delicious rye bread,
rukkileib
. As
Snowangel
already said, it's naturally leavened sour 100% rye bread, and I'll be showing you step-by-step instructions for making it later during the week.
It was fun seeing your replies to Snowangel's teaser photos. All of you got the continent straight away, and I was pleased to say that most of you got the region right, too (that's Northern Europe then). Peter Green's guess Moscow was furthest away – the capital of Russia is 865 km south-east from here (unfortunately I've never had a chance to visit that town, but at least I've been to St Petersburgh couple of times). Copenhagen is a wee bit closer with 836 km, Stockholm much closer with 386 km. Dave Hatfield (whose
rural French foodblog
earlier this year I followed with great interest, and whose rustic apricot tart was a huge hit in our household) was much closer with Helsinki, which is just 82 km across the sea to the north. The ships you can see on the photo are all commuting between Helsinki and Tallinn (there's an overnight ferry connection to Stockholm, too). Rona Y & Tracey guessed the right answer

Dave – that house isn't a sauna, but a granary (now used to 'store' various guests) - good guess, however! Sauna was across the courtyard, and looks pretty much the same, just with a chimney

The picture is taken in July on Kassari in Hiiumaa/Dagö, one of the islands on the west coast. Saunas in Estonia are as essential part of our life – and lifestyle – as they are in Finland. Throwing a sauna party would guarantee a good turnout of friends any time :)
Finally, a map of Northern Europe, so you'd know exactly where I'm located: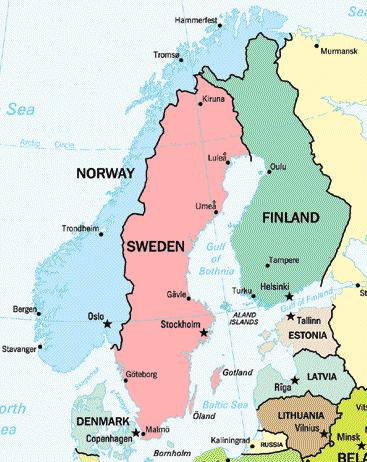 Head ööd
! [Good night!]
I'm off to bed now, but will be back soon. And of course, if there are any questions, however specific or general, then 'll do my best trying to answer them!