Well, I wanted to call this travelblog "Dining in the Desert," but it seems I was beaten to the punch. Anyway, I just came back from a four day trip to Las Vegas. It had been about three years since my last visit, so it was nice to be back and see what had changed. The amount of new construction is shocking. Not that there was much local culture on the Strip three years ago, but new buildings are going up everywhere. This was also the first time that I would be able to gamble and drink—on my two previous visits I was woefully underage—thus allowing me two new avenues for entertainment in this most peculiar of cities. I should note that almost everywhere I went I was carded, both to gamble and drink, so although Vegas may be known for its "anything goes" attitude, the major casinos consistently uphold their side of the law.
On this trip I was fortunate enough to stay in two different hotels and eat at a pretty wide selection of restaurants. I'll speak briefly about the hotels I stayed in only because I know questions of that nature occasionally come up on this board. Obviously, the majority of this lengthy trip report will focus on the food. There was a lot of it.
Feel free to ask any questions if you have them. Las Vegas is at once an incredibly simple city yet one where one can easily feel at a loss. While I wasn't the slightest bit intimidated walking up to Restaurant Guy Savoy, playing my first hands of single-deck Blackjack was a humbling experience.
To keep this interesting, I'll post lots of pictures. I also have a couple foodie celebrity sightings to share for those who are into that kind of thing.
Day 1
Checked into a standard resort room at
the Wynn
. The public spaces at the Wynn are some of the most striking in Vegas. The fit and finish throughout all the open areas is truly top-notch. The hotel lacks some of punch of the Venetian or the Bellagio but feels much more adult, playful and irreverent without being tacky. Our room was quite appealing and had nice luxury touches—power curtains, HDTV, great robes—but seemed somewhat empty. There just wasn't a lot going on to fill the space and not in a minimalist chic way. The Wynn is probably my favorite resort in Vegas but certainly not for the rooms.
Edited to include:
Picture of half of the room at the Wynn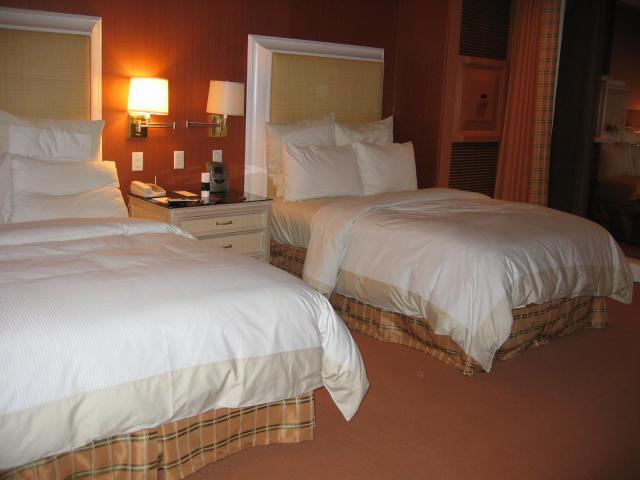 My first eating experience would occur that afternoon at
Aquaknox
in the Venetian. All I had here was a drink and some pre-show appetizers. The space kind of feels like it's underwater, awash in cool blues. My grapefruit martini was really delicious, while the cheese plate and cold seafood sampler—jumbo lump crab, rock shrimp, and lobster with topped with different sauces—were merely good. I wouldn't rush back here, but for a quick bite in the bar it definitely suited our purposes. At $15 the cheese plate was actually a pretty good value for the wide variety of accoutrements provided.
Immediately after Aquaknox it was off to
La Reve
at the Wynn. La Reve was a memorable, engaging show, and I think I liked it more than Mystere and O. I've also been hearing very good things about Love at the Mirage, so I would've liked to check that out too.
After the show it was straight to the MGM Grand for dinner at
L'Atelier de Joel Robuchon
As countless others have reported, the space here is sexy, dark, and intimate. The staff is generally young and convivial but serious about food, well-suited to their surroundings. The meal I had here was amazingly solid, superceding the hype that precedes Chef Robuchon. The cuisine is ripe with classic flavors updated with well-placed touches of lightness and creativity that rarely seem contrived.
Naturally, we selected the Discovery Menu, which at $135 represents a fair value given the rather high a la carte pricing.
Le menu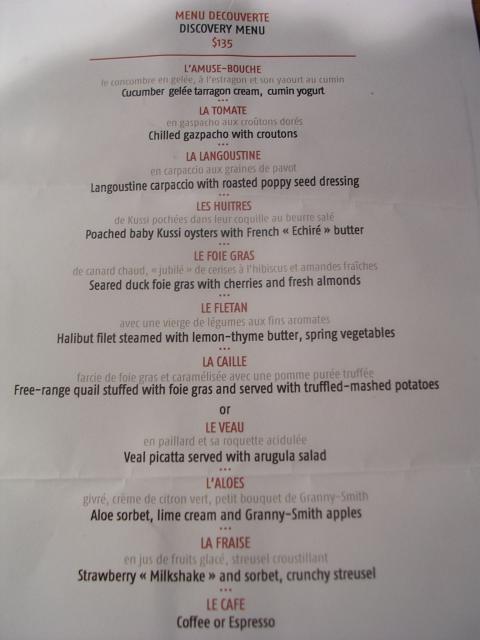 After receiving our basket of crispy mini baguettes, the procession of food began.
Amuse bouche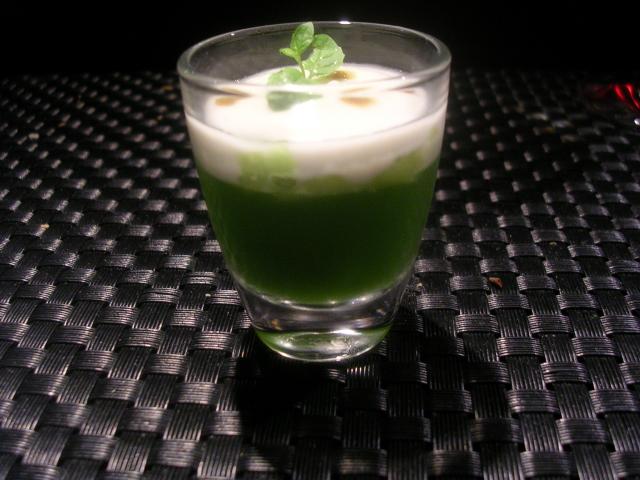 Although this dish wasn't bad by any means it was undoubtedly the low point of the evening. This was the only time when a deconstruction of a rather classic flavor combination—cucumber, yogurt, cumin—seemed rather disjointed. I thought it was a fresh way to open up the palate, though my mother genuinely did not particularly enjoy the dish.
La tomate
In my mind, this was the true start to the meal. Basil oil and the addition of a simple scattering of croutons subtly enhanced the positively vibrant tomato gazpacho. A nearly perfect, yet basic beginning.
La langoustine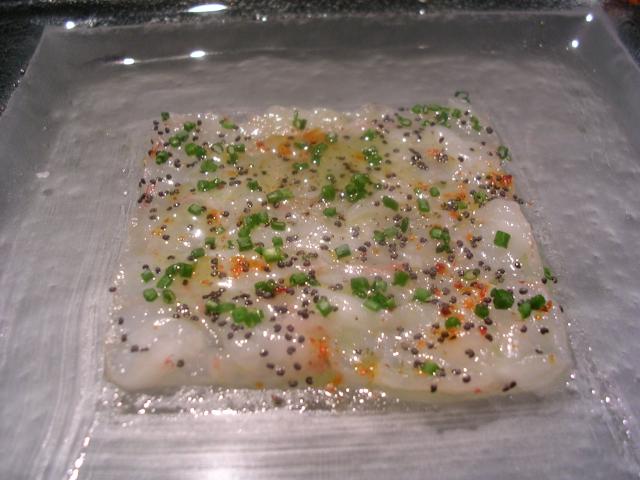 Another home run that again demonstrated how excellent ingredients creatively combined can create a memorable dish. Here, a thin layer of raw langoustine was topped with poppy seeds, baby chives, Espelette pepper, and a light drizzle of oil and sprinkling of salt. This dish was crazy good. The Espelette pepper giving the faintest hint of smoky heat.
Les huitres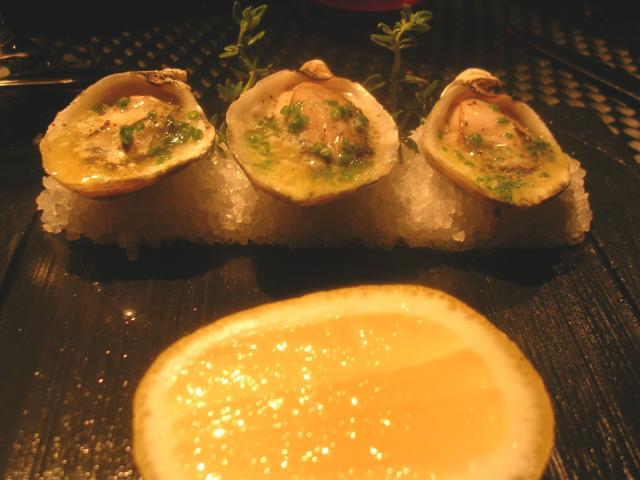 Kussi oysters were poached butter and served with this herbal, lemony, salty poaching liquid in the shell. Additional lemon was provided for more acidity. This was another excellent dish; among the best oyster dishes I've ever had and certainly up there with Oysters and Pearls. One of my trio was particularly plump and literally exploded briny, buttery goodness when met with the slightest pressure.
Le foie gras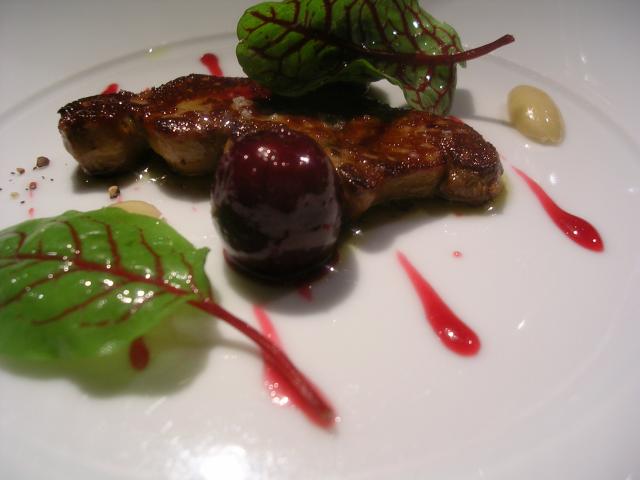 Those who read the Chicago board and LTH Forum know that I've been living in Chicago for the summer, where foie is criminally (pun intended) banned. I'd gotten a couple foie dishes on the down low during my stay in the Windy City, but was generally in a state of withdrawal, constantly on the lookout for my next hit. This dish really satisfied my craving. It may be that my deprived state skewed my impressions of the dish—it was rather simple after all—but I do think this was a superlative piece of seared foie.
Le fletan
I really enjoyed this dish, too, but it was perhaps a bit of a step down from the dishes that preceded it. The halibut was perfectly steamed and topped with a light glaze of lemon-thyme butter and a medley of vegetables one normally associates with southern France—zucchini, peppers, olives, etc. Again, I would happily eat this dish at any Michelin three-star restaurant, but it just wasn't quite as appealing as some of the dishes that came before.
La caille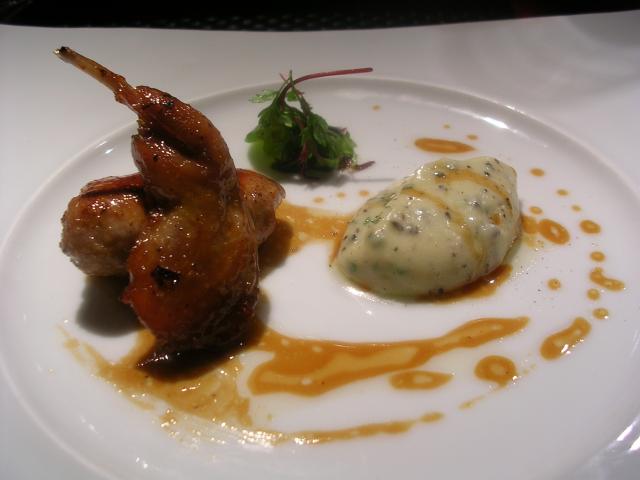 The only bad thing I can say about this dish was that there weren't enough of the truffled potatoes. It's rare that the heady aroma of truffles "cuts" through the richness of a dish, but compared to the non-truffled version the truffles served to cut through the nearly comical butter overload of the potatoes. The quail itself was deliciously crispy and even a bit sticky, making it fun to eat with my hands. The foie rolled into the breast acted more as seasoning than anything else.
Le veau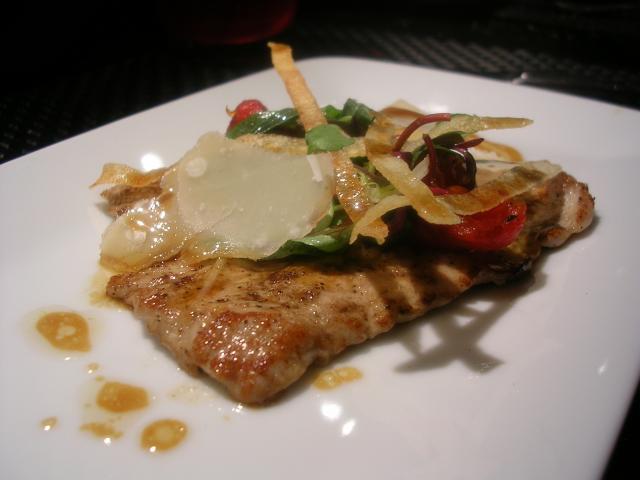 My mother ordered this dish and I had about half of it. I thought it was perhaps the weakest of the "real" courses, but she really enjoyed it and found it among her favorite few courses. It was delicious, but I felt it was fundamentally the veal picatta with arugula that one can get at any decent Italian restaurant. Expertly prepared but not moved to the point of greatness.
L'aloes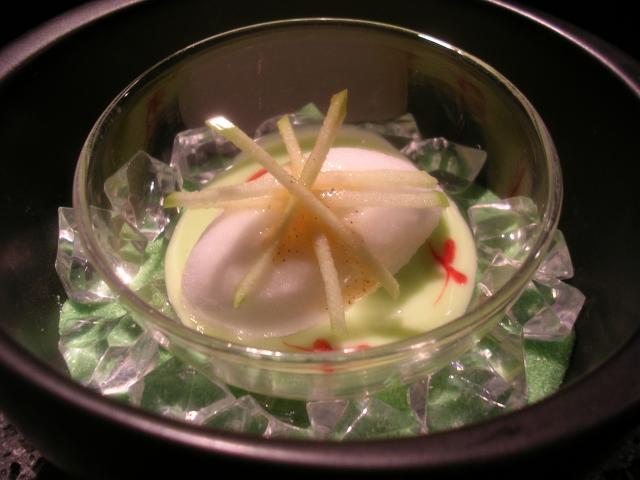 A wonderful pre-dessert. Not seen in the picture is a blueberry compote at the bottom of the dish that added a bit of pleasant sweetness. Otherwise, the lime cream and subtle aloe sorbet did a great job of cleansing the palate.
La fraise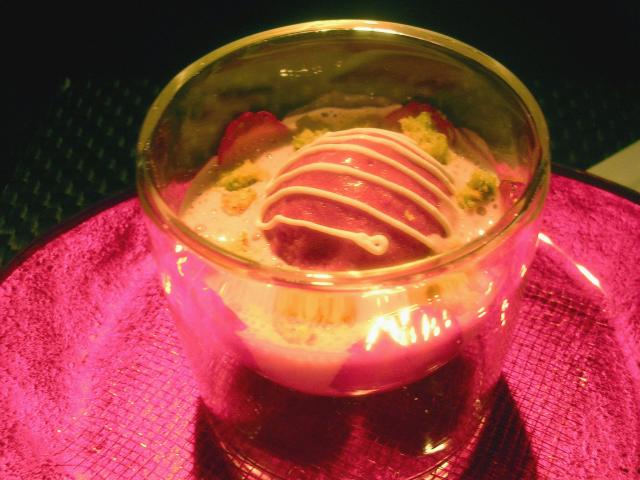 A fresh, summery finish with vanilla panna cotta, strawberry sorbet, and pistachio streusel. The quotes here are well-intended, as the dish really did taste like a more mature strawberry milkshake. It was also very refreshing to see a lengthy tasting menu end in something other than chocolate.
All in all, this was a fantastic meal. A solid three NYT stars, with four only dependent on a more complete dining experience vis a vis a formal dining room and service. I can easily see how Joel Robuchon proper could be among the very, very best restaurants in the country. With an average of 1.5 glasses of wine per person, the bill was $200/person after tax and tip. Not exactly cheap, but not in the realm of the super expensive either. We all thought it was worth it, the food surpassing most other "fine-dining" restaurants.
Edited by BryanZ, 19 August 2007 - 10:04 PM.