Greetings and welcome to another
foodblog
from a Pacific Northwesterner. Although I live in Seattle now, you won't be seeing any food from that region for I am on my summer holidays in not-so-sunny Sydney.
I have to run off real soon so I'll leave some of the introductory stuff for a bit later. I was asking for advice from some former
foodblog
gers once I knew I was going to be doing one, and one of them told me that many
foodblog
s start off a bit slow so I'm going to start this one off with a dinner I just cooked in Melbourne for some of my friends:
Melbourne and Sydney are the two largest towns in Australia (although neither are the capital). I did my High School in a small town quite close to Melbourne and so many of my High School friends are still living there. I hadn't been back since I left High School 6 years ago so this was the perfect time to return and catch up with a lot of old friends who I hadn't seen for a long time.
As part of my last day in Melbourne, I was going to cook a big going away meal. The main problem I was facing was trying to find someone who could donate their kitchen and house to me hosting a party. It was a bit touch and go for a while with a few people saying they might be able to do it, and then not being able to and I was structuring my menu around being adaptable to any kitchen I would have to walk into but, fortunately, on the noon of that day, someone finally came through and things were very quickly organised.
So in the end, I had 2 hours to shop and then 3.5 hours to cook 7 courses for 19 people. Here's what I managed to pull off: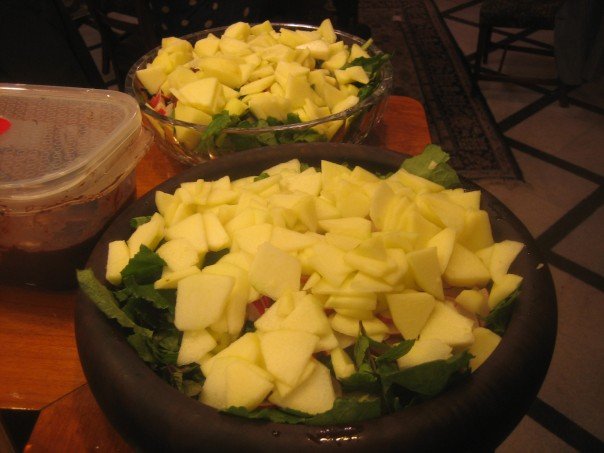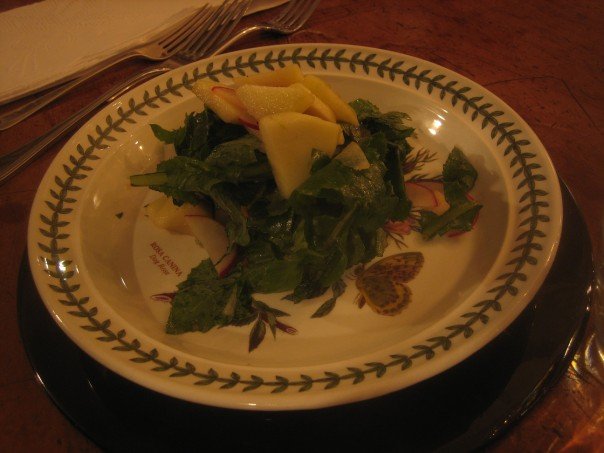 The Inaugural Fitzroy Garden Salad - Milkweed, Radish, Apple & Lemon Thyme with a Raspberry Vinagrette. I love using the combination of Radish and Apple and it's appeared a bunch of times in different salads. I'll tell a story of how the milkweed got into the salad in a later post. Someone at the table suggested this salad needed a name and we were dining near the Fitzroy Gardens so that's how the salad got it's name.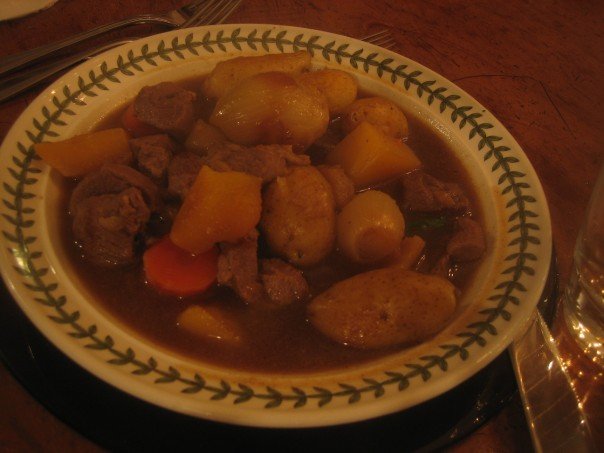 Irish Lamb Stew with Onions, Potatoes, Parsnips, Turnips, Carrots & Roasted Garlic. This was a great dish for a cold, winter's day and it was deep and hearty with all the different root vegetables. Dead easy to make as well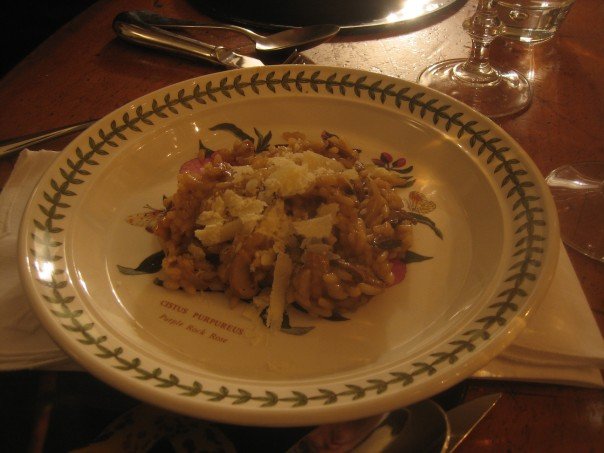 Mushroom Risotto. At this stage of the night, I was pretty drunk so I pressganged people into stirring the risotto for me. The great thing about cooking for friends is, if you're clever, you can push them into the kitchen while you're quaffing red wine at the table and being belligerent.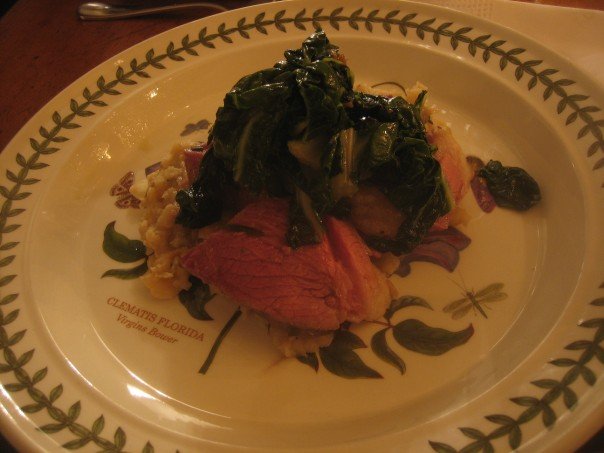 Roast Leg of Lamb with Minted White Bean Mash and Sauteed Silverbeet. The Lamb was rubbed with garlic, rosemary, lemon thyme, anchovies, & olive oil and roasted in a low oven until perfectly medium rare. The beans were pretty magical. I simmered them until almost tender with some trimmed off lamb fat and the silverbeet stems and then I placed the entire thing underneath the lamb when it was roasting so all the fat and drippings dripped down onto it. A bit of mint at the end really brightened it up. The silverbeet was just sauteed lightly with some garlic and chilli flakes and they were great too.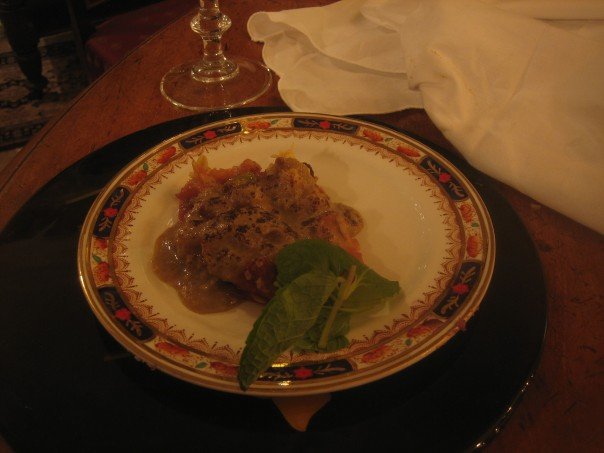 Apple & Rhubarb Crumble with a Feijoa Sabayon. Anytime I'm drunk and get to play with fire is a good night in my opinion so once I found out the kitchen had a blowtorch in it, sabayon was put on the menu. Rhubarb was looking great at the market and a crumble is always a good way of doing a dessert without needing much equipment. Feijoa is an interesting and rather unusual fruit. I had never had it before that day and I bought a bunch not knowing what I could do with it. It tastes sort of a cross between sour apple and kiwifruit and, according to
wikipedia
, it grows in South America and now New Zealand/Australia. It went really well in this dish as it played off both the apple and the rhubarb quite well.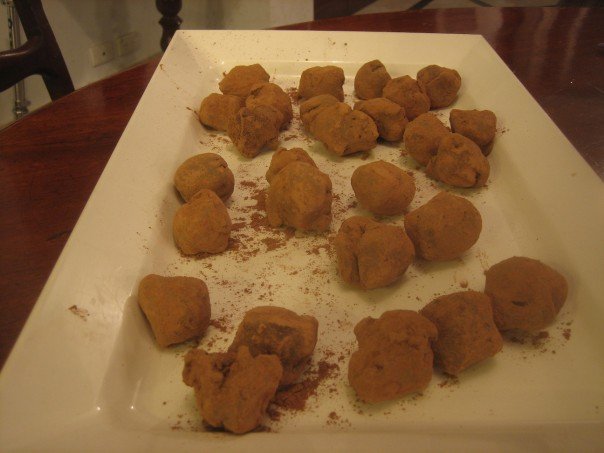 Passionfruit Truffles. I always love ending a meal with Truffles now since they're so easy to make but give such an elegant finish to a meal. I hadn't eaten passionfruit for almost a year as they're either impossible to get or absurdly expensive in the US. So when I saw them, 7 for $2 at the market, I snagged as many as I could and just went on a binge.
Anyway, I'm going to go be nerdy with my friends now at
Dorkbot
but I'll post something later tonight (It's 6pm here in Sydney so later tonight means in a few hours).