Having just
reviewed
The Art of the Dessert, now we can start posting our creations from this fantastic book.
I started with three, and have a couple more coming this weekend.
The first thing I made was the
Peach Souffle Tartlets with Ginger Peach Ice Cream
Its been hot here in the high dessert, so I wanted to start with anything that included ice cream. The ginger peach ice cream was really outstanding. I wish I had riper peaches for a more pronounced flavor, but it was good nonetheless. The tartlets had a splash of Grand Marnier combined with lime and peach - great combination! I also really liked the pastry crust recipe for this one - very delicate.
=====
Next, I made the
Sour Cream Waffles with Avocado Ice Cream
.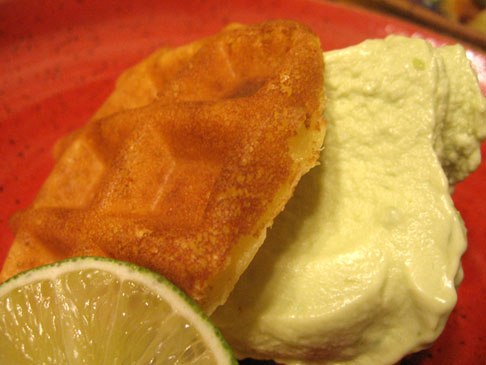 Again, I was wanting something a bit cooler to counter our heat. I had trouble getting my waffles to rise and crisp which I think was a function of my waffle iron. The taste of the waffles was absolutely wonderful and became our breakfast the next morning. The ice cream was as creamy as you would expect and tasted nothing like guacamole (thank goodness!).
=====
The last dessert was terribly mis-seasoned:
Fried Mocha Custard Squares
.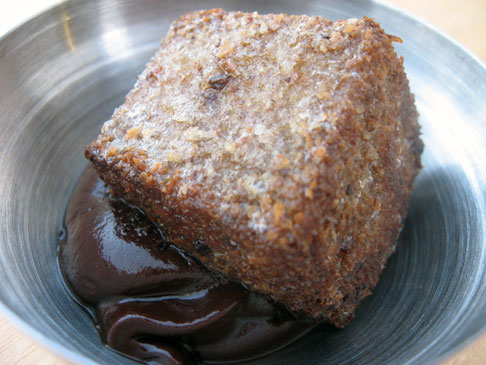 I wanted to try things from the book that I normally would not have made, so I asked my spouse to pick a few. He made a long list, but neglected to tell me that some were for making in the fall...this was one of them. An espresso laced, cornstarch-based custard chilled, cut into squares, rolled in croissant crumbs and butter fried. I think that says it all. It was very good, and very not light and summery