DiverXo is the restaurant that has been the talk of the town lately. Well, until the arrival of Gastón Acurio from Lima.
David Muñoz comes from a good school, formed at Viridiana, our own local fussion restaurant for the last 30 years, wanted to move forward so he headed to London to work at Hakassan and Nobu.
Back in Madrid he has just opened a little restaurant in a hiden street from a not very fashionable area. The decoration is almost non existent, but the service is very helpful and dedicated.
His cooking wouldn't probably be surprising at NYC or SF but in Spain is really shocking as he revisit traditional spanish dishes with a chinese/asian twist. Dishes are risky and higly ejoyable even if not all of them succesf, but when he does you can see that here's a clever cook with perfect technique and clear ideas.
Let's go with the menu:
Aperitif were
yuca noodles with peas
Not really interesting to write about
Next came an
spanish toltilla maki
With poached potato and onion, quail egg yolk with chilli and red bean emulsion. Served with a tea with rum, cocoa and chilli.
The dish was funny as it was like eating a Japanese maki but tasting like an spanish omelette.
Rabbit and carrot dim sum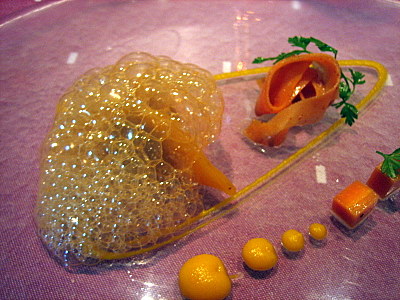 Made with carrot skin and stewed rabbit with five chinese spices and a carrot salad.
Served with a litchis tea.
Iberic pork pancetta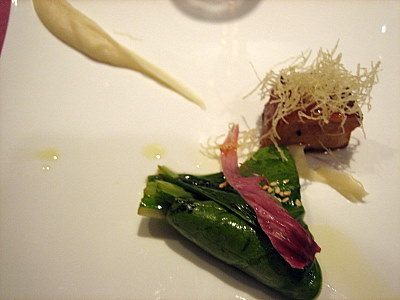 Dong Po style with tupinambo purée and pak choi (chinese cabbage) in a crunchy greek kataifi dough.
This was the first dish that knocked, soft and tasty iberic pancetta perfectly cooked with a surprising twist.
Mediterranean prawn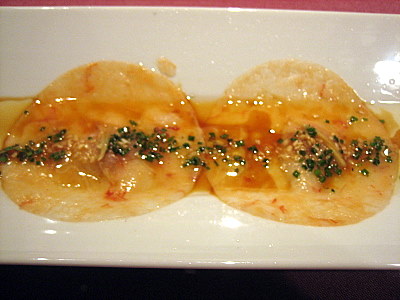 Cooked other way round, with juice from its head, yuzu and hot butter.
This was probably the best dish of the night. Amazing prawn carpaccio where the fried heads are thrown over so it gets cooked on the plate. Terrific.
Bienmesabe de cangrejo
. Adobed soft-shell crab and deep fried andalusian style.
With fried rice noodles and emmental cheese sauce.
I enjoyed this dish as the taste was like andalusian adobed cazón (shark) though some complained because somehow the flavours hadn't properly penetrated the shell.
Tuna tartare with empanadilla
(Fried dumpling)
of Torta de El Casar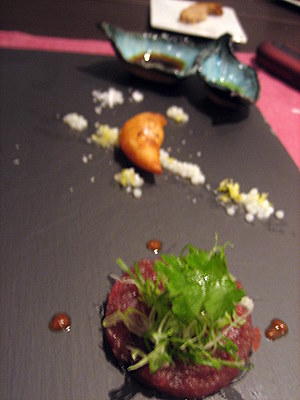 Good tartare but somehow lacking of the twist from the other dishes.
Tobanegg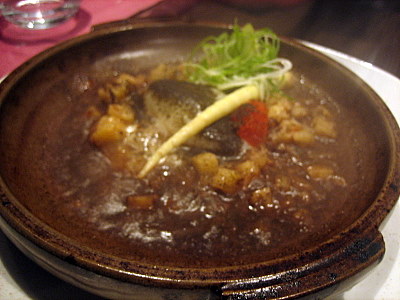 Free range egg cooked in Toban with smoked tea steam chives and wood ear mushroom. And flying fish eggs.
This was a failed dish. The waiter explained that the egg was cooked three ways but in the end the egg was broken and eating all at once so you can not appreciated all the work behind, also the other elements created a confusing mix without a proper and leading taste. In the end a very baroque dish.
Skate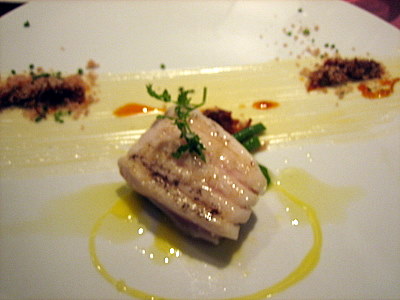 Roasted with string beans and XO (Spanish version) sauce (dried tuna, pata negra ham extract and scallops)
Amazing dish with a delicious sauce. I've always found that skate has great texture but soft flavour and this dish was superb mixing both.
Veal sweetbreads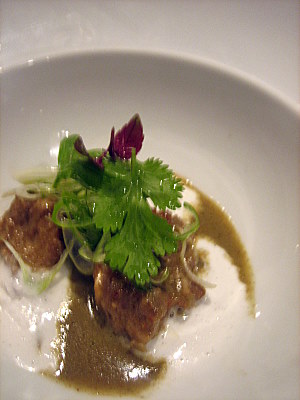 With a soft coriander curry and basil stuffed endives.
Another weak dish, the curry was too soft for me.
Gallician red cow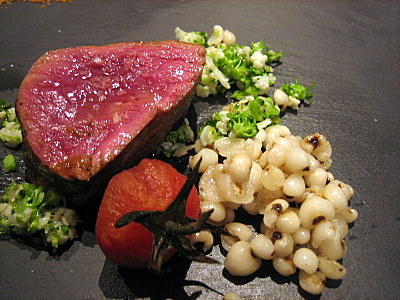 With mojo Nikkei, this is a canarian sauce with tender barley and broccoli cus cus.
Superb meat with a complex and delicious sauce
Black Cod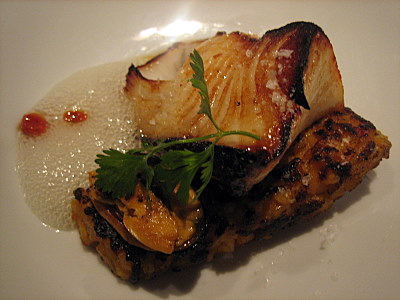 With cider and Chinese honey and mussel socarrat rice.
Even though it was frozen black cod the dish was delicious, the rice was cooked in the socarrat style created by Raul Alexandre from Ca Sento
Celery sorbet
With white chocolate ice cream apple and olive oil.
Delicious and refreshing, though I don't see the point of the chocolate on this dessert.
Overall it was a great meal, with ups and downs but very good level and some outstanding dishes. I'm willing to repeat.
Edited by Rogelio, 18 June 2007 - 11:59 PM.