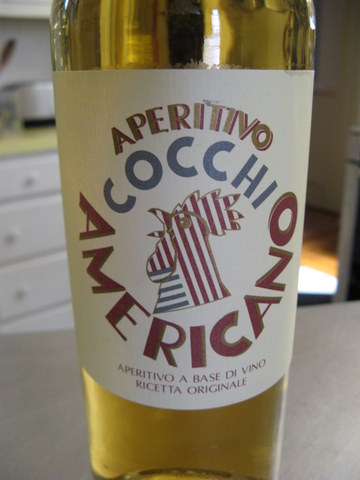 Is anyone familiar with Cocchi's Aperitivo Americano?
Aperitivo Americano
Giulio Cocchi's original recipe Americano is more that just a simple aperitif in the town of Asti - in fact, it is the aperitif by definition, a piece of this century's local cultural and gastronomic history. This is the original Americano, produced without a break since 1891 according to an entirely natural recipe: white wine aromatized with many herbs and spices, no artificial colouring, flavouring or additive of any kind.
It has been staring at me from the shelf of the liquor store for a while now. Cocchi also makes an excellent red wine based "Barolo Chinato" digestiv, so I knew it would probably be good. Didn't know what I might do with it, though. However, when I read a description of it comparing it to Lillet, I began to wonder if it might be more like the original Lillet, pre-80s reformulation.
It does have very similar flavors to Lillet Blanc. A much stronger quinine/bitter note, though.
While it is more than enjoyable on its own, I'm definitely going to give it a try in some cocktail recipes that call for Lillet.
Anyone have ideas why it might be called "Americano"?
Googling, I see Gancia also makes an "Americano". However, it is bright red, like Campari.