As far as I can tell -- and, believe me, I've been working hard to disprove what I'm about to say -- this is the very last bottle of Inner Beauty Real Hot Sauce on the planet: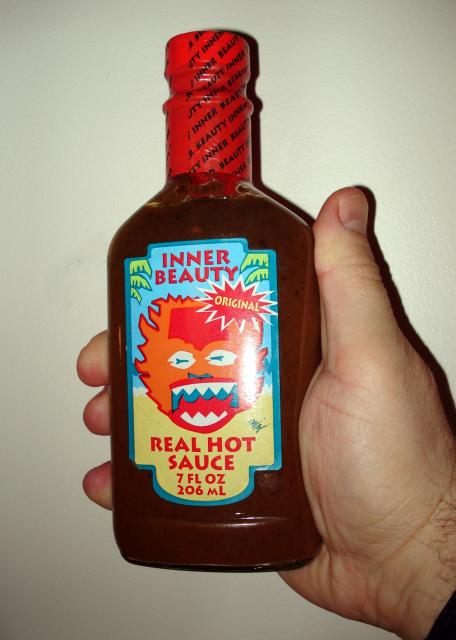 I became a fan of Inner Beauty two decades ago, when Chris Schlesinger brought his grillin' and BBQin' to Cambridge MA at East Coast Grill. After a while, this legendary hot sauce (mustard-based, with fruit, spices, and habaneros) started appearing in grocery stores throughout NE and became a big hit on the burgeoning hot sauce circuit. It was my go-to hot sauce, and I probably went through a bottle every couple of months during the heyday.
But then, for reasons that I've never understood (nor, honestly, been told), Schlesinger stopped making the stuff. It started disappearing from market shelves, so in the early oughts I bought all I could find and hoarded it. Well, until I ate it all, too quickly.
See, I was confident that I'd find little caches here and there if I looked hard enough, but for two years I came up empty. I also tried making it based on some recipes floating around, but, well, it's not the same. I gave up hope.
Two years ago, while on a trip to visit family in -- of all places -- Bisbee, Arizona, we ambled into a gift store to get a few cold Cokes on a blistering July afternoon. Lurking on the shelves of that tiny store, next to gew-gaws and bric-a-brac, were the last two bottles of Inner Beauty in the world.
It took me nearly two years to make my way through the first bottle, and I'm now into the second, and last. I don't know how to think about it. How do you eat the very last of something in the world, something you've treasured for most of your adult life? Do you have little dribs and drabs, spread out over years? Or do you consume it with verve and pleasure, the way it was meant to be enjoyed? The whole concept puts me in an existential dilemma that I have faced, largely, with confusion.
Has anyone had a dilemma like this themselves -- or are you in one now? What did -- do -- you do?