Good evening! My name is Hiroyuki, I'm 46 years old, and I live in a rural, snowy, rice-producing district in Niigata prefecture, Japan, 210 km to the north of Tokyo. I work at home as a freelance translator.
Just an introductory post for now, before I go to bed. It's about 10 o'clock in the evening in Japan.
I have a wife (45), a son (11), and a daughter (7). Unfortunately, my wife cannot join in my foodblog for the reason to be described later.
I'm not a food lover, I'm just a food eater, and now that I'm in my late 40s (and besides, my children are still small), I'm more concerned about health aspects of food than other aspects.
Shortly after she gave birth to her second child (daughter) in 1999, my wife developed some kind of disease, requiring me to help her a lot, especially in cooking. Early this year, her symptoms got worse, and now I am the main cook in the house. When I received a PM from Suzan (snowangel) in early March, asking if I was interested in foodblogging, I was in a very awkward situation. On April 13, my wife was finally hospitalized. Ironically, her hospitalization has made it possible for me to start foodblogging. I still feel uneasy about foodblogging, considering the situation I'm in, and I also feel somewhat guilty, but I hope I can finish my foodblog to the end.
Teaser photo:
The photo was not meant to be a teaser photo. It's the Komako statue, standing on the premises of Yuzawa Station. Komako is a geisha who appears in Kawabata Yasunari's masterpiece, "Snow Country". I was in need of a teaser photo, and I selected that one because I thought it was representative of the area where I live.
Here is a full version of the photo: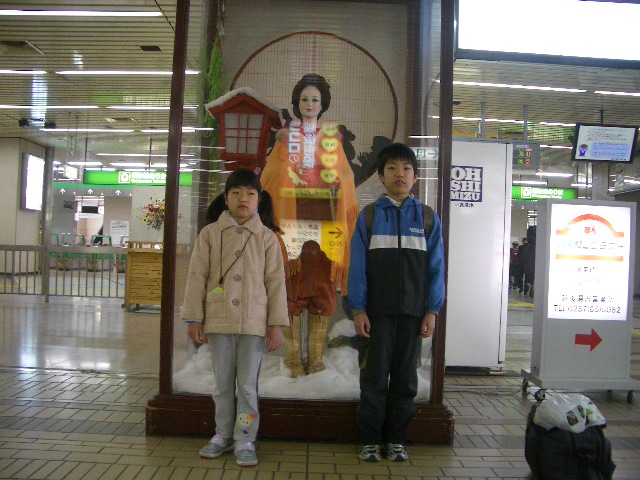 My foodblog will focus on home-style Japanese cooking because that's what I can talk about Japanese cuisine, and it will also focus on a tour of Snow Country and surrounding areas.
As you can tell, English is not my native language, and I'm not very familiar with colloquial expressions because I studied it mainly from books. If you find any errors in my posts, fell free to let me know.
Lastly, my sincere thanks to Susan, who did all she could so I could start blogging in time. (I notified her of my intention to start blogging only a few days ago.)
My blog officially starts tomorrow. Until then, good night!
P.S.
Pan:
How did you know it was me?
Edited to add: Made a correction.
Edited by Hiroyuki, 24 April 2007 - 03:59 PM.