Our own Improvchef44, aka Personal Chef Brian Doyle, has been the moving spirit behind a dining club inspired by Anthony Bourdain's "No Reservations" episode shot in Portland. As the "Gypsy Chef", he organized the first dinner April 16, 2007, which was held at the Falls Grill in Chagrin Falls and hosted by Chef/owner Tim Ogan. Our special guest was Chef Miguel Morales from Top Chef, who was in town to judge at the Second Annual Chili Cook Off to Benefit the Cleveland Austism Society, which was last night.
Miguel and Brian collaborated to bring us hors d'oeuvres to start the evening:
First - Brian's refreshing Spring Pea Shooter:
Also plattered were Brian's Duck Bites:
Miguel created the following morsel of creamy artichoke, breaded and fried and topped with bacon: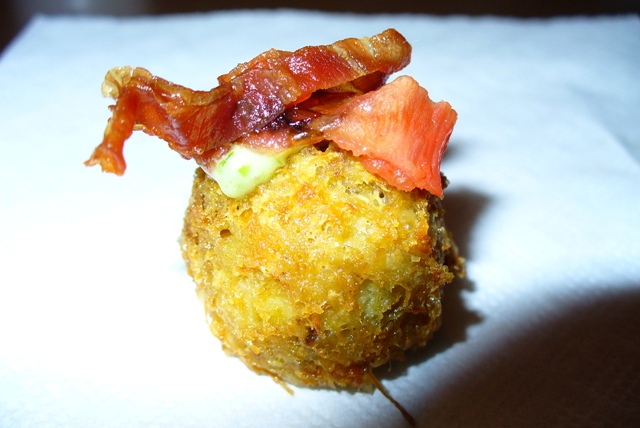 Two of Miguel's items were passed on Chinese Spoons. A bit of melt-in-your-mouth shortrib: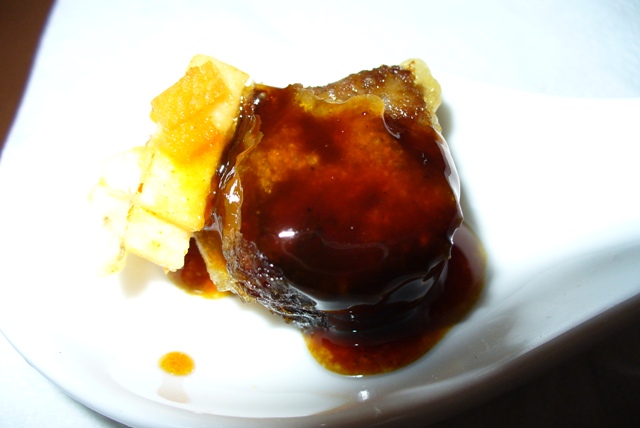 And, forgive me, I don't remember exactly what this one was, but it was delicious: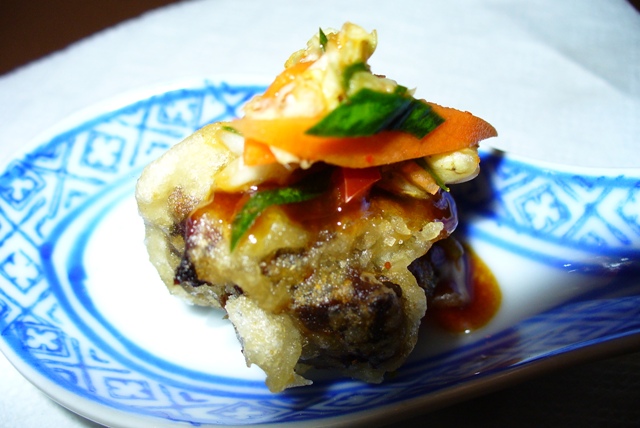 We proceeded to the dining room. Off to the left, the restaurant's "private dining room" had been converted into a staging area for the crew of Chefs and their assistants; it was merry mayhem as they worked together to bring us the following dishes:
Course one by Tim Ogan of Falls Grill: Inari, Salmon-Caymus Conundrum, served with his signature House Noodles: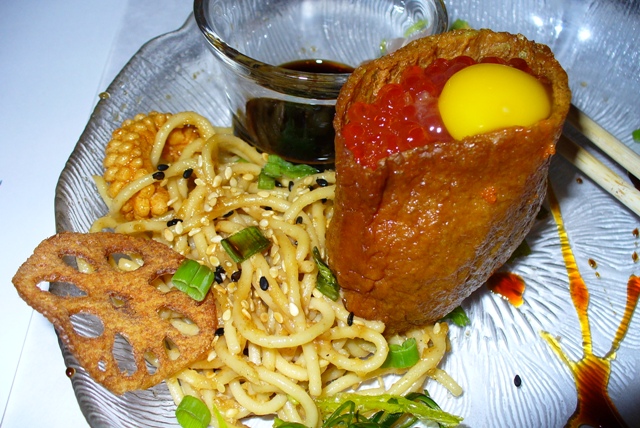 A wonderful starter - the creamy quail egg yolk atop the Inari tamed the strong flavor of the Salmon Roe to make a perfect harmony that struck chord with the tasty rice below. Especially playful was the little item that looked like an octupus tentacle (upper left part of the plate at about 10 o'clock), but was actually a slightly sweet cracker that played well off of the slightly spicy noodles (which Chef Tim calls his "Fear Factor Cracker").
Rick Carson of Vue (in Hudson) brought us our next course - Ramps, lemon/tomato confit, miatake mushrooms: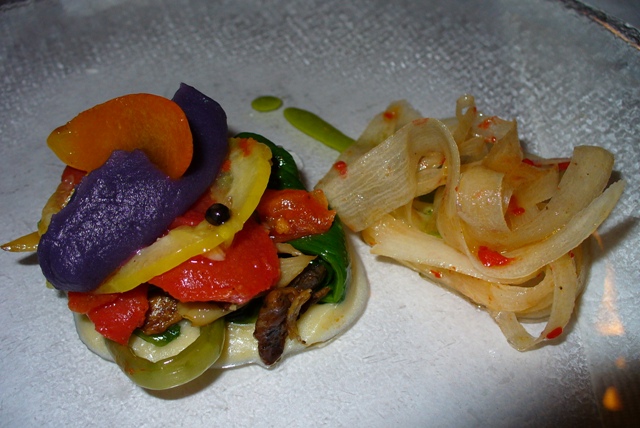 This Napolean was topped with a tasty bit of citrus and a creamy explosion of fruit flavor. Though I passed the pieces of mushroom to Bob (I just can't take the texture of mushrooms) - the creamy mushroom-infused bottom layer was plate-licking good!
Twinsburg's Blue Canyon presented the next course - Brandt Evans was in the house, but the dish belonged to the two young chefs who accompanied him, who will be heading Blue Canyon kitchens in other states as the brand expands. Their presentation of "Tuna Two Ways" was exquisite: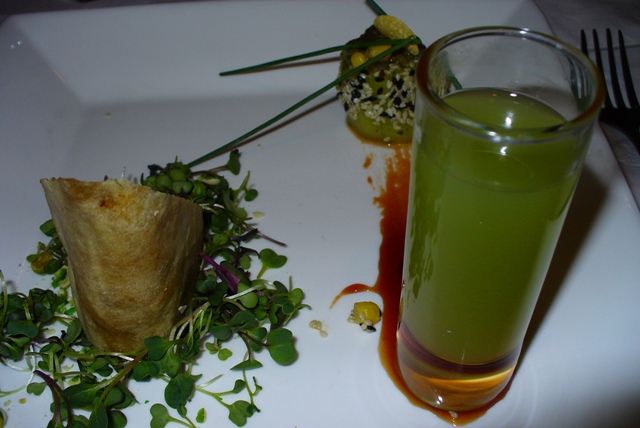 On the right, a shooter of Cucumber Water with, I think, Vodka and other flavors (sadly, cucumbers, along with mushrooms, are the only two foods I have trouble putting into my mouth - I took a drink of it, then passed it to Bob). A gastric cleverly glued the glass to the plate until it was time to drink it.
On the left, a Spring Roll stuffed with cubes of fabulously fresh raw tuna and a plum sauce: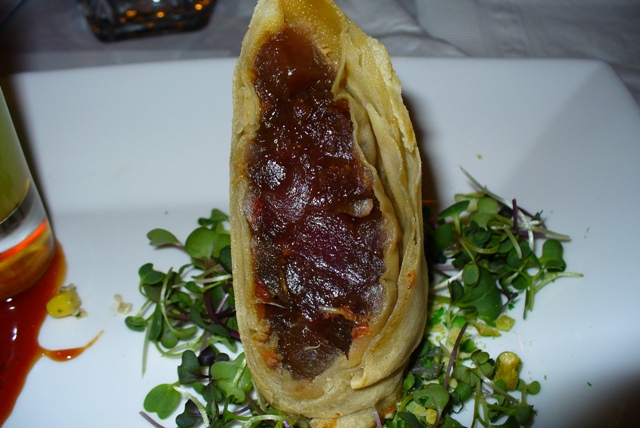 In the center - a wrapper of cucumber, dusted with a variety of sesame seeds, and rolled around more wonderful tuna. I really tried to take a bite of the cuke, but with the flavor of the beverage still on my palate, I wound up devouring the tuna, but passing the cucumber onto someone who could appreciate it (lucky husband).
Next up - Jeff Fisher of Lago (located in Tremont, in the old Theory space across from Lolita). Despite having a newborn in the house (as in two weeks old), he managed to stay awake enough to create a pillowy smoked potato gnocchi, which was surrounded by 'shrooms and artichoke, with a couple of fresh ramps to round it out.
Brad Gambrell of Barrington Golf Club served next. His moist pheasant, plated over sundried cherry confit and accompanied by plump orange gnocchi stuffed with cheese was so good - well, I told him that I might need to take up golf, so I would have an excuse to eat more of his food!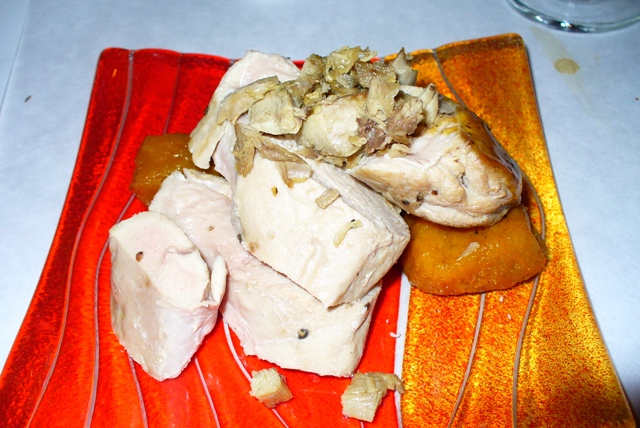 The Intermezzo was artfully preparedby Jakub Mejstrik, a personal chef who also took Best Vegetarian Honors at the Chili Cook Off last night (Chef 77). Describing this delightful bite as "chilled fruits" does not do it justice.
The watermelon cube was stuffed with a minute dice of other fruits, and served with a light sauce drizzled on the plate. We were told to take the morsel with our fingers, dredge it in the sauce, and pop in in the mouth - yummy!
The final savory course was from Brian - Hawthorn Braised Pork Belly redolent with creamy fat, served over a Rhubarb Marmalade that cut the fat just enough.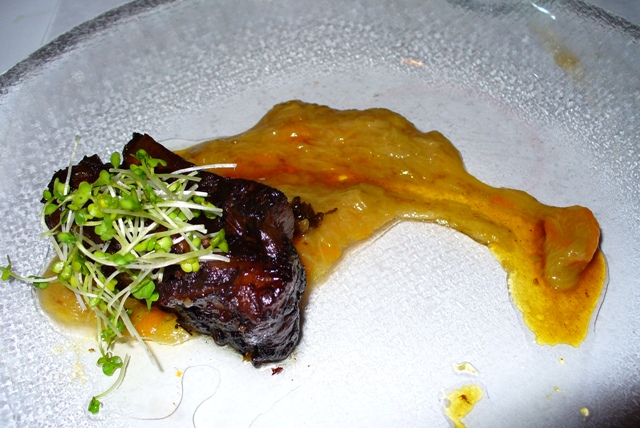 We did not think we could eat another bite. Then came dessert, from Nick Kustala of Lure Bistro.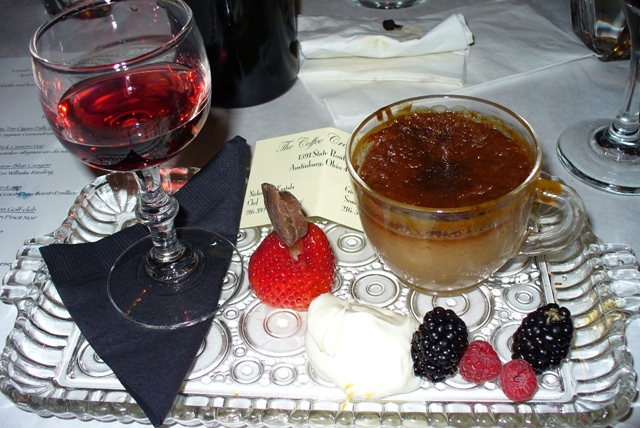 Somehow, we all made room for his Twisted Pots de Creme - the final step in a food-induced stupor. The Debonne Cab Franc Ice Wine was perfect with it.
We hope that there will be more events, but only the Gypsy Chef knows for sure.
Edited by NancyH, 18 April 2007 - 09:39 AM.