I recently had the opportunity to attend a business conference in Las Vegas and extended my trip to Phoenix for a couple of days to visit some friends.
I arrived in Las Vegas on Friday afternoon too late for a full lunch but too hungry to wait for my late dinner at L'Atelier de Joel Robuchon to not have anything, especially after traveling all day from the East Coast. Staying at the Wynn, I was looking for something light and found it at
Red 8 Bistro
, a Chinese restaurant located in the hotel just off the casino. I satisfied my need by ordering two dim sum dishes.
Fried pork and shrimp dumplings were tasty.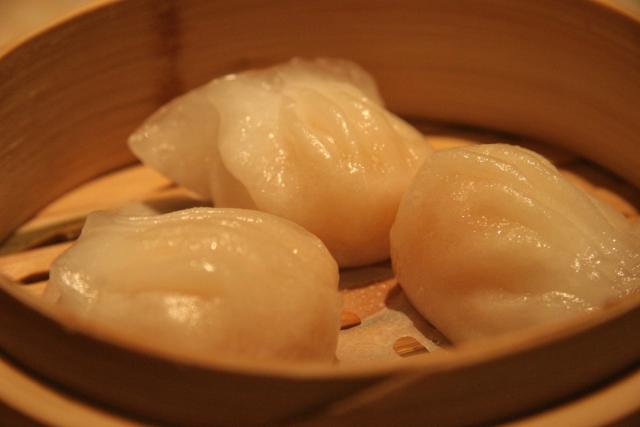 Steamed shrimp dumplings were flavorful though the wrappers were somewhat thick and chewy.
That evening I was finally able to hit one of the restaurants in the US that I have been most interested in trying,
L'Atelier de Joel Robuchon
and better yet, I was able to do it in the company of Ronnie_Suburban and his lovely family who happened to be visiting Las Vegas at the same time as me.
We arrived for an 8PM reservation (11PM my time) and were seated at the bar per our request.
The Menu: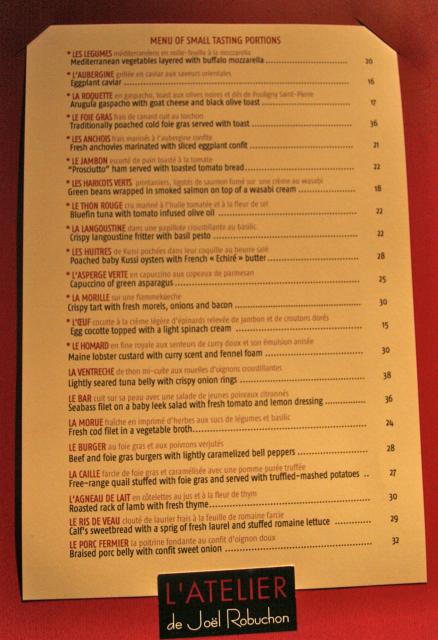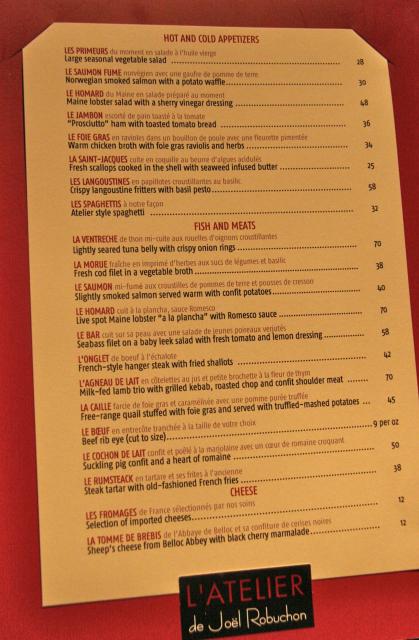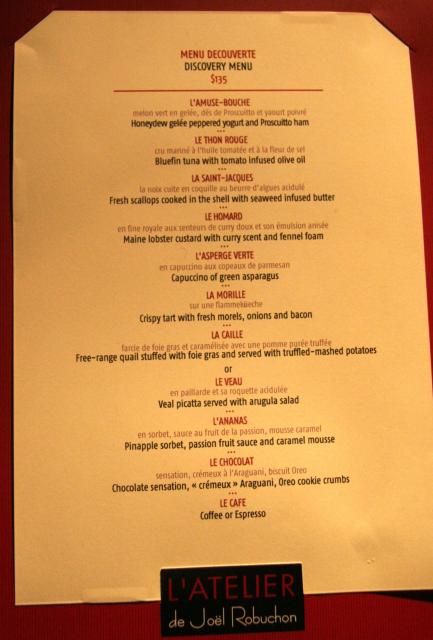 Our view into the open kitchen: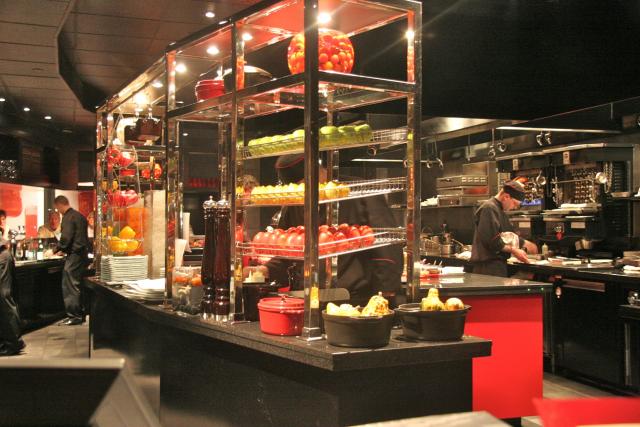 The Bread: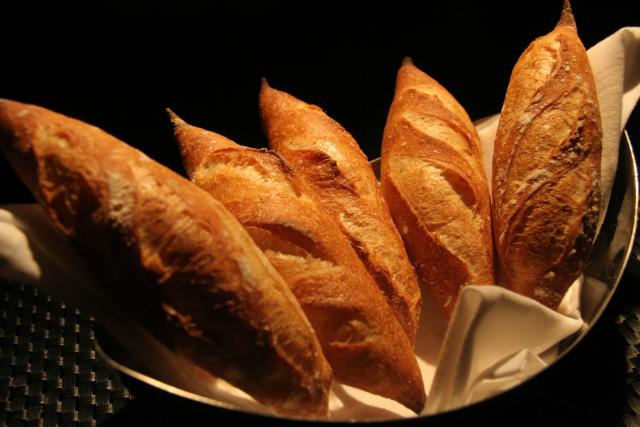 I hate bad bread, especially in French restaurants. This bread, warm and crisp was delicious. I had to really restrain myself from eating too much of it.
We opted for the Discovery Menu and chose a wine that we felt would be interesting and likely go well with the bulk of the meal.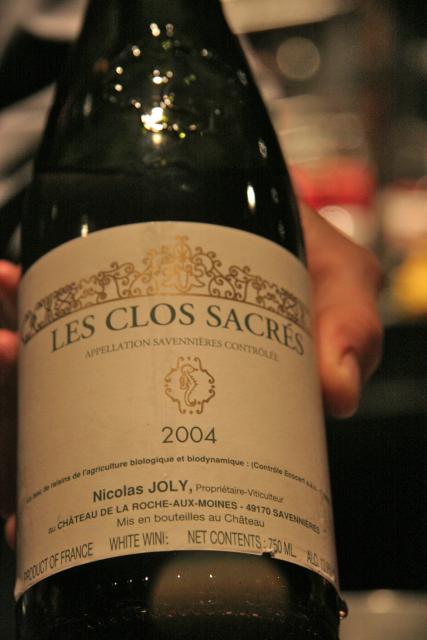 I have had Joly's more famous wine, Coulee de Serrant, a number of times but never this less expensive brother. It worked nicely even if it is not likely to be mistaken for its more illustrious kin.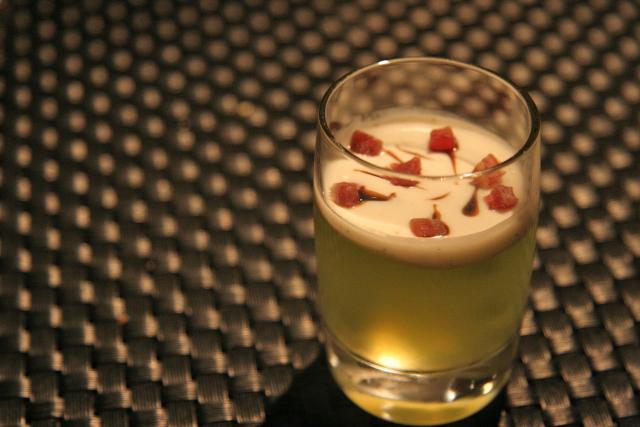 L'Amuse-Bouche
Honeydew gelee, peppered yogurt and prosciutto ham. This was a pleasant way to start the meal even though I found the balance a little too slanted towards the sweet for my taste. I have noticed a trend with many amuses tending towards the sweet, the most pronounced example in my memory being the maple syrup shooter at Cinc Sentits in Barcelona.
Le Thon Rouge
Bluefin tuna with tomato infused olive oil. Nice quality bluefin simply prepared with good ingredients, there is nothing to not like, yet I didn't enjoy this quite as rapturously as I expected to.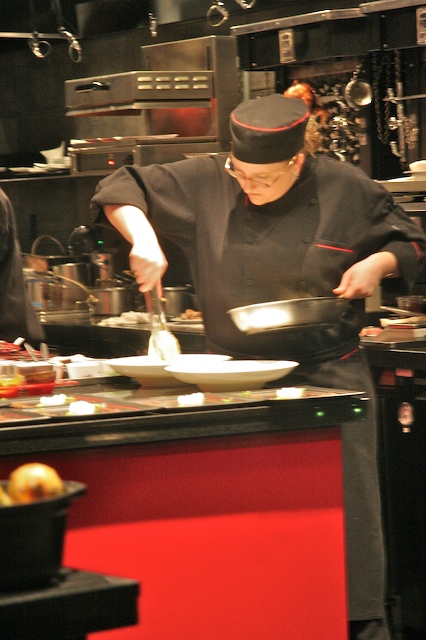 The kitchen in action.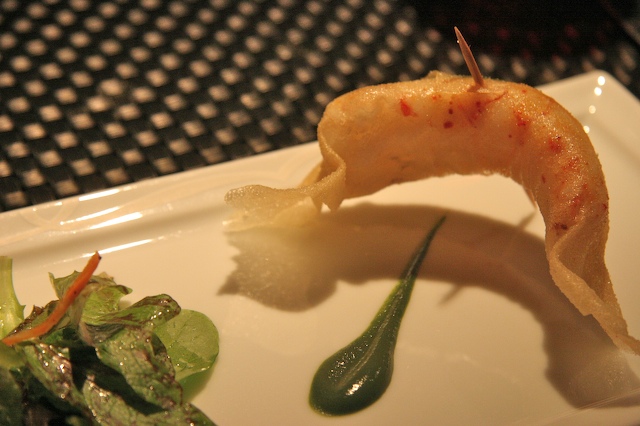 Le Langoustine
Crispy langoustine fritter with basil pesto, this dish is everything it was cracked up to be - delicious! Though clearly not the same dish, it reminded me of a similar dish that I loved at
L'Astrance
in 2005. We added this course to the menu.
La Saint-Jacques
Fresh Scallop cooked in the shell with seaweed butter. Yhis dish was beautiful and tasty.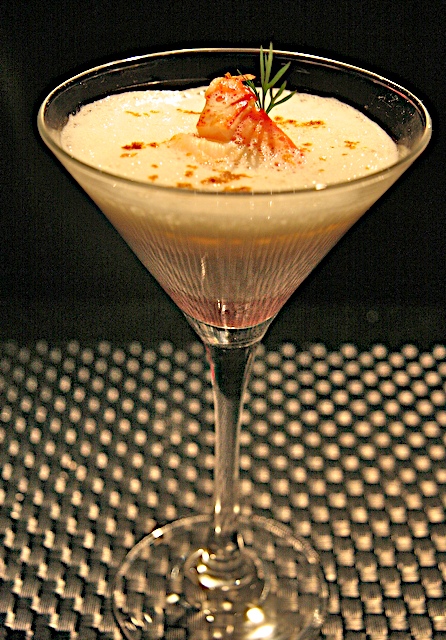 Le Homard
Maine lobster custard with curry scent and fennel foam - luxurious and decadent.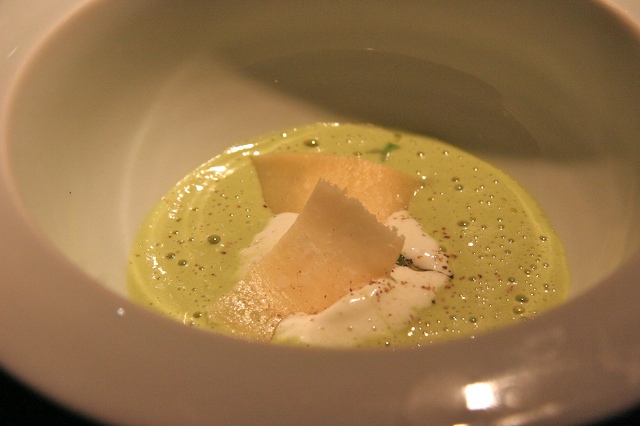 L'Asperge Verte
cappucino of green asparagus - this dish was the essence of asparagus - marvelous.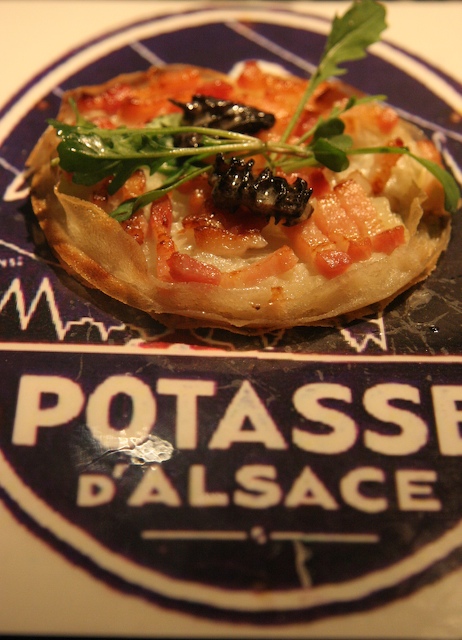 La Morille
Crispy tart with fresh morels, onions and bacon. Surprisingly, this was my least favorite course of the evening and the only one that I felt was seriously imbalanced being very salty. The underlying flavors and textures were fine, but the salt really overpowered this example.
At this point our neighbors at the bar got this dessert that took our attention.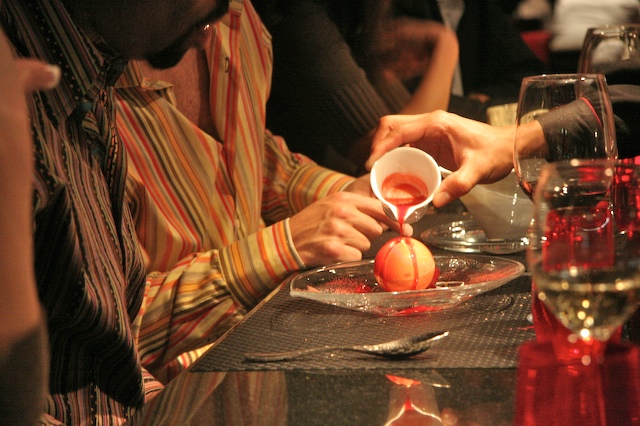 Pouring the sauce over the orb caused it to fracture and release the cream on the inside like a flower opening to expose its seeds.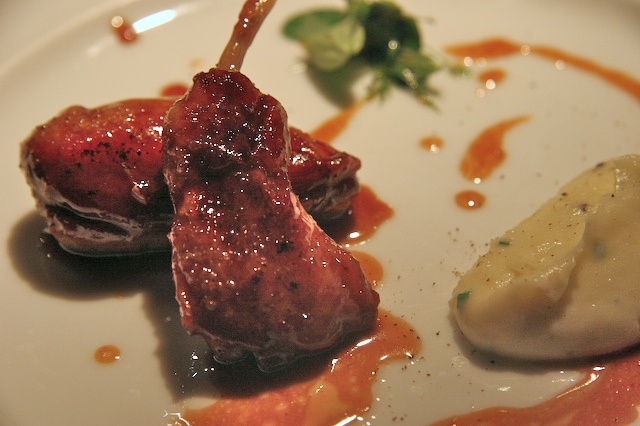 La Caille
Free range quail stuffed with foie gras and served with truffled mashed potatoes. This dish was a great combination of luxe ingredients, decadent mouthfeel and great flavor.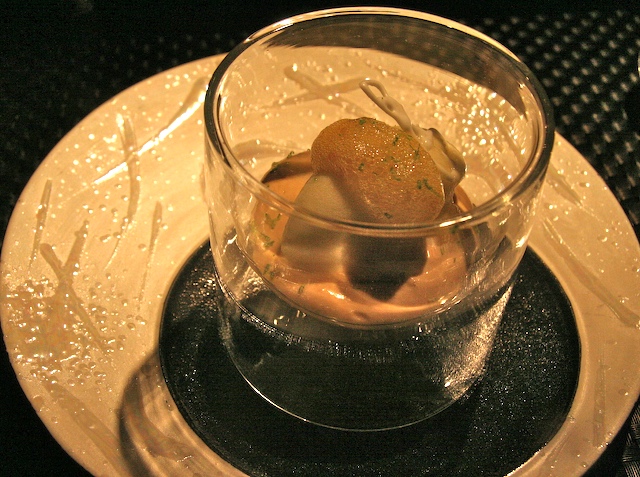 L'Ananas
Pineapple sorbet, passionfruit sauce and caramel mousse. Delicious.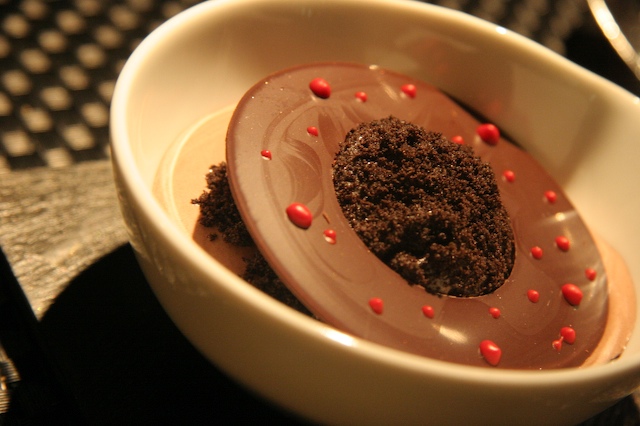 Le Chocolat
Chocolate sensation "creme Araguani" , Oreo cookie crumbs. This was good, but truth be told I am not a huge Oreo fan. I would have preferred just the creme.

We lingered awhile over our meal and outlasted most of the customers in the restaurant with us. Here are some photos from around the restaurant: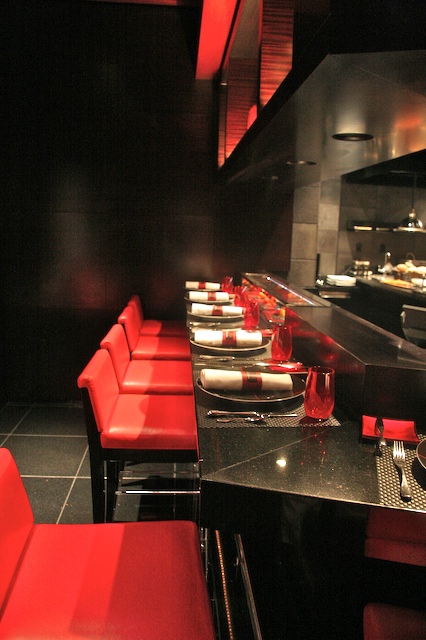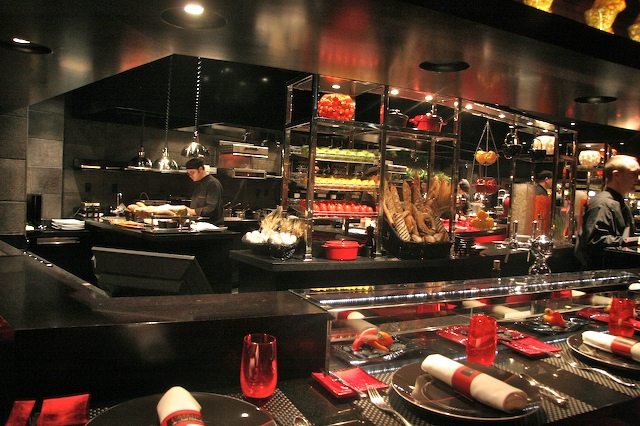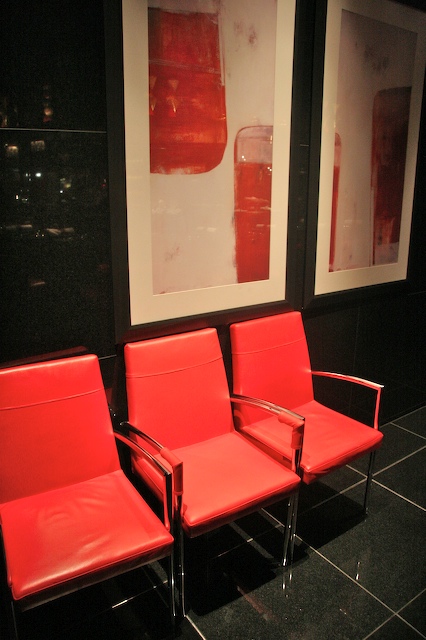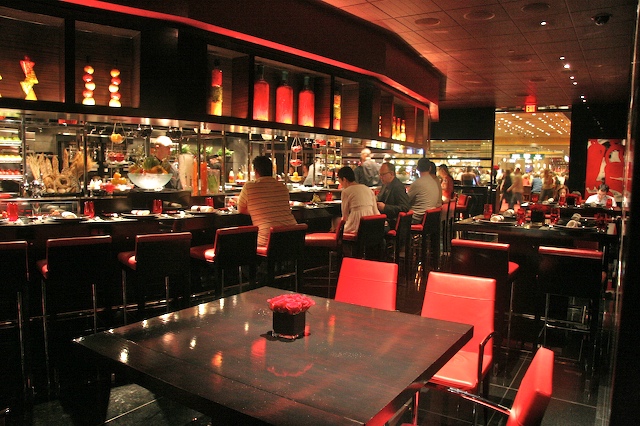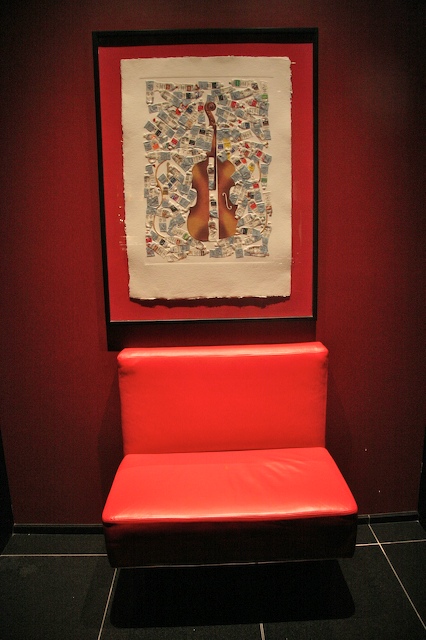 The meal was excellent and worth the price. I was surprised, though that it wasn't busier for a Friday night. I would return either here or in NYC.