Welcome to my second foodblog here at eGullet. The first one was entitled
So, you want to remodel your kitchen?
and described the results of a recently completed (at that time) renovation of our kitchen. I also showed you some of the weirder stuff that lives in my kitchen (like basil seed and mastic) and invited you to guess its provenance and purpose.
This time I'm going to continue in that vein, and ask you questions that are food-related, but not necessarily about items in my kitchen. The first question's already been posed, in the
eG Foodblogs: Coming Attractions
thread.
Here it is again, just in case you didn't see it: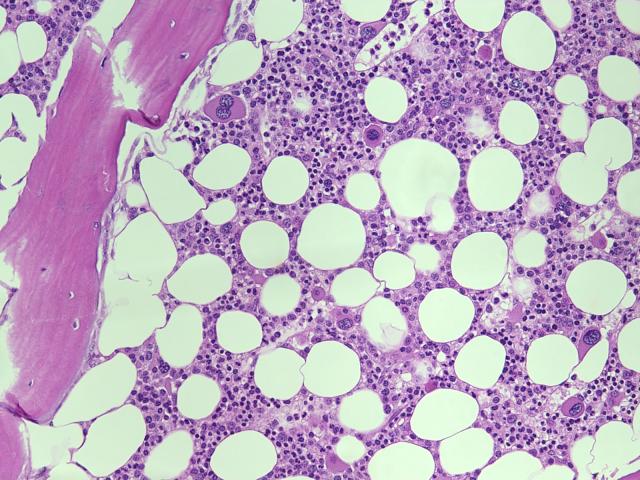 The questions accompanying this image are
"What is it? And what has it got to do with food?"
The question's already been answered by azureus:
Is it a cross-section of bone marrow?

April
So, brava to azureus/April, and more about the image.
Not technically a cross section (which implies that one has taken a section, or slice, at a particular angle relative to the long axis of the critter or organ in question, and bone marrow doesn't have much of an axis of any sort) but rather a very, very thin slice of bone marrow that's been fixed (so that it won't decompose), decalcified (so that the bone is soft enough to be sliced with a microtome) and impregnated with paraffin (so that the marrow itself will be firm enough to slice in this manner). The tissue slices thus obtained are so thin and flimsy that they are generally handled by floating them on the surface of a water bath, from which they can be scooped up onto a a glass slide, where they will stick. The paraffin is then washed away with solvents, and the remaining tissue is stained with chemical dyes so that you can distinguish the different sorts of cells and their components. There are lots of different sorts of cells in bone marrow, and some of the most important are stem cells (which can't be identified using only a microscope, unfortunately), the cells that are the primitive starter cells for lots of different tissues in our body, and that's why I'm using this image as the "beginning" of this blog.
In order to see it in this much detail you have to use a microscope, of course, and so the camera has to be mounted on the scope as well. The term for this sort of picture is a photomicrograph, and I'll be showing a number photomicrographs in the course of the blog.
And what it has to do with food is that it's delicious roasted and spread on toast.

What exactly makes it delicious roasted and spread on toast is pictured above: the "holes" in the photo, which aren't actually holes at all, but adipocytes, or fat cells. Each hole represents a single cell, stuffed with fat, and so bone marrow is not only fatty (so like butter) but very soft, as there's very little connective tissue (apart from bone, seen in this image as the large pink ribbon in the left of this image) to get in the way of your enjoying it.
Time for me to go get breakfast. While I'm away feel free to pose additional questions about this image.
Edited by therese, 28 May 2006 - 12:21 PM.