Sunday was a good food day for me. I was on the eastside, I had time to kill. Porcella is now open, and this place is so hip, it's hard to believe you are in Bellevue. All self-respecting foodies should take notice. I knew a gourmet grocery store / deli was going in at this location, but I had no idea what it would be like. I'd heard from someone that it had opened, so I stopped by this afternoon. Wowie.
Big deli case:
Market section:
Yes, it is a whole suckling pig: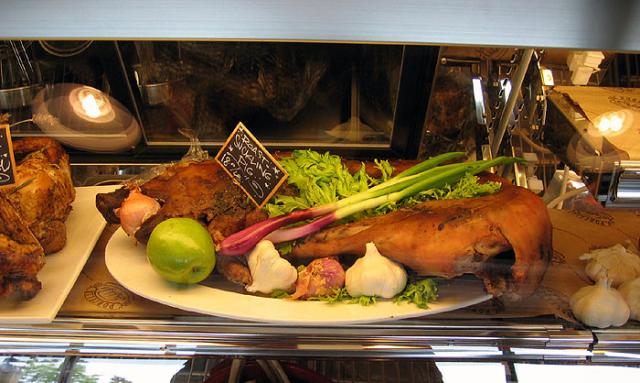 They are making their own salumi/charcuterie in-house, at this point they have sopressata, finochionna, salami, calabrese, guanciale, fresh italian sausages, duck proscuitto, along with a few imported items. Oh, and they have lardo.

The owner was kind enough to let me come back to the curing room and take some pix: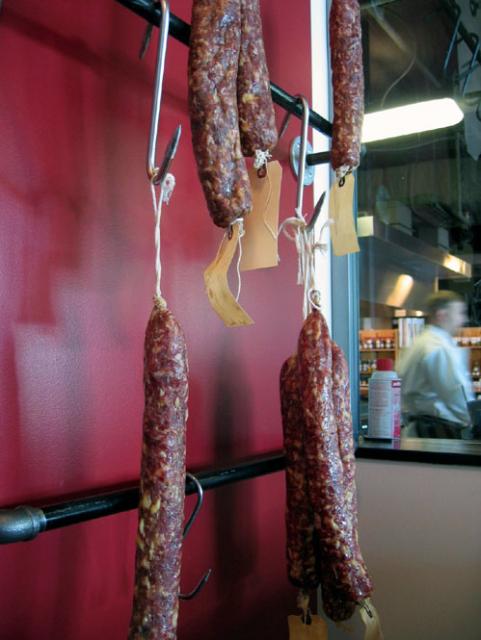 I'm really hoping they'll branch out with the charcuterie, I for one would LOVE to have someone here making Morteau sausages a la the ones I find at Oyama's on Granville Island.
Roasted chickens and pheasants: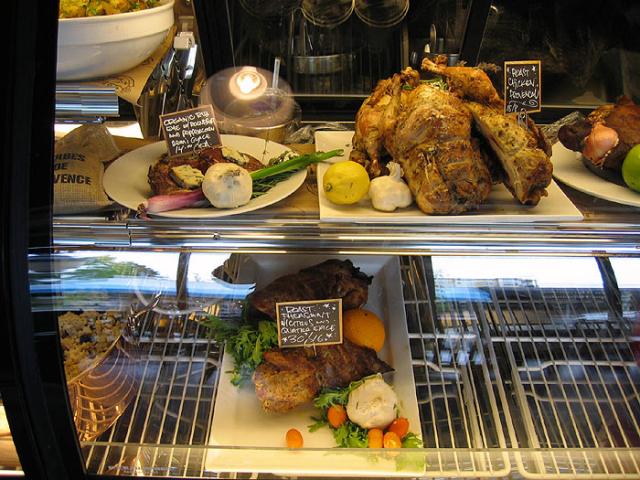 And Malarkey's favorite: All Things Duck! Confit, 2 kinds of pâtés, duck rillettes, salt-cured foie gras (something I've never seen before and yes it was very tasty) They also have pork rillettes and smoked ham hocks... yes ALL this is made in-house: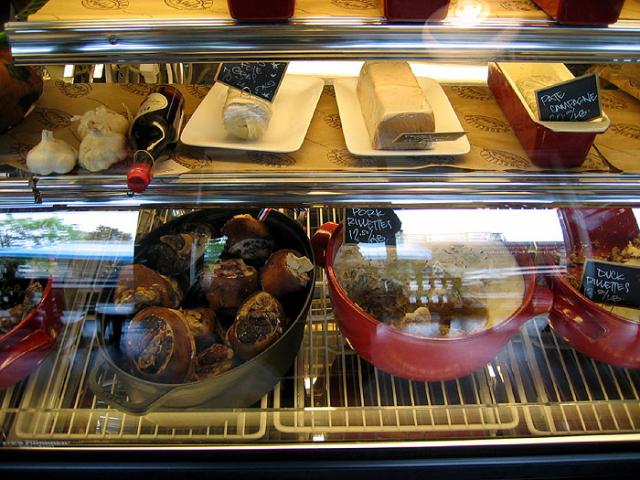 They are also making infused oils & vinaigrettes, stocks & demi-glaces. What's not to like?! They have a whole wall o' wine and a nice selection of beer.
The deli had Morel Mushroom Risotto, Tuscan Beans, a Saffron Rice Pilaf, a Sunchoke & Potato Gratin... It's easy to put together a pretty fabulous meal here.
I picked up some goodies while there, a bit of dinner for myself: Provençal potato salad, with sun dried tomatoes, niçoise olives, anchovies, onion and herbs; a lovely golden beet salad with tarragon, parsley and other herbs; a leg of confit; some of the rillettes, a jar of Moutarde d'Orleans and some baguette slices nicely toasted, gently pan-fry the confit leg till slightly crispy...it made a lovely sunday night supper. They have some unusual jarred and canned items that I needed to have in my kitchen so they came home with me also, things I've not seen anywhere else, so these guys have done their homework.
Yay! This makes me happy as an eastside worker, and it should make anyone living on the eastside ecstatic. Now, go see them and buy stuff so they are successful!
Porcella Urban Market