Mother to Mother
On Tuesday, 17 January 2006, Susan Fahning talked for an hour with Sara Moulton on a wide range of topics. Hereís an excerpt:
snowangel: Iím embarrassed to say that I didnít know much about you until we got cable and we were introduced to the world of Food TV. My kids cottoned to you almost immediately because you talk about kids and about satisfying picky eaters. My son, Peter, says, "She talks like a mom, but not my mom!" I know you have two children.
Sara
: Yes, my daughter Ruthie is 19 and a freshman at Boston University. My son Sammy is 15 and a 10th grader in NYC.
snowangel
: I try to keep my kids involved in the kitchen. Are yours?
Sara
: Yes, they are, though not as much as Iíd like because they have so much homework. My daughter will often make the salad. My son makes very good smashed potatoes. Basically, I donít ask them to help. I do ask them to set the table, clear the table and scrape the dishes. During the summer, we have 2 weeks off and we will make dinner together about three nights a week. But, Iím a bad girl. I canít believe that I didnít work harder on cooking with them. I will tell you this -- they love to eat. Thatís not to say that they eat absolutely everything, but with the passion my husband and I have, it's really fun when the four of us travel.
snowangel
: Where would you point me in your new book,
Sara's Secrets for Weeknight Meals
, to find things for my kids to cook?
Sara
: Thatís a really good question. The Balsamic Chicken is really good, as is the Chicken with Sausage and Hot Cherry Peppers (although not all kids like those kinds of ingredients). That would be an easy one. It depends on how old the kids are, but I tend to stay away from equipment like blenders and stuff because things get more messy. Maybe the Chinese Chicken Soup? Things where you just toss stuff together -- dump recipes. Iím sure most of the salads would be pretty easy.
In terms of the desserts that would be fun -- although this is a bit of a stretch -- Iíd say the Baked Alaskan. We call it Alaskan (thereís a whole long story there about the Beastie Boys), but you use store bought cookies and good quality raspberry sherbet, and then you get powdered egg whites -- thereís one called ďJust Whites.Ē I recommend the powdered egg whites for salmonella reasons. You add water and sugar, put it in a Ziploc bag, snip off the end, pipe it over this frozen sandwich and bake for 5 minutes in a 500 degree oven. It is the coolest and most elegant dessert. The egg whites and piping would be fun for the kids. The sandwich thing would be easy. It looks like this fancy dessert which isnít fancy at all.
snowangel
: How much of a part did your own family play in you writing
Sara's Secrets
?
Sara
: They played a huge part, actually. My husband is a writer. He takes my writing and translates it into English without losing my voice (because I do have a voice!). He really helps to shape it.
For the recipe part, we would have odd dinners. We might have two sandwiches and a soup for dinner. Or four side dishes. Or two breakfast dishes. I really relied on my familyís reactions. My husband would say, "I'm not getting the asparagus thing. Itís not asparagussy enough." Or my kids would say, "I donít like the texture." My kids are trained so they actually know some stuff! So, they might say, "This is really flat and needs a little acid," or, "It just needs another element, itís too boring." You know, they were really involved.
Even with their help, there are recipes that canít be saved, that have to just go out the window. One was roast beef hash using roast beef from the deli: have them slice it a little thicker, cut it into chunks, and there you go. Another thing that went out the window was Philadelphia Cheese Steaks, quick ones, for sort of the same reason. The trouble is that the roast beef you get at the deli is so damned dry. Itís already cooked, so all you are doing is reheating. It just ends up ill. When I made that Roast Beef Hash, the kids would just be thumbs down. "No, mom, we just donít like it."
snowangel
: You know, Sara, although you are executive chef at
Gourmet
, some might not consider your new cookbook to be very "gourmet."
Sara
: The odd thing, Susan, is that they could! Thereís a section in
Gourmet
called "Everyday Gourmet." Every month, I talk to the test kitchen and find out what are the most exciting recipes. What weíre finding is that the best ones are so simple, and we have to dress them up. Theyíre perfect for a weeknight at home, but theyíre too simple for my dining room.
Quite a few of my recipes are like that. My favorite recipe in the book is the Creamy Cauliflower with Chorizo and Greens. (Youíd be surprised how many pork products made it into my book. I just love pork. I donít mean straight-out pork, but smoked pork, cured pork, this pork, that pork.) That dish would be elegant enough to serve in my dining room, probably with some grilled garlic toasts. Itís a ďrusticĒ dish, but it has layers of textures and flavors that could be in the ďEveryday GourmetĒ column. These arenít the old-fashioned haute-haute
Gourmet
recipes but current, good weeknight meals.
snowangel
: What about your potato pancakes, Sara? Could you get away with serving those in the executive dining room at
Gourmet
?
Sara
: These days, sure, with the eggs. I could get away with that. In my book, I had to justify potato pancakes as a main course. I had to make sure that my husband agreed that, yes, this would really classify as an entrťe. You wouldnít be looking for something else.
You find lots of eggs in restaurants. The other day, we had a lunch with something called Pea Bouillabaisse -- a pretentious title, by the way -- sort of clear pea soup with a grilled piece of bread with a poached egg on top, and thatís in the magazine.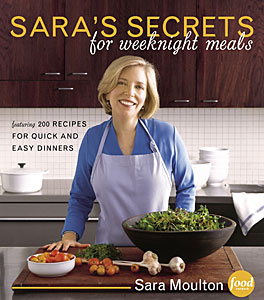 snowangel
: You had a book tour for
Sara's Secrets
recently. What was it like, Sara? Did your fans turn out?
Sara
: This is a no brainer, but when I gave a talk or did a demo, there was a crowd, whereas when it was just a book signing in a generic book store, we didnít get such a good crowd. The whole celebrity thing has gotten over the top, bigger than ever. You only get crowds and crowds and crowds if you are the hottest new thing on the Food Network. Iíve been there for 10 years, so Iím certainly not the hottest new thing. But what Iím hearing from other chefs like me is that they are having the same experience.
snowangel
: What do you like to prepare during a demo?
Sara
: From this book, I had a lot of fun. My philosophy has always been that a cooking demo should not be about a recipe but about a technique, right? The trouble with my new book is that it really is recipe-driven. So, I just bit the bullet and thought to myself, ďYou can say anything about anything, even if itís not a technique.Ē
So, I would make the eggs and ham cups. Thereís stuff to talk about there. The base of the recipe is a sofrito, so you can talk about vegetable mixtures around the world and how this is the Spanish one. I can talk about eggs endlessly, so I found lots of things to say. Each demo lasted about 20 minutes. It was fun for people, especially when they are getting samples. And if people were getting samples, Iíd make sure that they were over-the-top delicious. Not that everything in the book isnít delicious, but maybe something a little different or "Wow!"
snowangel
: It has been a pleasure to talk to you, Sara. Weíre really looking forward to the
eG Conversation
.
Sara
: Nice talking to you, Susan!