Pork Butt Bone Soup with Kabocha (南瓜豬骨湯)
Kabocha is a very popular squash in Japan. It is very sweet and tasty. This soup recipe is to use traditional Cantonese soup-making technique and feature kabocha as the main ingredient. The chicken feet make this soup very rich.
Picture of the finished dish: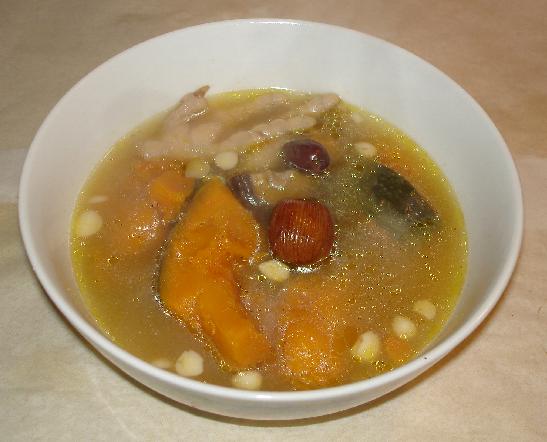 Serving Suggestion: 8 to 10Preparations:
There are a few special ingredients used to make this Cantonese style soup. You may easily find them in Asian grocery markets.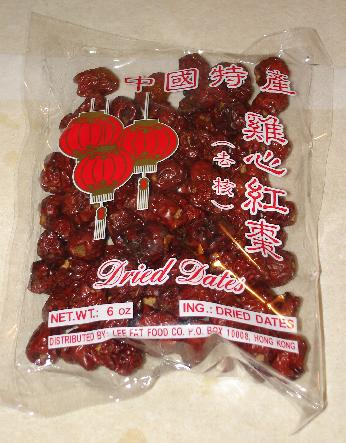 This is a package of dried jujube dates. (紅棗)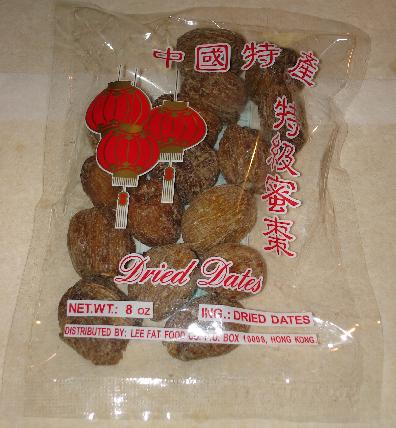 This is a package of dried dates. (蜜棗) They bring a lot of sweetness to the soup.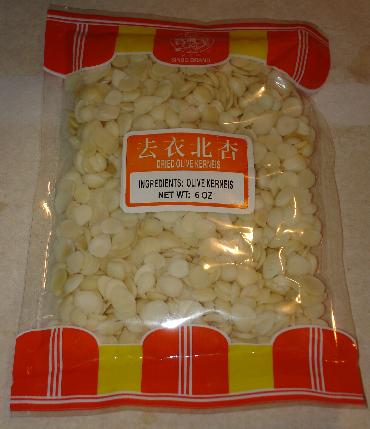 This is a package of dried olive kerneis. (南北杏)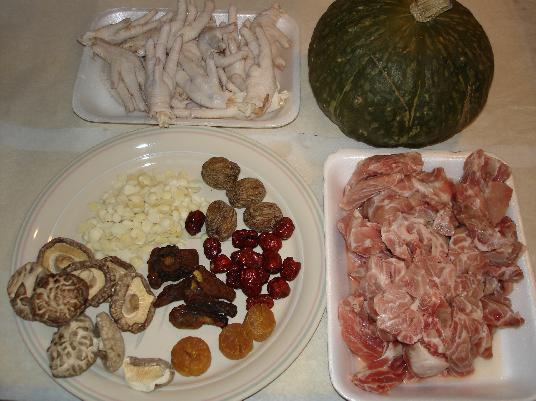 Main ingredients: (From top left, clockwise) Chicken feet, about 10 to a dozen. 1 kabocha, about 2 lb. Pork butt bones, about 2 lb. (On the round plate, from bottom left, clockwise) Dried black mushrooms, about 10. A handful of dried olive kerneis. 4 dried dates. About 15 dried red jujube dates. 3 medium size dried scallops. 5 to 6 dried oysters.
About 5 to 6 hours before (or the night before) cooking, soak the dried oysters and dried scallops with about 1 cup of water. Separately, soak the dried black mushrooms, dried dates and dried red jujube dates.
Cooking Instructions: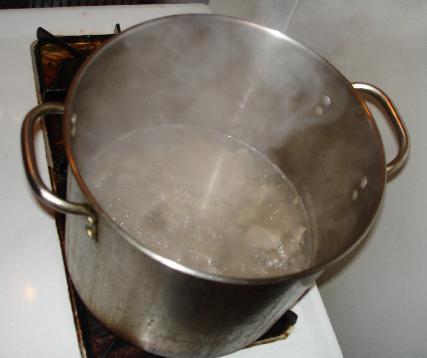 Cantonese soup making techniques call for "double boiling" the soup bones or meat. Here is an illustration on how this is done.
Use a large pot. Add water to about 1/4 full. Set stove at high. Boil the water. Add the pork butt bones. Boil for 2 to 3 minutes. (Do not boil for too long).
Drain the water with a strainer. Rinse the pork bone/meat under running cold water. Wash off any impurity and blood. The reason for this extra first boil step is to remove the "cloudiness" in the soup, which is caused by impurity and blood.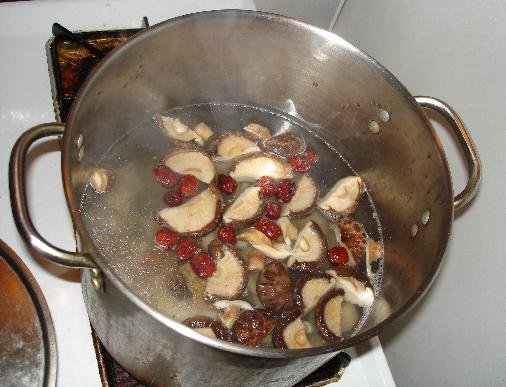 Boil another pot of water (use about 15 cups, or 1/3 of this pot). Return the pork butt bones. Add chicken feet. Bring to a boil. Reduce heat to medium. Soft-boil for about 15 minutes. Add soaked black mushrooms (trim stems and add the stems to the soup also), red dried jujube dates, dried dates, dried olive kerneis, dried scallops and dried oyster. Soft-boil with lid on for about 1 hour.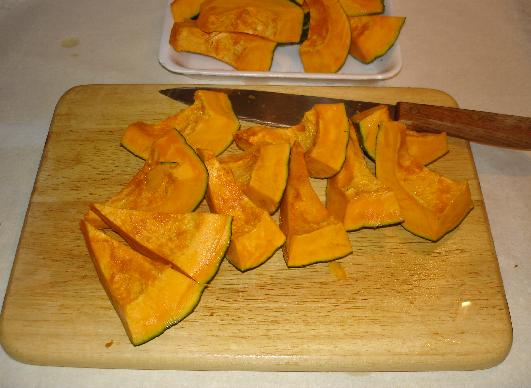 Meanwhile, prepare the kabocha. The skin is quite tough and hard to peel. I don't bother with peeling it. Wash the outside well. Scrape off any dirt or small hard lumps. Trim off the stem. Cut the kabocha in half. Remove the seeds inside. Cut into triangular pieces, about 2 inch wide.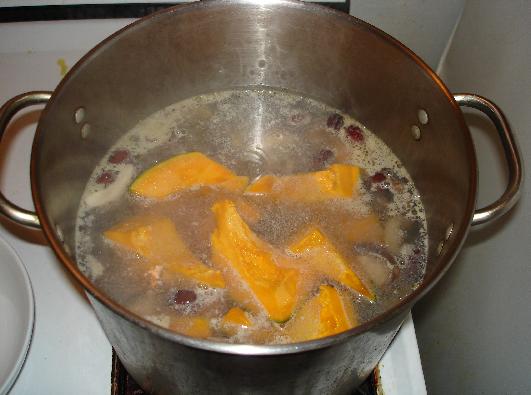 After 1 hour of soft-boiling the bones/chicken feet mixture, add the kabocha. Continue to soft-boil for at least another hour. (Kabocha turns soft relatively quickly.) Add 2 tsp of salt (or to taste). Ready.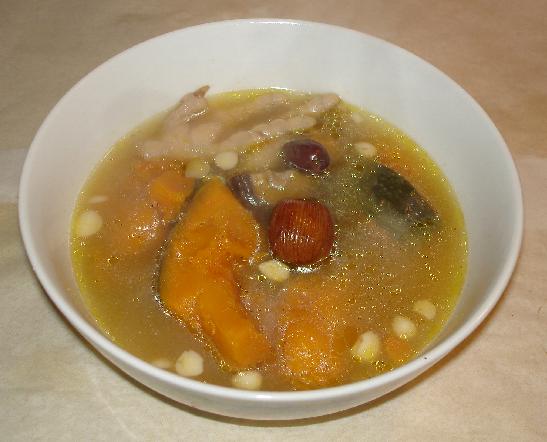 Finished. Scoop and serve.
Edited by hzrt8w, 16 December 2005 - 12:43 PM.