LeeC's recent mention of Air Canada is coincidental, as I have been struggling over the past few days to download photos and start a thread on my recent experience which was from YVR to London Heathrow and back…
Flight there, AC896
I'll skip the details, but we were "bumped" into J-class for this flight (aboard a Boeing 767). What a score!! Seriously, for a trans-Atlantic and at the start of a vacation, there is no better way to fly. Okay so I never flew the Concord, nor have I flown in a 777 or a 380, or a private Leer jet, but hopefully you get the idea. Long-haul business class rules!
All of the seats are like individual Lazy-Boys that are capable of reclining to almost bed-like status – and as you know, business class is seated first. So there you sit in your huge-ass chair, while the coach lot file past you. I felt a little sheepish as folks passed by with gaping jaws, because we didn't exactly
buy
the seats. But hey, the low-degree guilt only lasted as long as it took to break out the complementary pre-take-off champagne and / or mango juice.
We had just eaten in the YVR Milestones prior to the flight, in anticipation of turning away most of the bad airline food, but I tucked into the full dinner service anyway – mostly because I had to, for eGullet purposes you understand. N sensibly went with the "Express Menu".
Apologies in advance for the blurry photos, it was my brand new camera using new (to me) features (macro) in low light on a plane. Not good excuses I know, but I also didn't want to use the flash because that's just disturbing to others, especially on a plane.
So they started us off with warmed nuts. N and I both opted for a glass of their "Hidden Treasure" feature wine:
99 Benton Lane pinot noir reserve (Oregon)
. (Sorry the link does not show the actual vintage consumed, but you can Google it and find results I'm sure – like
this one
.)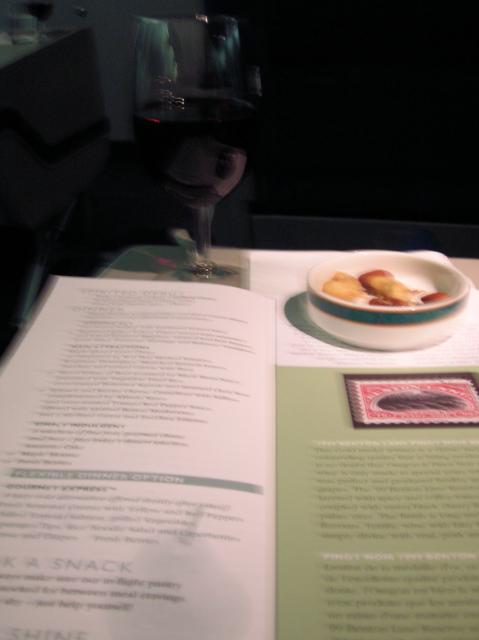 The nuts were not good, but the wine was. Don't ask me for tasting notes; besides the fact that I would be talking out of my butt, I was too pleased to be at the front of the plane to do much other than relax and enjoy.
Speaking of, you can't really make it out but at the top of the tray are my feet, clad in bright blue complementary business class "slippers" (really socks), elevated to a comfortable level. Very civilized.
Here is N's dinner: the Express Menu featuring fresh seasonal greens with yellow and red peppers, chilled teriyaki salmon, grilled vegetables, rice noodle salad and caperberries, cheese and grapes. The desert was fresh berries in a chocolate cup. Also she's still working on that first glass of red.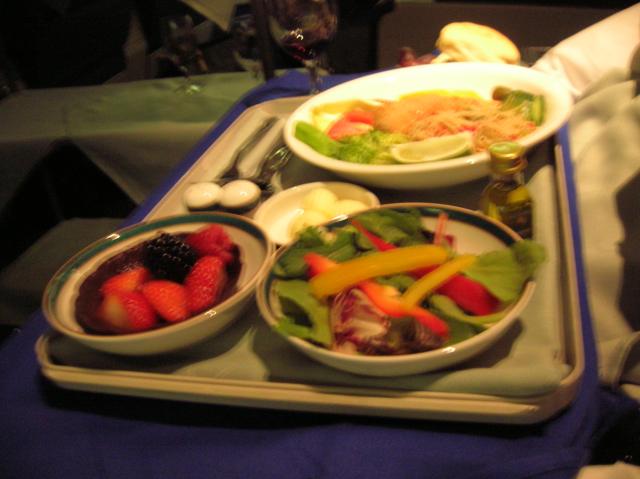 The salad is served with pre-bottled olive oil / balsamic, the tiny blurry bottle at the bottom of the tray (right side of photo). What is it with airplanes and tiny bottles? The salmon was okay – hey it's seafood at 38,000 feet, what do you want? She said the salad and the desert were good though.
Also, see how you get a nice "table"cloth and ceramic S&P shakers? Nice touch.
I started with the pan-seared scallops with marinated fennel salad, with a glass of
Domaine Astruc viognier (Malras, France)
.
Another round of seafood at 38,000 feet but considering that fact, it was not bad. However, the scallops were clearly not "pan-seared". Just look at them! White as virgin snow.
The other choice was marinated Yukon potato served with marinated and baked Japanese eggplant, sautéed red bell peppers, lentil salad, parmesan shavings and balsamic vinaigrette.
What really stood out for me here was the viognier. What a great wine – so rich! On a side / local note, unfortunately La Frenz was sold out of their viognier by the time I got my act in gear to order this season, but I'm pretty sure I can track some down and when I do, I'll be buying a few bottles for the "cellar".
I'd give honorable mention to the bun on the left, too. Some sort of potato bun AFAICT. Very good.
The main course I wanted was the maple glazed lamb chops accompanied by red skin mashed potatoes, rosemary demi-glace, blanched spinach leaves, zucchini and turned carrots with basil; however, they had somehow run out. Did I mention we were bumped up? So no worries, I had the non-sequitur sliced sirloin of beef accented by black bean sauce, presented with vegetable fried rice, oven-roasted butternut squash and steamed choy sum, this time with a glass of
Phebus malbec (Mendoza, Argentina).
(Again, there isn't much on the web for this wine, you'll have to scroll down this translated page to find a bit of info.)
The beef was actually passable, in a kind of CFD kind of way, but the Chinese black bean slant did not match anything else on the menu even remotely. Also, what is up with the two starches – squash
and
fried rice? Neither was any good. The veg was okay, but once again the malbec outshone the food.
The other choice for a main was a vegetarian pasta: spinach and ricotta cheese cannelloni with saffron complemented by Alfredo sauce and oven-roasted tomato red pepper sauce, offered with sautéed button mushrooms and a stir-fried carrot and zucchini julienne. Pass.
One other thing occurs: these long-winded pratty food descriptions are all from the Air Canada menu, I did not make them up.
The cheese course was gouda, cheddars and camembert, with a
Cockburn's special reserve port
.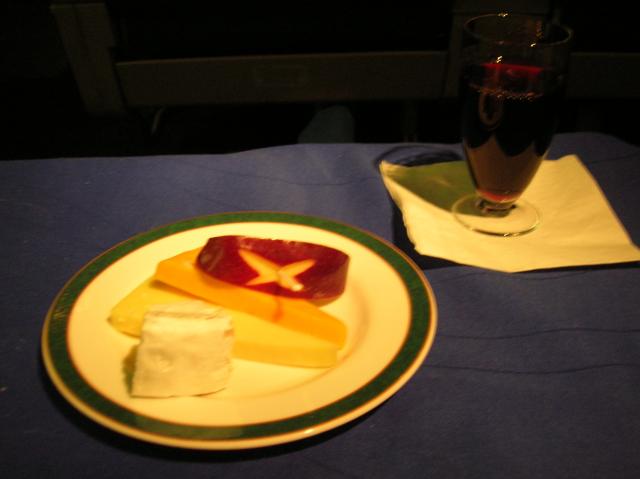 The website claims this is the world's most popular port. It was quite sweet, actually too sweet for me, so perhaps I have just tipped my hand regarding my port palate. I nursed it bad. The cheese was decent though, a nice touch and impossible to screw up even in a plane galley.
Dessert was, on N's advice, the fresh berries in the chocolate cup, and coffee.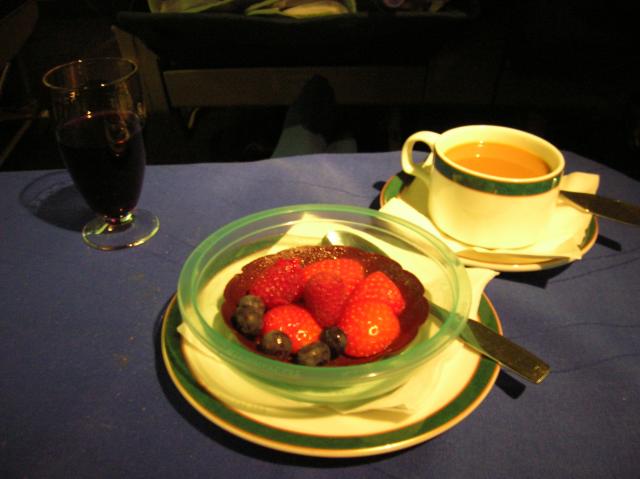 I enjoyed this, despite the use of fairly cheap chocolate. The other choices were amaretto cake and maple mousse. Port still going on the left side. In the end I finished it for sleeping purposes, kind of like drinking Nyquil even though you've only got a mild passing of a cold. PS: you can kind of make out the electric blue socks in this photo.
Anyway, like I said it was a very civilized way to travel. I also enjoyed the EnRoute magazine, this month is the music issue. I was surprised – pleasantly – to see a familiar name (Chris Tearns) with a drinks article, I didn't know he was a contributor. And there is also a photo of Kari from Chambar on the Vancouver "scene" page.
Flight home, AC831
Just for comparison purposes, here is the breakfast we were served in coach on the return flight. Granted it's breakfast not dinner, but the difference is significant. Then again so is the difference in published prices for each section.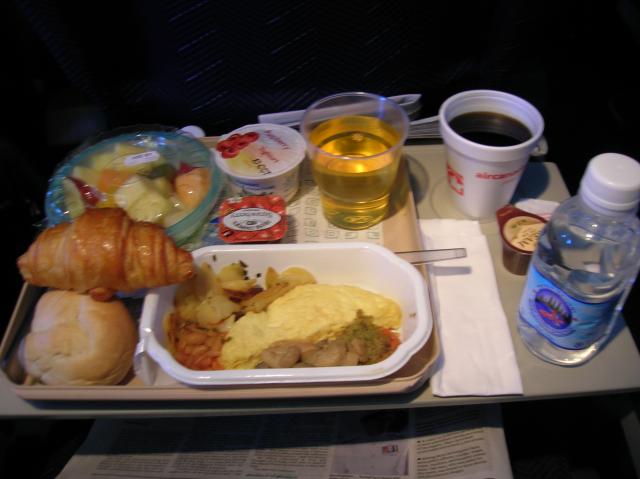 It's a Spanish omelette, with pieces of potato and I think Moneys pieces and stems mushrooms, and some baked beans (no not refried or black beans, like Heinz baked beans). Accompanied by a bun, a small croissant, a small bin of homogenized fruit, some yoghurt, some apple juice and a coffee. We did experience the business class breakfast before we landed at Heathrow, and the yoghurt was better, the fruit was actual sliced fruit on a plate, the juice was in a real glass, plus they had smoothies and other pastries… This bun was not as good as the potato bun either.
Again, not complaining here, just wanted to illustrate the difference.
When I look at these pictures, one other thing that stands out is the warmth of the lighting in business class compared to coach. I can't really remember if the window shade was up in the last photo, but I don't think it was.
PPS: For those interested, here is a
LINK
to the thread where I'll be posting reports on some of the meals we had in France, as well as other stuff we saw. Progress will be as slow as this thread has gone I'm sure.