Every now and then since December 2004, a good number of us have been getting together at the eGullet Recipe Cook-Off.
Click here for the Cook-Off index.
For our fourteenth Cook-Off, we're making
bibimbap.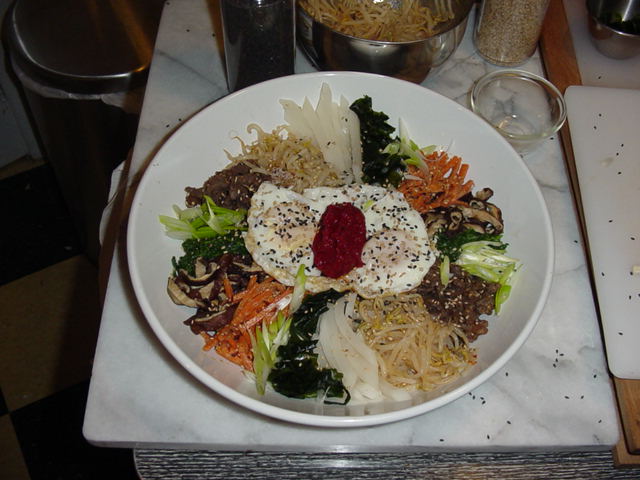 Aficionados of Korean food and cooking are well aware of this famous dish, but many who have not had the pleasure might find this a surprising cook-off selection. Folks, I'm here to tell you that everyone should bring this remarkable dish into their repertoire.
What is bibimbap, you ask? In a previous thread devoted to the subject, Jinmyo offered this typically inimitable explanation:
To "bibim" is to "stir together" vegetable or meat toppings with boiled calrose rice ("bap"). There are innumberable varities of bibimbap but the most popular are perhaps those that use a dolsot or stone bowl which is heated on the burner until a few grains of rice dropped into it crackle. Fill the bowl about two thirds full of rice. Add kimchee, chopped scallion, deep fried tofu, some steamed greens or perhaps microgreens, some red chile powder or threads. Crack an egg on top or lay a very lightly fried egg atop. A sprinkle of gomasio is nice. You can mix gochujang chile paste into the vegetables or serve it on the side.

Carefully lift the very hot bowl and put it on the tray it was purchased with.

Now, bibim your bap.

Panchan or side dishes such as manduk (gyoza), japchae (vegetables with cellophane noodles), kimbap (maki of various kinds), and a few other kinds of kimchee such as kkakdugi (diced daikon kimchee) go nicely.

True, some ingredients (the pickles known as kimchee and the red pepper paste known as gojuchang) may be a bit tricky for you to find, but we can summon up some possible substitutes. No special equipment is absolutely necessary, though if you have one of the stone or metal cook bowls known as dolsots, you'll want to use that. Like cassoulet, bibimbap inspires many debates about authenticity and regionalism, which means that the neophyte can experiment with great flexibility and still claim some amount of technical merit!

Finally and as always, the eGullet Society is chock-a-block full of experts ready to share ideas and recipes for the various components of this dish, not only on the thread referenced above (click the little pink box in the quotation) but also
here,
here,
and
here,
with
a kimchee thread here
and
a kochuchang thread here.
So turn on your rice cookers and get your beef a-marinating -- and if you have any soju handy, get it damned cold!