Over in the excellent
Dinner!
thread, there are a lot of amazing pictures of some truly delicious looking meals. I've contributed enthusiastically to the thread, with mostly so-so pictures, but one or two that looked quite good. And a whole lot more that that once I saw them posted, I just had to wonder what on earth I was doing, posting these gratuitous reminders of horrible culinary failures...
I wondered if there was a more suitable thread for such pictures -- a gallery of regrettable foods, or a hall of shame if you like. And a couple of posters responded, saying that we should have such a thread.
So here goes... Middle Eastern Lamb, with couscous and some mint-cucumber-yogurt-tumeric relish: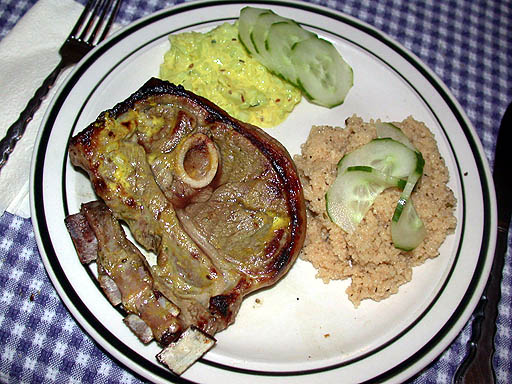 The colors are just horrible. The cut of meat was supposed to be a simple lamb chop, but I ended up with some odd thing (shoulder, I think) that contained a big bone and some smaller rib-like bones. The yogurt-tumeric-cucumber relish was used to brush the meat with, during the cooking process, and made it look even worse. This just looks extremely nasty. It didn't taste nasty, but it certainly wasn't great.