Date: August 31, 2005
Participants: Krista G and friend, J (who were visiting), Mr and Mrs ecr, maukitten, Shiewie,
boo_licious
(not eGteer but a fan), JC (joined us for brunch), boo's bf Splashie Boy (joined us for dinner) and Tepee (plus DH and 3 girls who didn't join for dinner).
Agenda: ISO Good (if not the greatest) Hawker Food
8.15 am: The enthusiastic bunch rose bright and early to meet at Steven's Corner in OUG. First-timers may have a problem if they are looking for a shop at a corner. A bit of background, it began with Steven's shop with the name of Sri Komaliah but business got so good that the area in front of the shop to the corner of the road got filled with various hawkers in the evening. Anyway, look for the shop with a big crab on top.
Um....yours truly, who had the evil task of waking up 3 disgruntled children, arrived last, so didn't manage to take the food which bunch ordered while waiting. I spied leftovers of thosai and teh tarik. What did I miss, guys? While the rest of us toured the busy
OUG market
, DH stayed back with the girls for a nice paper thosai (I thought I ordered roti tissue?) or 2, a roti pisang (roti canai with bananas), teh tarik and a teh-O ais.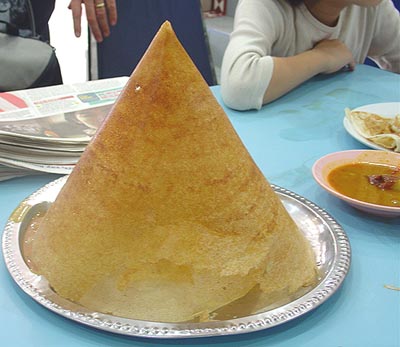 Edited by Tepee, 01 September 2005 - 03:10 AM.