I figured that it was time to open the Amazing Hot Dog Thread. We are getting even closer to final approval. Here's where we stand as of right now:
First. the logo: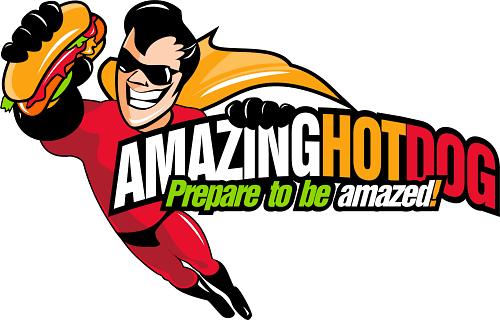 We have a signed lease that is contingent upon final aproval by the town of Verona. The space is at 148A Bloomfield Ave next to the Acura dealer. There is a strip of stores to the left of the dealership. Our food related neighbors are New York Bagel and Mardi Gras caterers.
We went in front of the zoning board at the July meeting and gave 95% of our testimony. The board heard our Architect, our engineer/planner, our attorney, and yes even our meteorologist!! There were alot of questions being raised about exhaust and odors, so we felt it prudent to ask for an adjournment to secure the services of an expert on the subject. We have our expert and are on the agenda for the September 8th meeting. There was also a concerned resident who lives behind the building who I respect highly for caring enough about his neighborhood to attrend the meeting to voice his concerns and I am confident that we will address his concerns to the boards satisfaction.
We are serving primarily hot dogs(Best's 1/4 pound Don's of course) and french fries, with a burger available for the one friend in the group that doesn't like hot dogs!?!? We will also have a veggie dog and a turkey dog by popular demand. Our two basic dogs are:
The CLASSIC- a locally made, 100% all beef dog
an AMAZING-a bacon wrapped CLASSIC.
The dogs will be flash fried to keep the natural casing intact to ensure a solid **SNAP** and to make the bacon on the AMAZING get crispy, but we will griddle one(sans bacon) untill we can convert you over.
We have 20 ala carte toppings some of wich are free ie. mustard, ketchup,suerkraut,relish, and raw onions. and some that will cost extra ie, cheesewhiz, Homemade chili, salsa, cole slaw, baked beans, sauteed onions, and a few others.
We have a dozen topping combination dogs with cute names like the Jersey Breakfast, smokey joe, My Schmiero, Caped Crusader, Nacho dog to name few.
The place will be clean and bright and totally family and especially kid friendly. If all goes well at the meeting, we could concievably open in early to mid November. We will be there alot between now and opening day, so if your in the area feel free to stop in and say hello. I love to meet fellow Egulleters.
I look forward to AMAZING you with our hot dogs, untill then I'll keep you guys posted here on Egullet.
Eric