I spent yesterday with my very hungover mother (the first of many birthday parties this week), and it was virtually impossible getting her to make up her mind about dinner. Well, lucky for us, on our way back to home, I spotted a sign that said "Fresh Salmon". To hell with home, we were going to the docks. My mom lives on 96th in Delta, just minutes from the SurDel "Port", so when the Sockeye is in, the signs are all over the street. This was the first day that the boats were in with stock. And what beautiful stock it is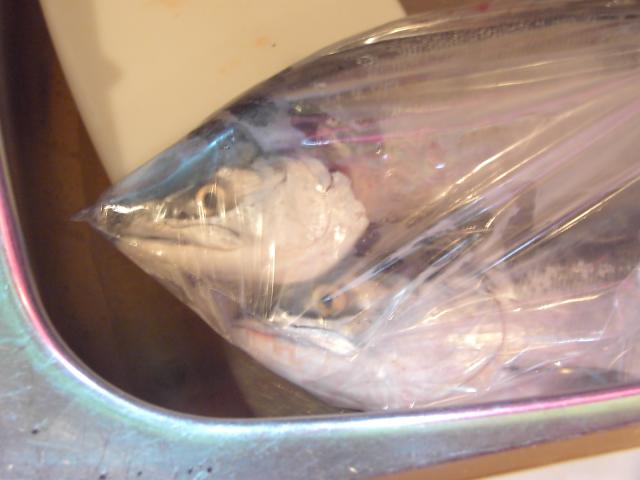 Our fishees waiting for me to break them down. Look how clear the eyes are. They were still stiff when we put them in the car.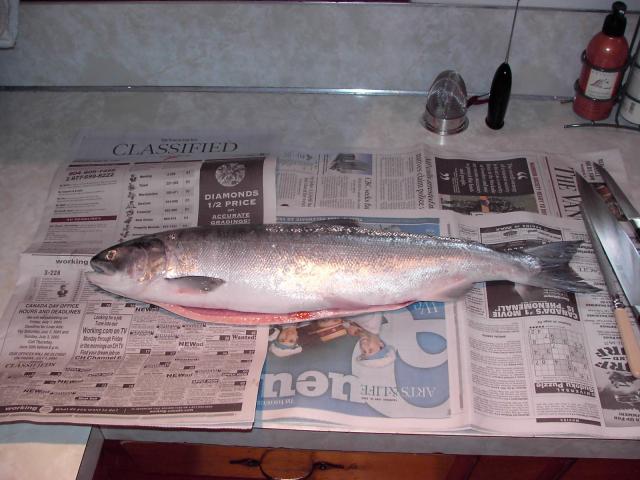 Isn't he pretty

Have I mentioned that I love Sockeye this fresh.
The price was pretty good, $5.50 a lb, so two came to $45. To give some perspective, I picked up a Sockeye Fillet at Granville Island on Monday and it was $14.99 a lb. So, if you're looking for Sockeye and you have freezer space, this is the place to go. It's a very small fishing vessel, he is only bring in small amounts and usually is sold out with 48 hours of being back. Right now, he's fishing is Barclay (? I think that was it, I was too busy ooooing over the big box of fish)Sound and he only sells at the docks.