Murgh Vindaloo -- Portuguese Style Chicken, or Vinegar Chicken. From Betty Crocker's Indian Home Cooking, Recipes by Raghavan Iyer, p. 104.
Any comments or suggestions are most welcome!
I was introduced to Indian cooking on Rushholme's (in)famous Curry Mile when going to college in Manchester. I'd never tasted any Indian food before, and refused to eat the first curry I was served -- I thought there was something wrong with it; that the food had gone bad... But since poor students in the area ate Indian all the time, I eventually learned to enjoy it -- first through mild, spinach based dishes, but by the time I graduated, I was a veritable vindaloo-overdosing, lager-lout, and making unpleasant jokes about keeping the bogrolls in the fridge.

I've (unsuccessfully) kept trying to recreate the English Indian Vindaloo, since American Indian restaurants just don't do the same thing, but I've also cooked several dishes from this excellent book, that seems more authentic Indian, than the British curry house. And since I probably couldn't cope with a fiery English Vindaloo anymore -- and since I remember thinking, when I first tasted them, that I wished there was a way to enjoy the great flavor, but without the heat, I figured I'd give this one a go. This is a fairly detailed log of how it went, along with some notes about how I diverged from the recipe.
The ingredients, prepped from right to left, by the order they are used:
- 1 very large red onion (recipe called for 2 medium -- I assume they meant yellow, but this is all I had);
- 6 cloves garlic, 1.5" ginger both coarsely chopped (they called for a little less, and also for this to be added along with the onions, but I find that ginger and garlic loses all their flavor if cooked along, so I hold off for a bit);
- 3/4 cup tomato sauce, along with 1/2 tsp salt, 1 tbsp ground coriander seeds, 1/4 tsp ground turmeric, 1.5 tsp cayenne pepper and 1/2 tsp ground cumin seeds (recipe called for 1/2 tsp cayenne, but since it isn't originally a spicy dish, I added more -- recipe also called for 1 tsp ground cumin, but since I use freshly ground cumin seeds, it turns out WAY more powerful than pre-ground cumin. I find it hard to believe that this book expects pre-ground cumin, but it just completely overpowers any dishes that I cook from it, if I use the full amount). This is all loaded up in the tomato sauce can just for convenience, so I can just dump the can afterwards, without dirtying up an extra meez thingie.
- 2 chicken breasts, cut into pieces.
- 1/2 cup coconut milk, 1/4 cup white wine vinegar (in the coconut milk can).
- 1/4 cup yogurt.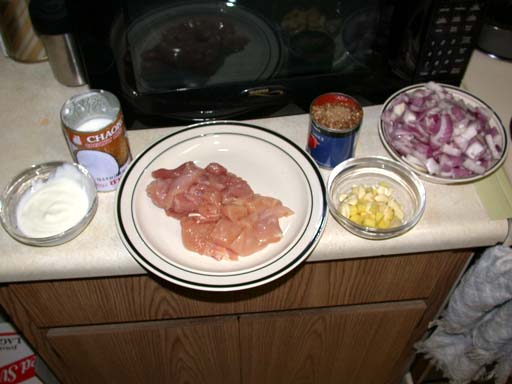 Start off with some oil at med-high heat and add 2 onions, coarsely chopped. Cook until onion gets golden brown, and add1 tbsp ginger and 5 cloves garlic -- also coarsely chopped. This goes against the recipe, which calls for all three ingredients to be added at the start -- I find the garlic and ginger flavor dissipates that way...
Also, the recipe calls for a 5 min cooking time, which is less than half the time it takes for the onion to get golden brown. Nearly EVERY cooking book I've used completely underestimates the cooking time like this. Are these recipes all created in the Iron Chef kitchen, where they have monstrous wok burners that put out the equivalent of an F-16 on afterburner? 5 minutes on medium high = golden brown onions, my ass!
After 5-6 minutes, I add the ginger and garlic, and let it cook for a few more minutes.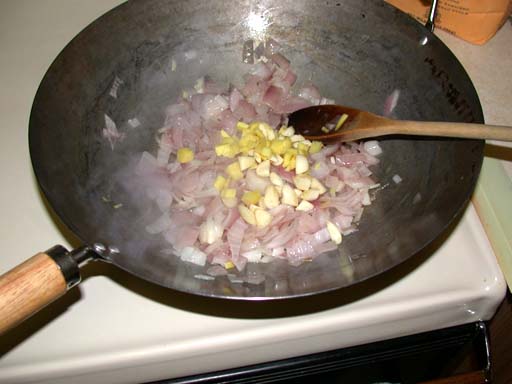 Now, once the onions are "golden brown" (or I guess that they would have been, if they were yellow onions), I add 3/4 cup tomato sauce, 1 tbsp coriander seeds, 1 tsp cumin seeds, 1/4 tsp turmeric, and 1/2 tsp cayenne pepper -- all ground, bring it to a simmer, and leave it partially covered for 5 minutes. A thin film of oil is supposed to form on the surface. This is the sauce.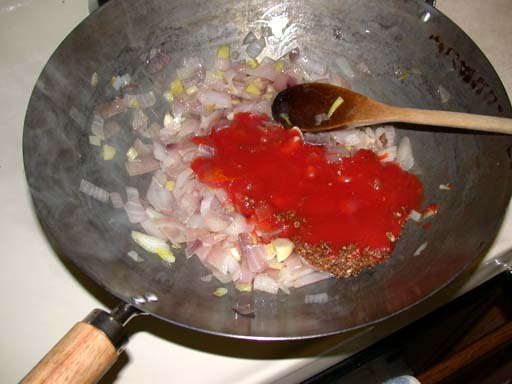 Pop it in the blender, and return to the pan.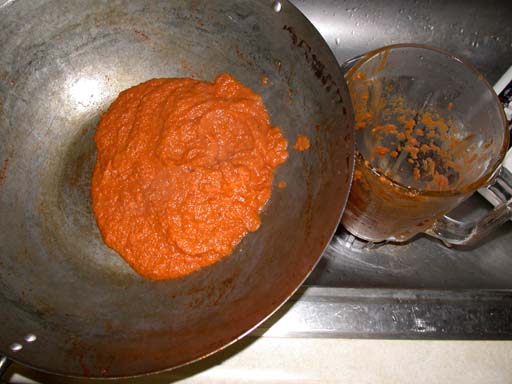 Add 1 lb. chopped chicken breasts, and let cook for 5 minutes.
Stir in 1/4 cup white vinegar and 1/2 cup coconut milk, and cook until chicken is done. (Oops, I wanted to take the picture just after I added this, but I forgot, and stirred it in before taking the picture. Doh).
Finally, whisk 1/4 cup plain nonfat (or regular) yogurt until it is smooth, mix it in, and let it warm up. The yogurt and coconut milk helps smooth out the sharp, bitter taste of the vinegar.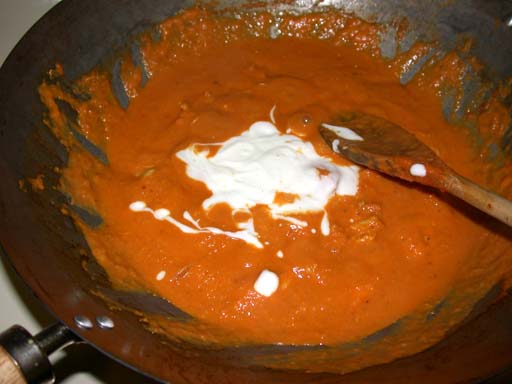 Serve with rice, and/or nan bread of your choice.
I really liked the result of this recipe. It was slightly hot, but certainly nowhere NEAR the typical English Vindaloo. Most importantly, it had a truly wonderful taste, even though the vinegar taste came on a bit too strong. So next time around, I'll go easier on the vinegar -- and make sure to have some yellow onions on hand.
Edit:
Murgh, not Mungh -- but can't change the subject, though...
Edited by Grub, 07 May 2005 - 06:07 AM.