Based on the advice in this thread, I purchased a new water bath on eBay for cooking sous vide. It's an enclosed circulating bath, as advised for minimizing water loss with long cooking times.
The particular model I purchased has a 13L tank (about 3.5 gallons), just above nathanm's 10L recommendation. This ends up being a very nice size for home use, but would probably be too small for turning out restaurant quantities of food. Even being on the lower end of the capacity range, it takes quite some time (30-60 minutes) to reach temperature. A larger bath would likely take even longer, and its additional capacity would rarely be taken advantage of in my kitchen.
This is a mid-range digital model, with a two line display showing the target temperature alongside the current temperature. Unit conversions and various other settings are accessible via the buttons on the front panel. An RS-232 control port enables more sophisticated programming and/or monitoring. More useful in a lab setting than in a kitchen, but nice to have nonetheless.
Here's a photo of the unit heating up with the lid removed: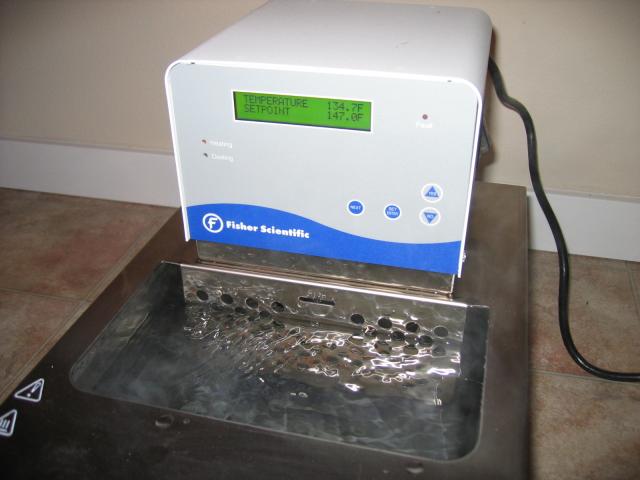 The unit consists of two major pieces, connected with four screws. To get a good look at the heating element / pump, you need to take it apart. Here are some pictures of the individual pieces:
Bath: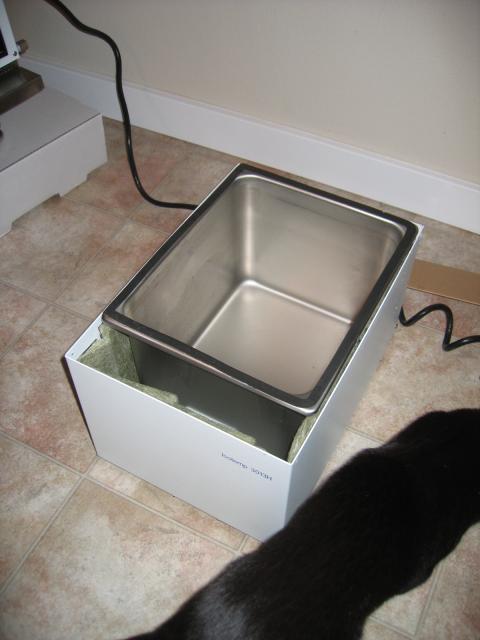 Where'd the water go?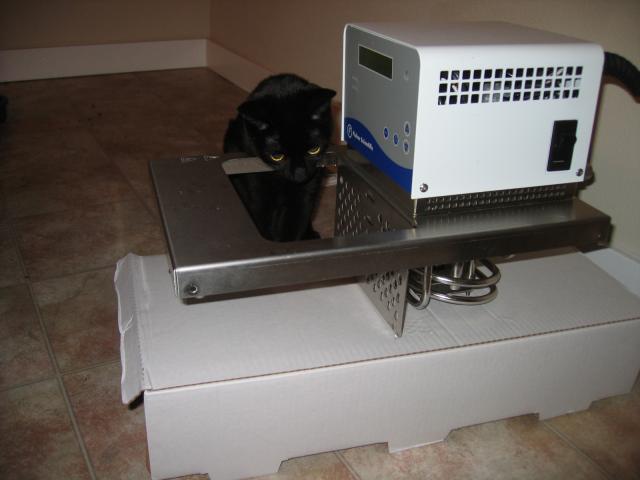 "Guts", side view: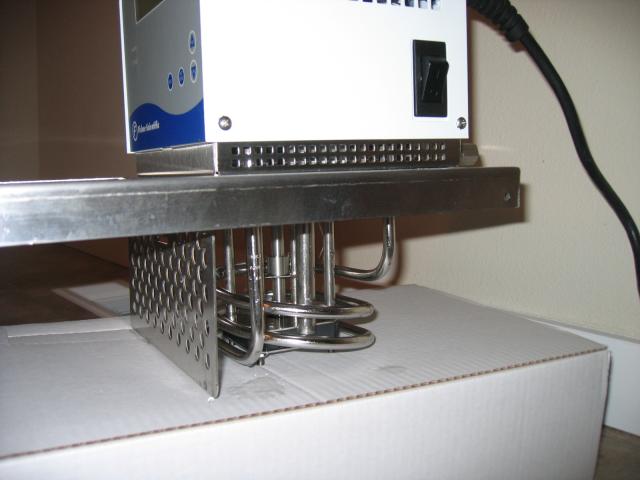 "Guts", bottom view:
The heating unit hovers in the bath directly, so you end up with less capacity than the photo of the empty container would suggest. There is, however, enough clearance under the element to place food (for example, you could line the entire bottom of the bath container with eggs).
The "guts" don't look much different from an immersion style circulator. In fact, this could probably be used as an immersion circulator by positioning the top portion of the unit in a large hotel pan. I probably won't need that much capacity in my home kitchen, but it's certainly a nice option to have.
Overall, I would recommend a unit of this style for home use. It's reasonably compact (just a bit bigger than a rice cooker or deep fryer designed for home use), and it doesn't make a ton of noise (a low-to-moderate amount of vibration noise depending on its surface, and a rather pleasant babbling brook sound as the water circulates). The sous vide cooking process is so "hands off" that you could keep it in a bedroom closet if you were short on space.
These do tend to be a bit more expensive than immersion style units (the unit shown here retails for $2,600), but with some patience you can find one on eBay without breaking the bank. Mine was new (with some relatively minor cosmetic damage), and I paid less than $400 for it.