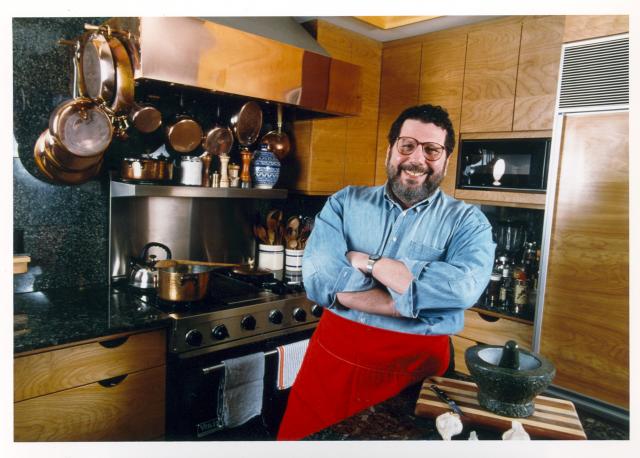 Arthur Schwartz in his Connecticut kitchen.
© Photo Don Heiny
Guest Bio
Arthur Schwartz, also known as The Schwartz Who Ate New York, was one of the first male newspaper food editors in the country and is now a cookbook author, cooking teacher, and restaurant consultant. For nearly 13 years, he was host of
Food Talk
, a daily program heard on WOR radio. His web-site is appropriately called
www.foodmaven.com
.
Schwartz's career started 35 years ago as assistant food editor and food feature writer at Long Island's
Newsday
. Nine years later he created, as executive food editor, the
New York Daily News
"Good Living" section, and also became its restaurant critic.
All four of his cookbooks have been nominated for national awards:
Cooking In A Small Kitchen
(Little Brown, 1978),
What To Cook When You Think There's Nothing In The House To Eat
(HarperCollins, 1992),
Soup Suppers
(HarperCollins, 1994) and
Naples At Table: Cooking In Campania
, which, when it was published by HarperCollins in November 1998, immediately hit the Los Angeles Times Hot List. This November,
Arthur Schwartz's New York City Food
: An opinionated history with legendary recipes was published by Stewart, Tabori and Chang.
You might say Schwartz was born with a wooden spoon in his mouth. His paternal grandfather was first a professional chef, then a food manufacturer, then a curmudgeonly waiter in a Jewish dairy restaurant. His maternal grandmother's home cooking was the envy and despair of the neighbors. His father could spend an entire day shopping for just the right ingredients for one dinner. In short, he grew up in a food-obsessed Brooklyn family that went, and still goes, to any length for a good meal.
He is the author of numerous articles for a wide range of magazines, including
Bon Appetit
,
Saveur
,
Food & Wine
,
Cuisine
,
Vintage
,
French Vogue
,
German Lui
,
Playbill
, and
Great Recipes
. He has been the New York restaurant critic for Travel-Holiday magazine's annual Good Value Dining Awards, and a New York restaurant critic for
Food & Wine
magazine.
During the summer of 1989, he was the food critic on Fox network's (WNYW-TV) local morning show,
Good Day New York
. He has also appeared many times on
Good Morning America
and
Live With Kathie and Regis
, and continues to make frequent TV appearances.
Schwartz teaches to sold-out classes at all the major cooking schools in the metro New York area -- The New School and ICE (Institute of Culinary Education) in Manhattan; The Silo and The Complete Kitchen in Connecticut; A la carte, Sur La Table and the Viking Center on Long Island, and across New Jersey at the four Kings Cookingstudios, Classic Thyme, La Cucina d'Ana and Cooktique. He also has his own cooking school on a water buffalo farm in Paestum, Italy, about a half hour south of the Amalfi Coast, and he conducts seasonal gastronomy and culture trips to southern Italy.
He has lectured and conducted seminars at, among other institutions of higher education, New York University, Columbia University, New York City Technical College, The French Culinary Institute, and the Culinary Institute of America.
He has been honored as Cooking Teacher of the Year by the New York Association of Cooking Teachers. He is a member of the International Association of Culinary Professionals (IACP) and received that organization's Award of Excellence in Electronic Media. He is listed in Who's Who in America.
Q&A Intro
This week eGullet welcomes cookbook author, food writer and historian, Arthur Schwartz for an eGullet Q&A. In addition to discussing his books, New York, Italy, and everything else food maven-ish, Arthur had a traditon of turning his former radio show into a Thanksgiving helpline. So feel free to ask him about all of these topics.
We would also like to thank Mr. Schwartz's publishers for arranging a book giveaway at the conclusion of this Q&A. Five copies of
New York City Food
will be awarded.
Click here for an excerpt from the book about "Why Jews Like Chinese Food."