eGullet Q&A with Faith Heller Willinger
November 15-19
For those who take their Italian food seriously, be they home chefs, Italian restaurant-goers or gastronomic travelers in Italy, Faith Heller Willinger is to them what Diana Kennedy is to gastronomic Mexicophiles, or Patricia Wells or Richard Olney to lovers of French food. Like them, Faith Willinger is the revered expatriate who put roots down at the source of her gastronomic love to become the native English speaker who leads us down the path of culinary enlightenment.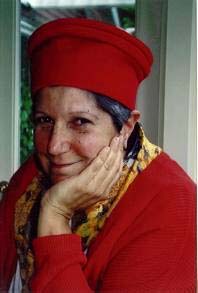 eGullet is pleased to announce and privileged to have Faith Heller Willinger as the subject of a five-day question and answer session beginning Monday, November 15 through Friday, November 19.

Now into her fourth decade of living full-time in Italy, Faith has earned the reputation of one of the most revered and respected gastronomic gurus today. She has written for many major culinary and travel magazines such as Gourmet, Travel & Leisure, Departures and Food Arts. Her cook book "Red, White and Greens: The Italian Way with Vegetables" is a classic for home cooks of Italian food. And now she is preparing a new work for the same publisher, Harper Collins.


Red, White & Greens: The Italian Way With Vegetables

An indefatigable traveler from the German-speaking, mountainous north of Italy down south to Sicily and the heel of the boot, Faith's gastronomic adventures are unending. She is always visiting restaurants, finding interesting places to stay that range from agritourism farms to luxurious hotels, and discovering food and wine artisans of all stripes. Her "Eating In Italy: A Traveler's Guide to the Hidden Gastronomic Pleasures of Northern Italy" has been my Bible for Italian culinary travels, leading me to some of my most memorable destinations, be they hotels, restaurants, food and wine shops or kitchen supply stores. For the most up-to-date of Faith's discoveries, I click on to www.faithwillinger.com where I can read about her most recent trips, favorite products and her "Market to Table" field trips to Florence's Santo Spirito market to buy produce to prepare many dishes back at her kitchen.

Any question about Italian food, be it produce, recipes, techniques, products, Italian wine or culinary life and gastronomic travel in Italy falls under Faith's purview. We thank her for taking the time to reply to members' questions.

The Q&A officially starts on Monday, November 15th, but please feel free to begin posting your questions at any time.