14 Sept 2004 8am Cambridge UK
I've been tipped again to do the foodblog.
Last time
was Christmas and New Year. This time is Rosh Hashonah, which seems fair, so you will have to suffer my awful typos for this week.
"LíShona Tova Tikosaiv víSaichosaim". "May you be written down for a sweet and good year in the Book of Life! " to all
First of all coffee, mail and eG's overnight messages. The coffee is dark roast Java Sumatra, made in a press pot, and is breakfast unless otherwise noted. The mug is a Microsoft give-away.
My desk, unusally tidy, and the view from the window in front of me. Sunny but windy.
While I am not religious myself, I did have an othodox Jewish upbringing, and still like the food, so I guess some will figure this week.
This week is fairly busy, and today is the calm before the storm.
Main highlight is our annual apple pressing party on Sunday, weather permitting. We have open house, and expect about 100 people to come and pick apples and help press them into apple juice. We fire up the wood burning bread oven and bake pizza and things. .
What we eat and talk about on the rest of the week is to some extent up to you, an I hope for a lot of interaction. If I get time I'll try and rig a webcam, as an experiment.
Current fixed points:
Today is fairly quite. Probably Bangers and Mash for supper
Wednesday we are going to friends for supper to celebrate another friends birthday.
Thursday a freind of Jill's (my partner) is coming to stay. Being Rosh Hashonah I plan a Brisket Tzimmes, with a pototo kugel.
Friday start prep for the party, and start the bread doughs
Saturday Fire the oven and bake breads etc
Sunday Apple pressing
Monday I'm hosting dinner in College
The house is built in an old orchard, with about 20 of the original trees still standing. There is a newer orchard, maybe 30 years old, with 30 trees.
Here are some pictures taken this morning of apples. The identification is noit certain, but were done by
The Brogdale Trust.
. Joan Morgan's The New Book of Apples (ISBN0-091-88398-9 is definitive.
Regular eGulleteers may remember that many of apple trees were severely ringed by the rabbits last winter, and I feared for their survival. I'm happy to report that they seem to have pulled through. Some, like the NewtonWonder, are biennial bearing and are off this year with only a few apples, but most have a large crop. However since we have not pruned or reduced the fruit numbers the apples are mostly small. They are mostly cookers or eating apples, rather than cider. I've tried making cider from the juice, but it is thin and weedy stuff, but more of that anon. The apple juice is lovely, an we freeze it in plastic bottles, straight from the press.
Allington Pippin (my favourite, good general purpose apple) and Newton Wonder (cooker, said to be derived from the apple tree that dropped and apple on Newton's head)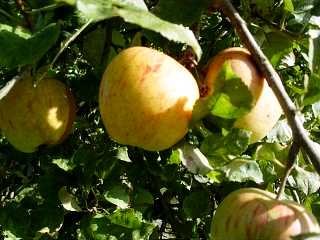 Lord Derby (cooker) and Tydman's Early Worcester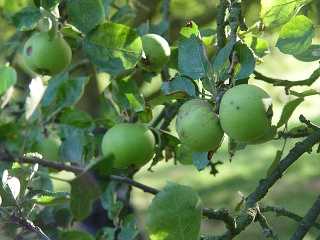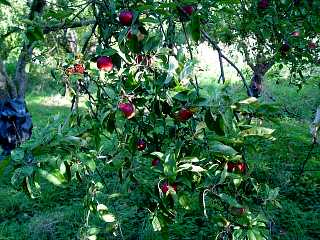 Orelans Reinette (russet); Queen Cox and Ellison's Orange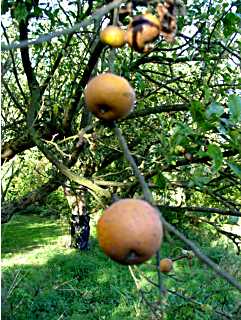 Other apples are Charles Ross, Laxton's Fortune, Cox (poor trees), Grandier (cooking) and John Standish (late red, not yet ripe), Also pears and Quinces, again a bit early.
Late purple plums (Marjorie's seedling?) and Damsons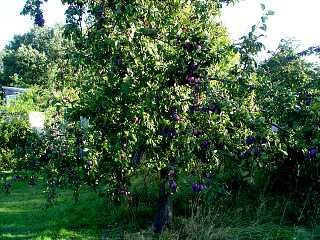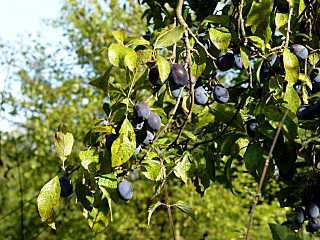 Dog rose hip and Brambles (wild blackberries) in the hedges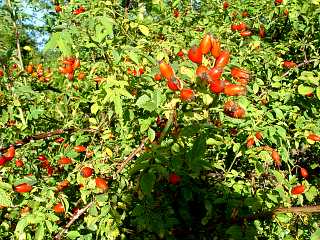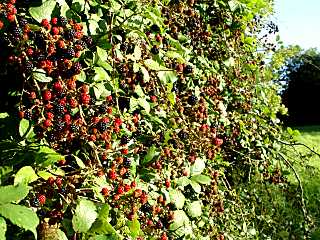 Edited by jackal10, 14 September 2004 - 04:02 AM.