On day three, we booked a tour to Terezin through our hotel, and were told to be downstairs and ready to go by 10 AM. Now, 10 AM was earlier than we'd been getting out and about to this point, plus we knew we couldn't face Terezin on an empty stomach, so we got up a little early and hit the breakfast buffet in our hotel.
We were pleasantly surprised by the offerings...it was a big buffet, with hot food (eggs, bacon, sausage), cold savory food (meats, cheeses, cucumbers (!), tomatoes), breads and rolls, yogurt, granola, cereal, juice, fruit...I had yogurt and granola, which were both really good. I then went back and grabbed us each a slice of the Czech bacon, which we really liked. It was slightly more cured than smokey, and more akin to pancetta than to American bacon. Quite yummy.
After our outing to Terezin (which was extremely affecting and absolutely worthwhile), we needed a bit of a pick-me-up.
Rehovot
had emailed me boatloads of recommendations for my time in Prague, one of which was Cafe Louvre on Narodni.
You walk up a flight of stairs and enter a lobby between a more formal restaurant and the casual cafe area, which looks like this: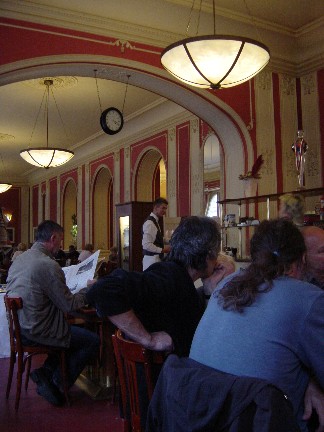 Even though we knew we'd be having dinner in a few hours, we were too hungry for just a snack. Luckily for us, the menu boasted a section called "meals for small hunger." Louisa had a delicious chicken ragout, flavored with worcestershire sauce and mustard, and served with toasts - almost British-tasting, really. I had an omelet with bacon, potatoes, and onions - it looked more like a frittata than an omelet, but whatever it was, it was goooood. Totally hit the spot.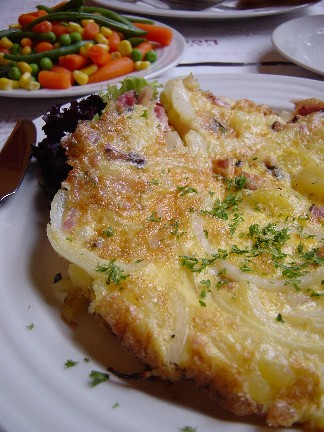 Our bread basket and placemats...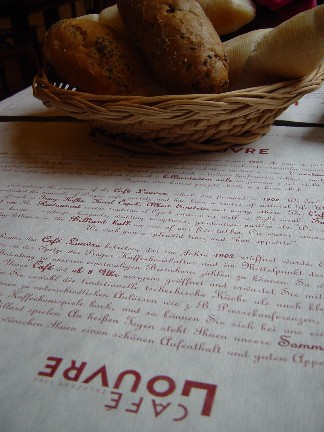 For dessert we had - what else - hot chocolate!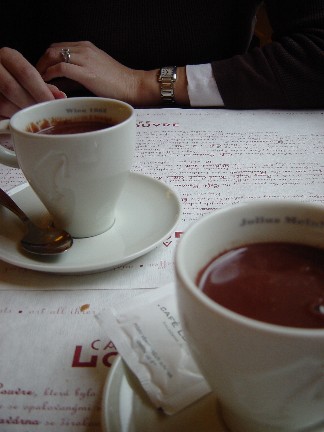 We then had a nice walk home past the Powder Gate and the Municipal Building...it was definitely time for a nap.