Situated on a hilltop literally only a few yards from the border fence separating Mexico and the U.S., the Asao conference complex is a lovely series of contemporary buildings and beautiful regional landscaping. It all blends together well creating a sense of calm and well being. 4 friends and I stopped in for comida yesterday and had an absolutely terrific meal.
Most of us started with Sangria Preparada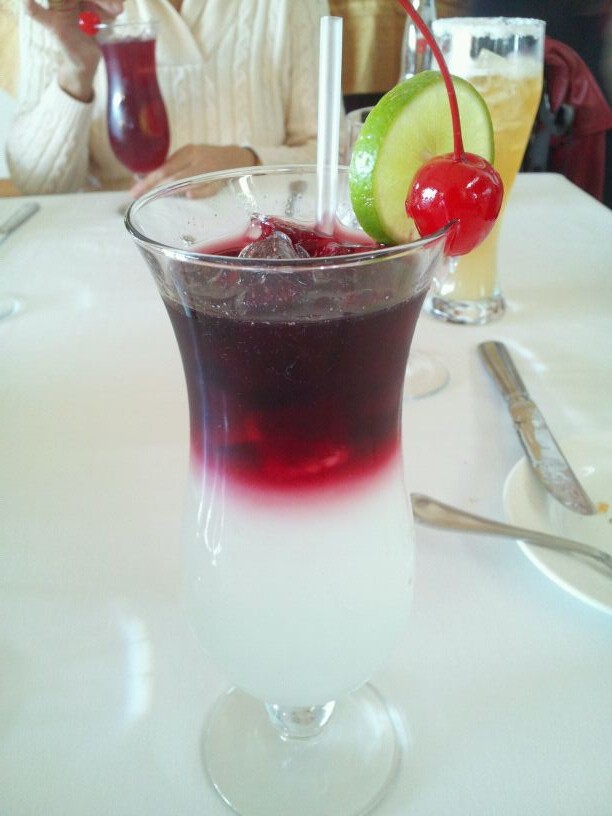 Of the 4 salads on the menu, we tried 3 of them. The first was a salad of mixed lettuces, a round of goat cheese that had been lightly breaded and sauteed and a small pear half that had been roasted and gratineed. It was dressed with a delightful tamarind vinaigrette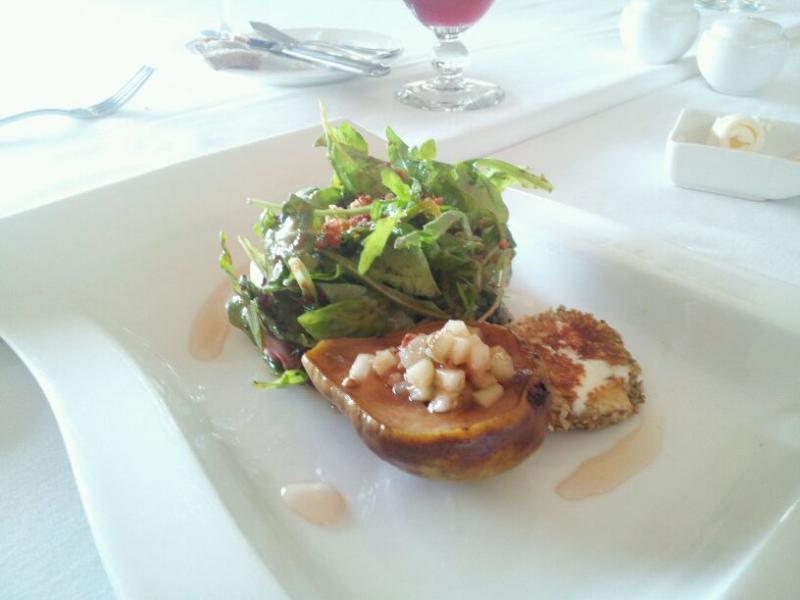 The spinach salad was topped with crushed nuts, bits of plantano macho (plaintain)and a few cherry tomato halves. It was served with an agave nectar based vinaigrette and garnished with an amaranth crisp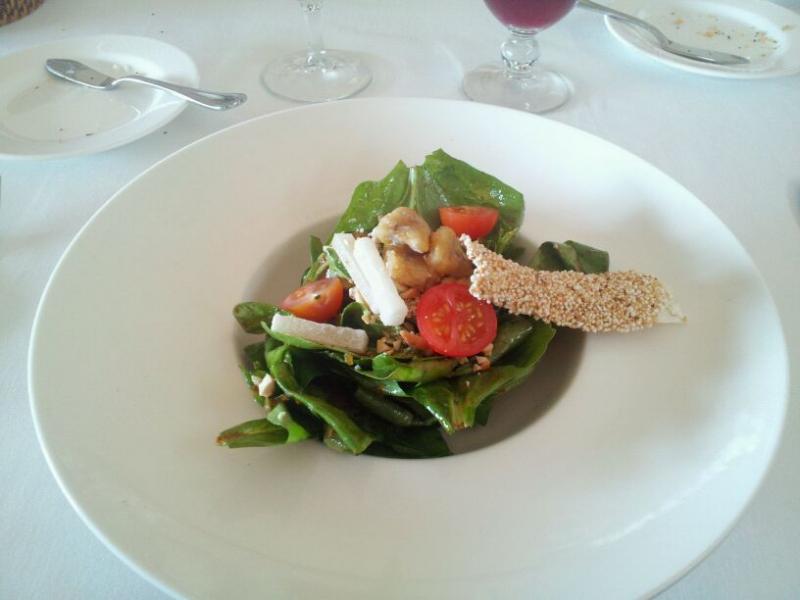 The most interesting salad turned out to be the Caesar. It had been plated with the romaine leaves stacked like a napolean, drizzled with dressing and then buried under a blizzard of parmesan cheese. Wafer thin and super crisp baguette slices acted as the croutons.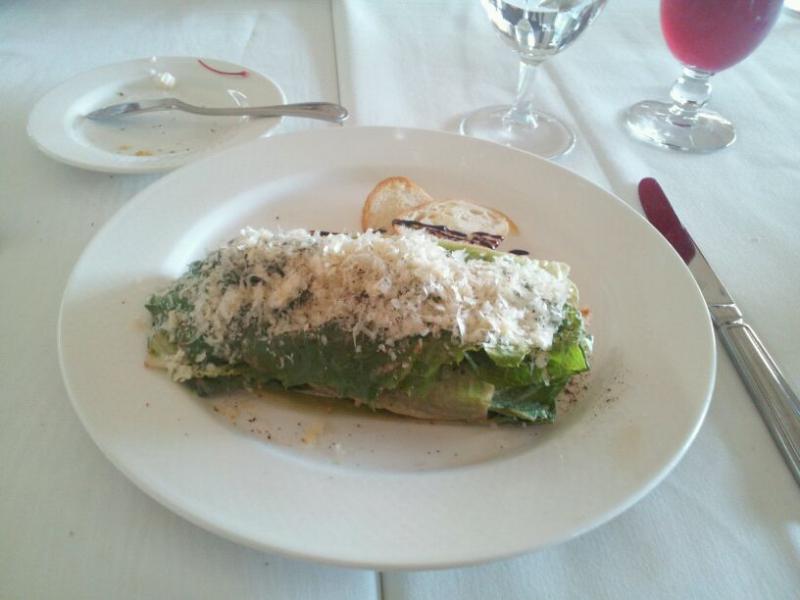 We tried 2 duck dishes (both confited), one finished in a pipían verde and the other in a salsa de tamarindo.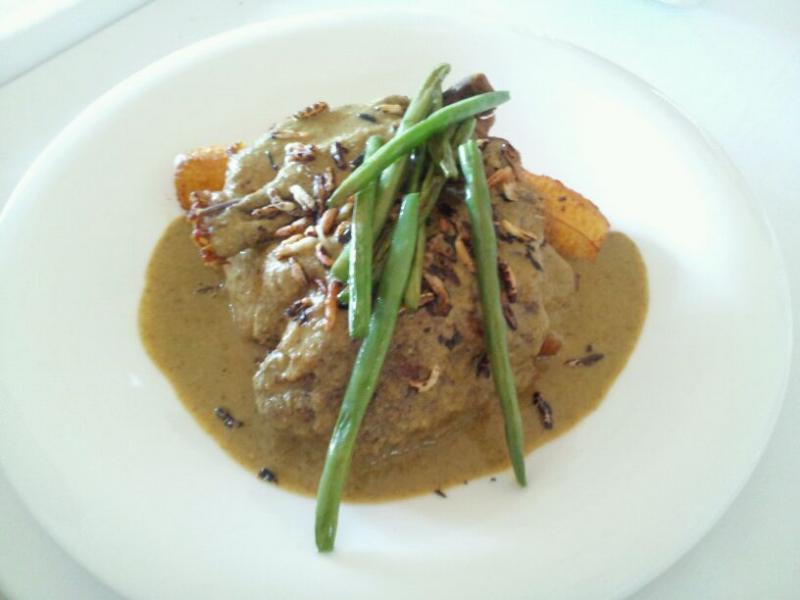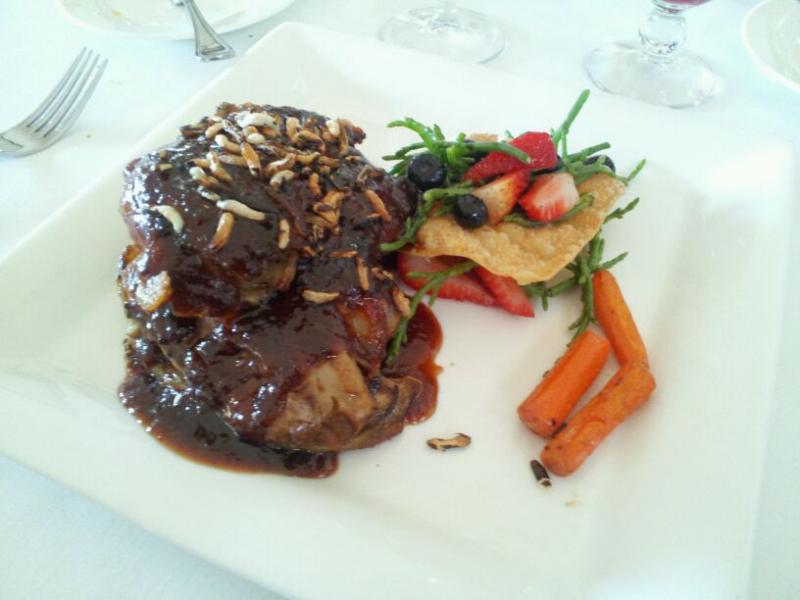 There are several steak entrees, including this one in which a generous hunk of filet is finished in a spicy salsa verde, and then served over zucchini, chayote and onion with a nicely grilled chunk of corn on the cob and a small quesadilla.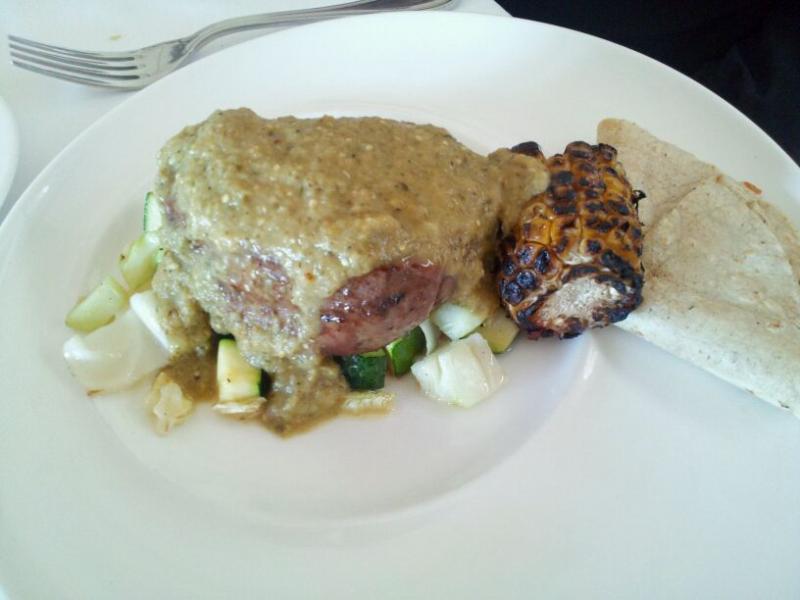 Traditional Mexican specialties are not ignored on this menu, but they are given a new twist. Smoked marlin is a well used and popular item in northern Baja, so it wasn't too surprising to see it turn up as the stuffing for a delicious chile relleno.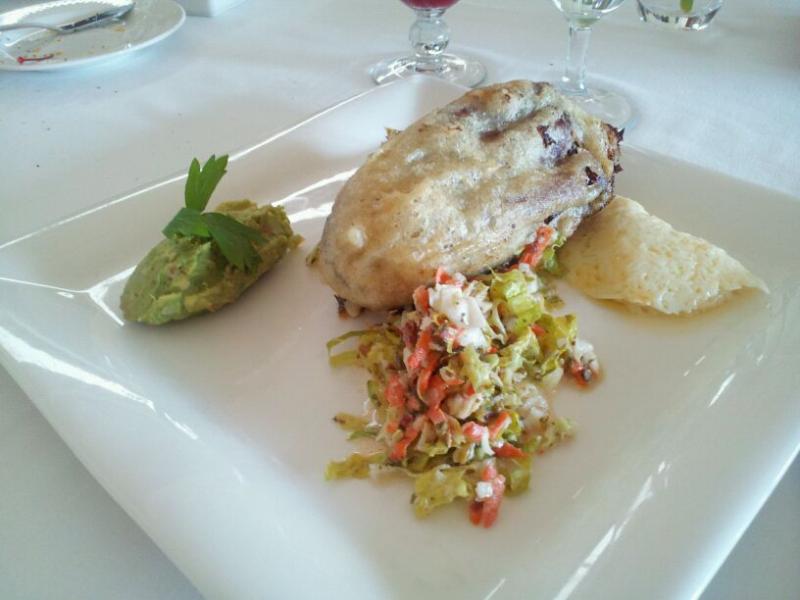 The last dish was probably one of the best of the day, seared sashimi grade tuna with sea beans and wasabi ice cream.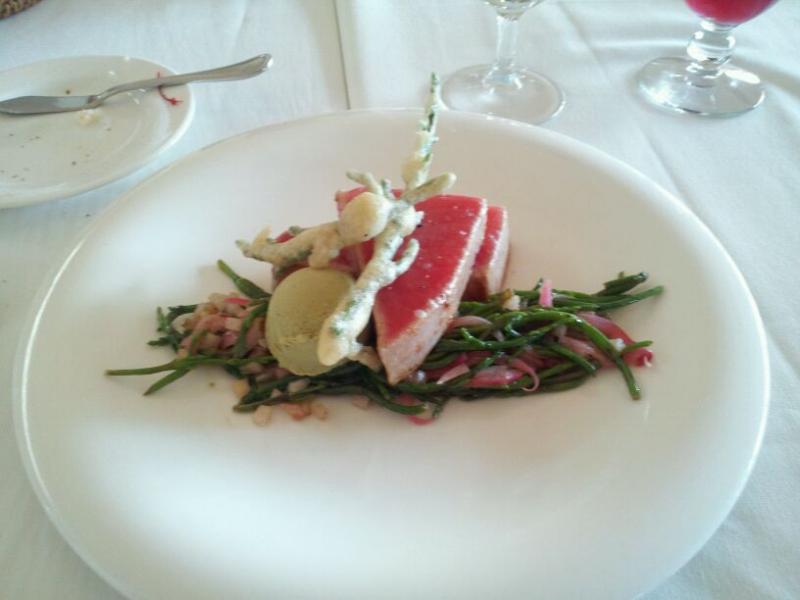 There were no winners or losers here, ALL the dishes were equally good and all 5 of them were outstanding. Nothing in either the salad or entree courses missed the mark.
Feeling that we were all to full for dessert we were going to pass. But I never pass up looking at a dessert menu. The very first item caught my eye, and that of one of my friends' as well...Espuma de Atole con Dulce de Frijol y Buñuelos. After much debate we decided to we needed to order one (and 5 spoons) just to see what it was like. Spectacular, probably the best dessert I've had all year. Impossibily light and airy, just sweet enough, subtle and nuanced hints of corn, mingled with silky smooth sweet pureed beans.
Portions are generous, service was efficient, well-oiled and friendly. Our total bill including tax and tip came to $40 each. We were all pretty much in agreement, it was a tremendous value for the quality of what we were served.
Restaurante Asao serves from 12 noon to about 9 pm Thursday - Sunday. I strongly recommend going for midday comida as the views from the dining room are beautiful, but also because driving highway 94 back to San Diego after dark isn't the easiest stretch of road, especially after a tequila or three.
Asao
Esteban Cantu 214
Tecate, BC, Mexico